Another asset has been added to UCF Downtown's safety team, and she's got four legs, a strong nose and answers to "Blue."
Blue is a 2-year-old yellow Labrador Retriever and the newest member of the UCF Police Department's K-9 Unit. She specializes in explosives detection, conducting sweeps of buildings and assisting partner agencies with detection searches.
Blue, who was donated to UCFPD by Diversity K9, is partnered with Ofc. Jerad Engel. Engel is a U.S. Air Force veteran who currently serves in the Air National Guard. He joined UCFPD in September 2015.
Engel and Blue will move to the new UCF Downtown campus this summer, helping to protect and serve UCF and Valencia College students and faculty and staff members.
Engel, a rookie to the K-9 Unit, and Blue have been training together since last fall, learning how to search and navigate loud noises and large crowds. Once Blue became accustomed to the UCF environment, she and Engel mastered explosives detection and became a certified team in January.
Until they head downtown, Engel and Blue can be found patrolling the main campus. Engel is looking forward to the new downtown environment and excited about how Blue will interact with the community.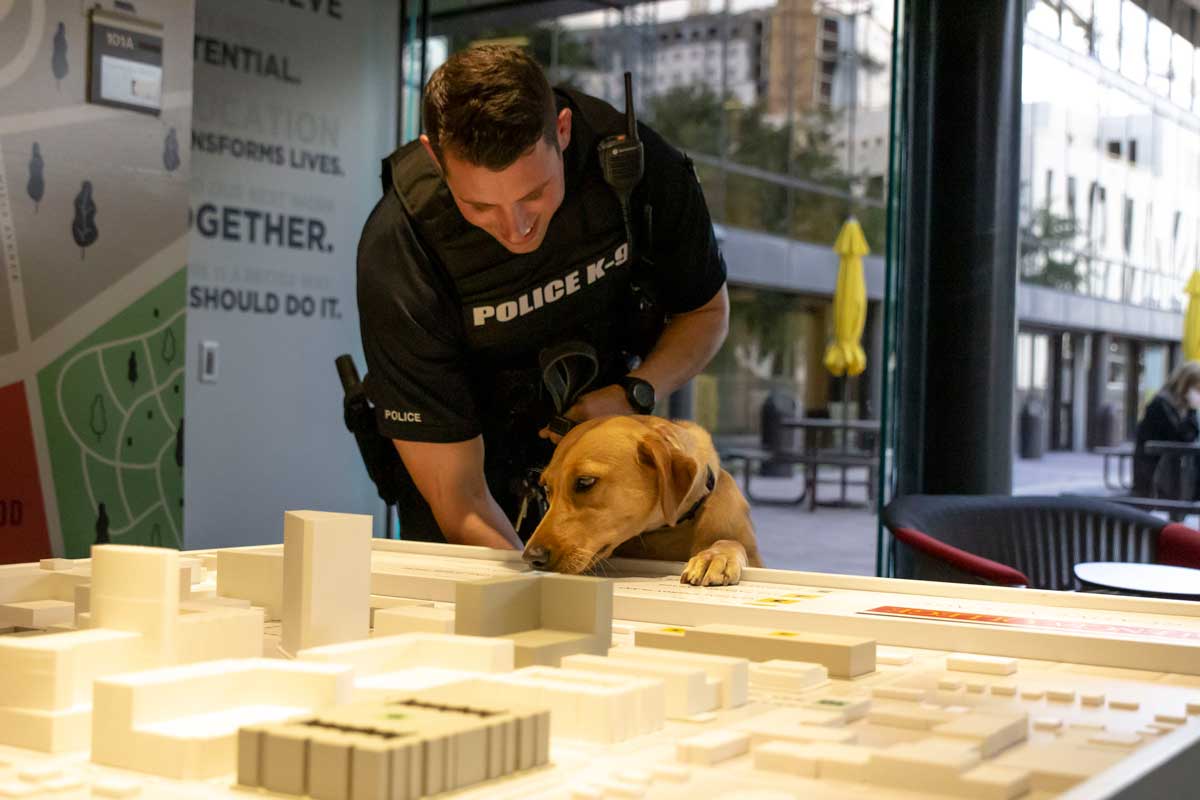 About UCFPD K-9
Besides Blue, UCFPD has four other explosives detection dogs. The dogs play a critical role in campus safety by serving as mobile force-multipliers that can detect potential threats and keep UCF a safe place to live, learn, work and play.
Support from the community helps with purchasing, training, and caring for the four-legged officers that play such an important role at UCF. If you'd like to contribute to UCFPD's K-9 fund, visit UCF Foundation. In the "Search for Fund" box, type "Police K-9."
Safety at UCF Downtown
Led by Commander Scott Freeman '11, UCFPD will have 24/7 uniformed patrols with officers dedicated to the downtown campus and based at a sub-station on Amelia Street.
Over the past four years, UCF developed a comprehensive safety and security plan in conjunction with Orlando Police Department and Valencia College Security that has included partnership ride-alongs and inclusion in weekly crime meetings to understand trends in the area.
UCF Downtown's safety and security infrastructure will mirror the main campus', with features such as security cameras, blue light phones and UCF Alert messages in emergencies.
To learn more, visit ucf.edu/downtown/experience/#safety.