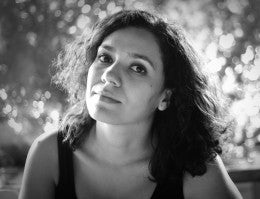 First time feature director and Ecuadorian Filmmaker, Laura C. Lopez has worked in many areas of film and multimedia production. She is a Master of Fine Arts graduate from UCF.
She began her career as an intern in prestigious production companies such as Kennedy Marshall, Red Wagon and Jerry Weintraub productions. Shortly after, she moved on to manage operations and talent for a daytime Spanish speaking television series based out of Burbank, California.
She has since directed short form documentary and narrative films in various formats as well as interactive educational iPOD videos for museum platforms. She currently resides in Orlando, Florida, where she develops new projects for her production company Ambrosia Films.
ACTS OF MERCY
Director/Screenwriter Laura C. Lopez's new film "Acts of Mercy" pays homage to classic noir films and thrillers. Acts of Mercy unveils the story of young nurse Maggie Collins as she begins caring for the charming but forgotten residents of Moss Oak Manor nursing home. Slowly, Maggie finds herself on an ethical minefield where good intentions turn into ambition, and mercy finds its way into murder.
SPECIAL EVENT
OLA FEST 2010 – OLA Fest '10: Orlando Latin Film & Heritage Festival
Hosts Special Event for UCF Grad Laura Lopez & Screening of her film Acts of Mercy
Sat Feb 13 @2pm Reception at Center For Emerging Media: Bridge Auditorium
2:45 Screening; 4:15 Q&A