UCF encourages students, faculty and staff to take positive steps when they see others not complying with the COVID-19 Return to Campus Policy.
The ability to participate in face-to-face classes and activities is dependent upon every member of the campus community adopting simple steps, such as wearing a face covering and physical distancing, outlined in the policy to prevent further spread of the coronavirus. UCF employees and students must complete the COVID Self-Checker each day they will be on campus and prior to their arrival on campus. The COVID Self-Checker can be completed online or through the UCF Mobile app, with the student version of the assessment launching today.
To help show your commitment to keeping yourself and fellow Knights safe, consider signing the Armor Up pledge.
UCF recommends the three following steps if you see someone on campus is not wearing a face covering as required by UCF's policy:
Ask the person to put on a face covering per UCF's policy and refer them to available options, such as picking up a free UCF face covering from a distribution site or vending machine on campus. If the person does not put on a face covering, proceed to step two.
Ask the person to leave the area because they are not wearing a face covering and are not in compliance with UCF's policy. If the person does not leave proceed to step three.
The person leading the class, event, meeting, or gathering should cancel the occurrence and leave the area. Report the incidence to the coordinating program, department, supervisor, Student Conduct, Human Resources, or the Compliance, Ethics, and Risk Office, as appropriate.
Note: Only involve UCFPD if there is a physical threat, see UCF's policy for information on exceptions.
While it's not always easy to have difficult discussions, here are suggestions that can help start conversations around potential safety misconduct you may witness during campus' reopening.
When You See Someone Without A Face Covering
"Your health and mine matter to me. Did you know face coverings are required indoors?"
"UCF is providing free face coverings. You can find distribution locations on the UCF Mobile app."
"The policy is in place for the well-being of everyone. We cannot resume this class, meeting, activity, etc. until you put on a face covering."
"I am wearing my mask to take care of those who are immunocompromised. Will you join me?"
When People Are Not Physical Distancing
"Pardon me while I try to keep a safe distance."
"I am practicing physical distancing. Do you mind following the 6-foot recommendation?"
"Could we please move to an area where we can space out more?"
"I will come back to this space when I can practice physical distancing."
"I will catch the next elevator."
When Greeting Others
"Hi! I am not shaking hands, but it is a pleasure to meet you."
"Let's all look out for one another and keep our 6-foot distance for now."
"I am maintaining my distance, but it is great to see you."
"Air five!"
Expressing Thanks to Those Following University COVID-19 Policy
"Thanks for doing the Knight thing!"
"Every step counts. Thank you!"
"Way to Armor Up!"
"Charge On!"
Those who are not comfortable raising their concerns with others directly or who find continued misconduct after starting a safety discussion can file a report through the IntegrityLine's secure system. You can reach the IntegrityLine 24/7 at compliance.ucf.edu or 1-855-877-6049. All reports are reviewed by the University Compliance, Ethics and Risk Office, and investigated as discreetly and promptly as possible.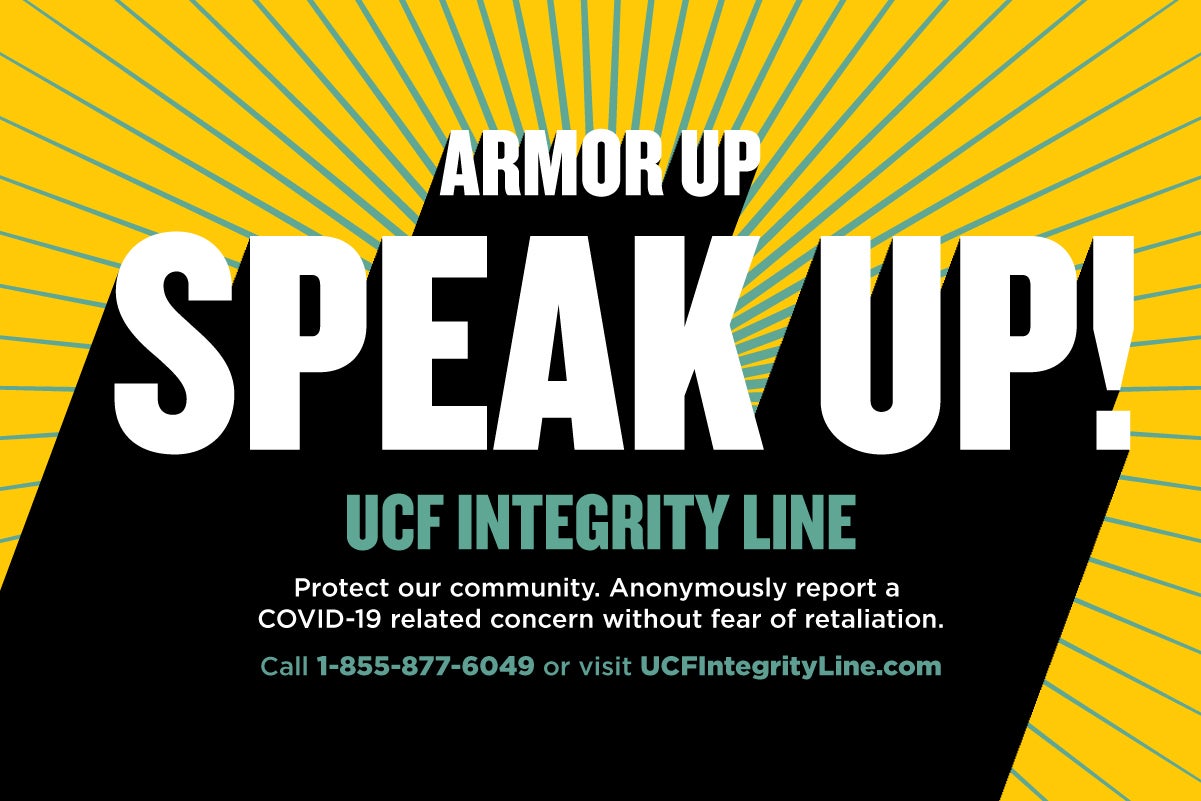 For the latest information about returning to campus, visit UCF's coronavirus and Returning to UCF websites. Students, faculty, staff and visitors will be required to complete the COVID Self-Checker — available via the UCF mobile app or online — each day before arriving to campus.