TV producer Kyle Fuchs and WUCF won a regional Emmy on Saturday for the program Mister Rogers in Our Neighborhood, a broadcast about Fred Rogers' Winter Park roots and his legacy in Central Florida.
The National Academy of Television Arts and Sciences presented the Suncoast Regional Emmy Award in the nostalgia program category during an Orlando banquet. The show was broadcast in February to commemorate the half-century anniversary of the beginning of the children's show.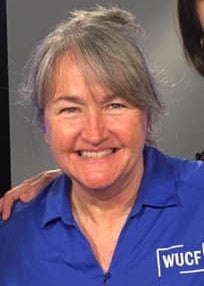 "This year, PBS stations across the country celebrated the milestone of 50 years of Mister Rogers Neighborhood. Locally, we wanted to tell the story of Fred's local roots, something that hasn't been done before," says Phil Hoffman, executive director of WUCF.
Fuchs has been with the station seven years and previously worked as a freelancer in Central Florida for WESH, the Orlando Magic and numerous other organizations. This is her first Emmy.
Others who worked on the TV special were WUCF producer Tricia Connelly, Cleveland videographer Adam White, and freelance Orlando journalist Jon Busdecker, who hosted the
WUCF program.
Rogers was from Pittsburgh and earned his bachelor's degree in music composition at Rollins College in 1951. He was the creator, producer, head writer and host of his TV show from 1968 to 2001. He died of stomach cancer in 2003 at age 74.