An Educational Partner
UCF is an educational program partner for multiple Fortune 1000 companies. This financial support from employers helps make obtaining a college degree more affordable. We're committed to providing a high-quality education that's accessible to all students. Whether looking for career advancement or to strengthen skills within the industry, this opportunity puts eligible students on the path to success.
Participating Employers
Knights employed by one of these companies* and enrolled in an approved program may be eligible for tuition assistance. Please note that approved degree programs and the amount of tuition assistance vary by employer. Academic programs are selected for and by each employer.
Amazon's Career Choice program is an education benefit that empowers Amazon employees to learn new skills for career success at Amazon or elsewhere. Amazon provides a variety of education and upskilling opportunities including full college tuition.
The University of Central Florida partners with Amazon to provide their hourly employees with two educational benefit programs:
Most undergraduate degree programs
UCF Global non-credit English Language (ESL) courses
The following employer partnerships were facilitated by Guild, a market leader in providing higher education opportunities designed for working adults. Guild supports workers alongside some of the nation's largest employers by connecting upskilling opportunities to career mobility.
Students seeking additional information about these programs and eligibility requirements should contact their Human Resources department to ask about their organization's partnership with Guild.
---
Explore All Partnering Employers
A
C
Children's Hospital of Colorado
Chipotle
D
F
G
H
Herschend Family Entertainment
Hilton
L
P
PNC Financial Services
ProMedica
Providence Health & Services
S
Sentara Health
Smithfield Foods
Shipt
T
U
W
Student Assistance
For further information and support, UCF students and staff may contact:
For Amazon
UCF students or staff with questions about program participation or eligibility requirements for Amazon Career Choice should visit amazoncareerchoice.com
For Guild Partners
UCF students or staff with questions about program participation or eligibility requirements for Guild programs should contact Guild directly via help@guildeducation.com or by phoning 720-709-2871.
UCF staff can open a ticket with Guild or on the behalf of a current UCF student by emailing Guild at ucfSupport@guildeducation.com.
About Online Programs
UCF students or staff who have questions about UCF Online programs can also call the UCF Online Connect Center directly on 855-903-8576.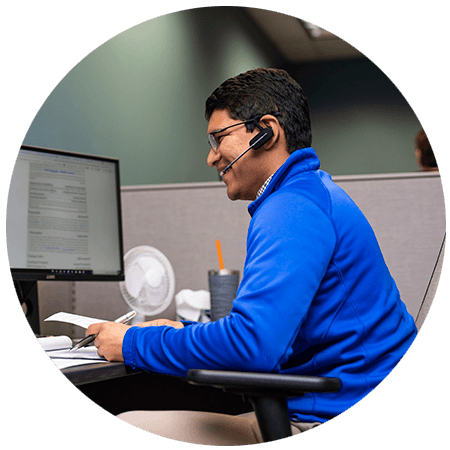 Employment Partnership Program FAQs
Explore some of the most frequently asked questions about the employment partnership programs. Continue to check back as more FAQs become available.