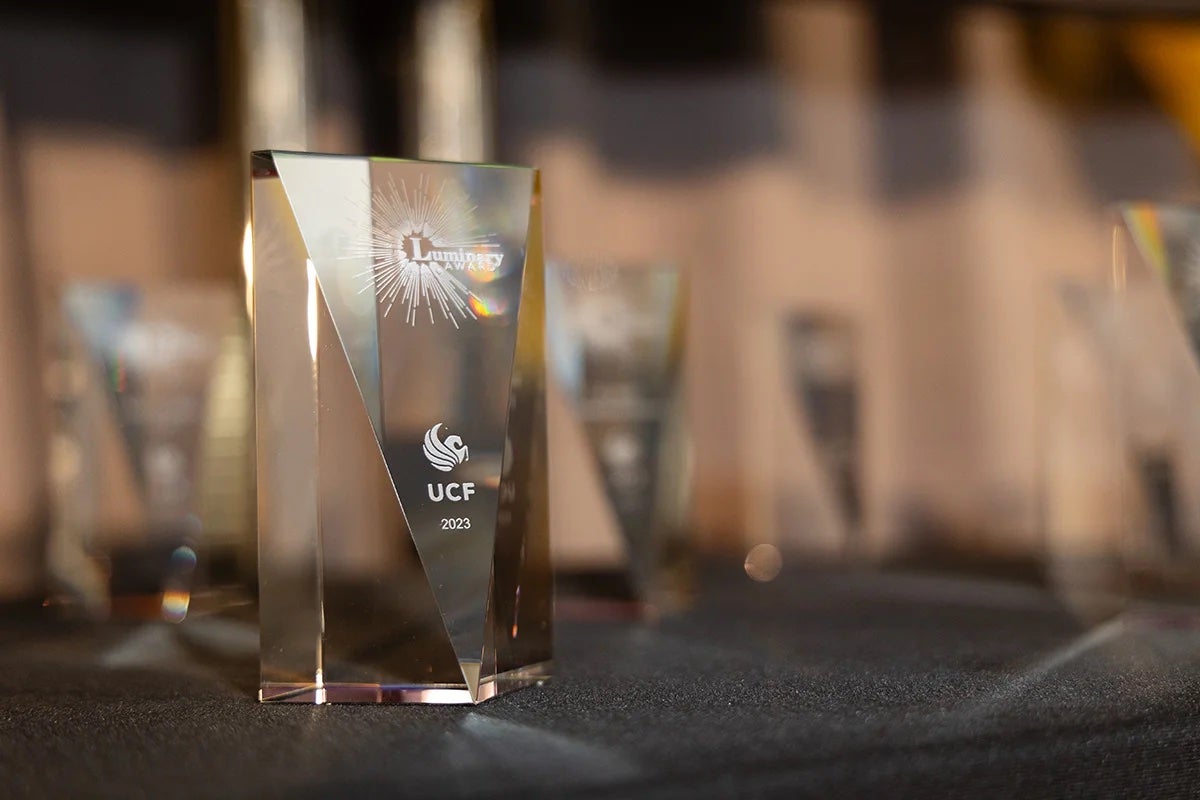 Two UCF Downtown faculty members were celebrated for their leadership and the impact they are making in communities, the nation and in the world during UCF's annual Luminary Awards held on Oct. 17, 2023 at Leu Gardens in Orlando. A total of 15 faculty members were honored at the awards.
The Luminary Awards — established in 2017 — are designed to recognize some of UCF's brightest stars who shine a positive light on the university and in their respective fields, as well as illuminate a path of discovery for those who will come after them.
Winners were selected based on nominations by deans, chairs and directors from across the university. The event was attended by the winners, their close family and friends, as well as former Luminary Award winners and special guests from the community.
UCF President Alexander N. Cartwright; Provost and Executive Vice President for Academic Affairs Michael Johnson; Interim Vice President for Research and Innovation Winston Schoenfeld; and Vice Provost for Faculty Excellence Jana Jasinski were on hand to recognize each winner.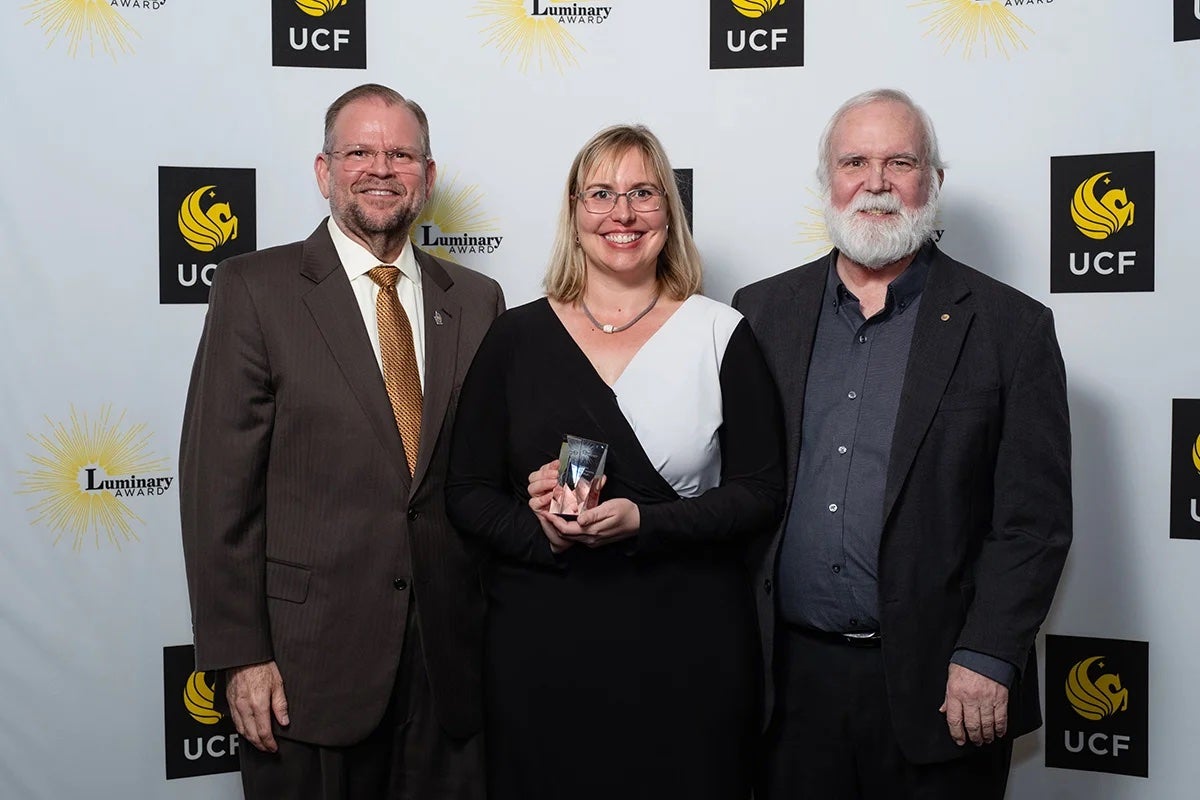 Barbara "Basia" Andraka-Christou is a leading scholar in health services and health policy related to substance use disorder. She authored the national award-winning book, The Opioid Fix: America's Addiction Crisis and the Solution They Don't Want You to Have (Johns Hopkins University Press). Her research has been cited by the Biden Administration in its national drug control policy, by the Government Accountability Office in a report to Congress and within federal judicial opinions.
She routinely shares her expertise with national news media, including appearing on NPR's Morning Edition, and international news media, such as with the Canadian Broadcasting Corporation and Swiss Public Radio.
More than 60 of Andraka-Christou's peer-reviewed articles appear in journals ranked among the highest in the substance use disorder, medical and health policy fields, and she has secured approximately half a million dollars in external funding for her research.
Her dedication to teaching and mentorship is exemplary. She founded and led a mentoring program for women doctoral students seeking a career in academia. She makes her classes engaging and intellectually stimulating by incorporating headline-grabbing court cases and news stories. Her collaborative nature and willingness to share her expertise have made her an invaluable asset to her colleagues, students and the university.
Irene Pons '00, Department of Legal Studies, College of Community Innovation and Education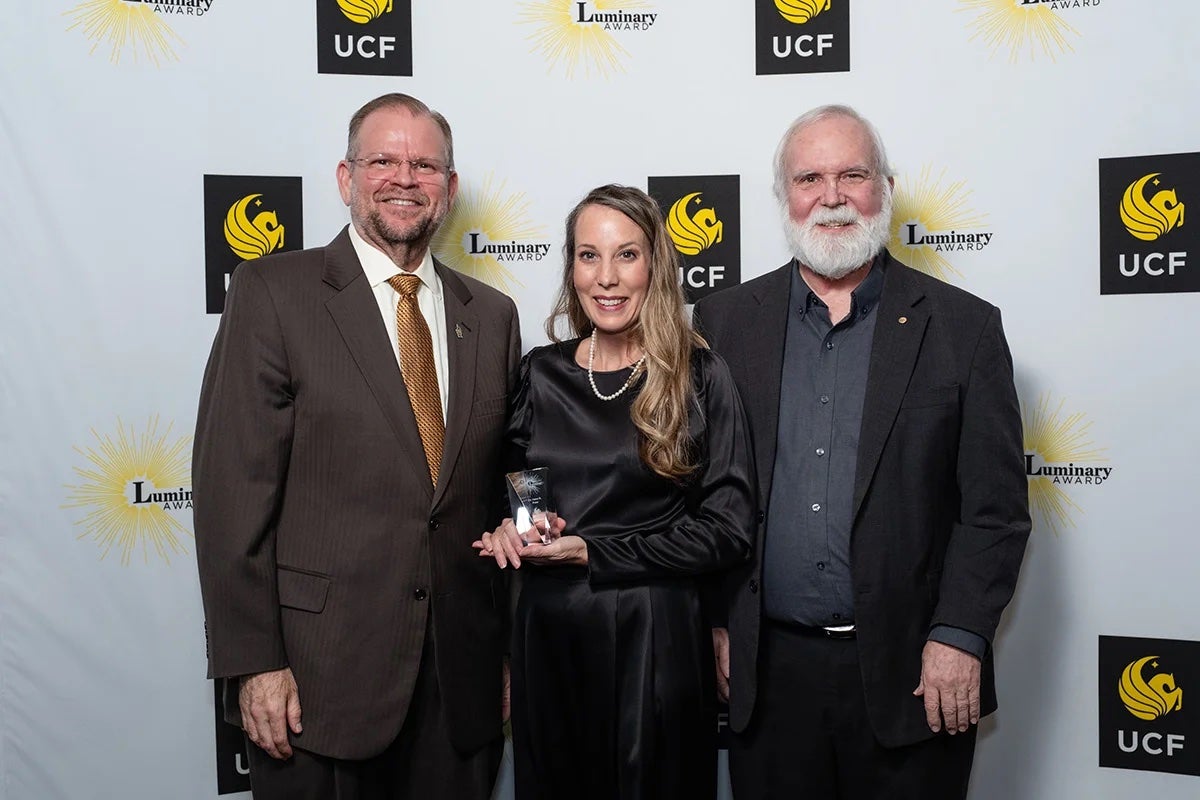 Irene Pons '00 is a legal studies faculty member and an American Bar Foundation Fellow who has been practicing law in Central Florida for more than 16 years. She's known in the community for her significant contributions to humanitarian efforts.
Pons has fully embraced the College of Community Innovation and Education's strategic initiatives of cultivating a culture of diversity and inclusion, promoting interdisciplinary research teams and advancing groundbreaking ideas with social impact in various aspects of her professional life.
To further the college's goals, Pons created and led an alternative spring break experience, A Break for Impact, which allows students to see the intersection of legal concepts and humanitarian crises at the U.S. southern border.
The experience focused on providing humanitarian and legal aid to migrants, refugees and asylum seekers from diverse backgrounds as they attempt to navigate the asylum process. From a humanitarian perspective, volunteers provide essential assistance, such as food, water and medical attention to individuals in need. The students also assist with immigration forms and translation services for non-native speakers.
A docuseries on this resulted from an experiential learning opportunity for students who were unable to make the trip. This work was recently recognized with five Emmy nominations, and in 2020 it won an Emmy while being seen by thousands of UCF students and other viewers nationally and across the globe.
Her dedicated efforts and the insights generated through her documentaries are significant contributions to the world and bring light, hope and care to the lives of thousands of individuals.
You can read the full story about all 15 Luminary Award winners on UCF Today.