Fifteen faculty members were celebrated for their leadership and the impact they are making in communities, the nation and in the world during UCF's annual Luminary Awards held Tuesday at Leu Gardens in Orlando.
The Luminary Awards — established in 2017 — are designed to recognize some of UCF's brightest stars who shine a positive light on the university and in their respective fields, as well as illuminate a path of discovery for those who will come after them.
Winners were selected based on nominations by deans, chairs and directors from across the university. The event was attended by the winners, their close family and friends, as well as former Luminary Award winners and special guests from the community.
UCF President Alexander N. Cartwright; Provost and Executive Vice President for Academic Affairs Michael Johnson; Interim Vice President for Research and Innovation Winston Schoenfeld; and Vice Provost for Faculty Excellence Jana Jasinski were on hand to recognize each winner.
2023 Luminary Award Winners
Tommy James, School of Visual Arts and Design, College of Arts and Humanities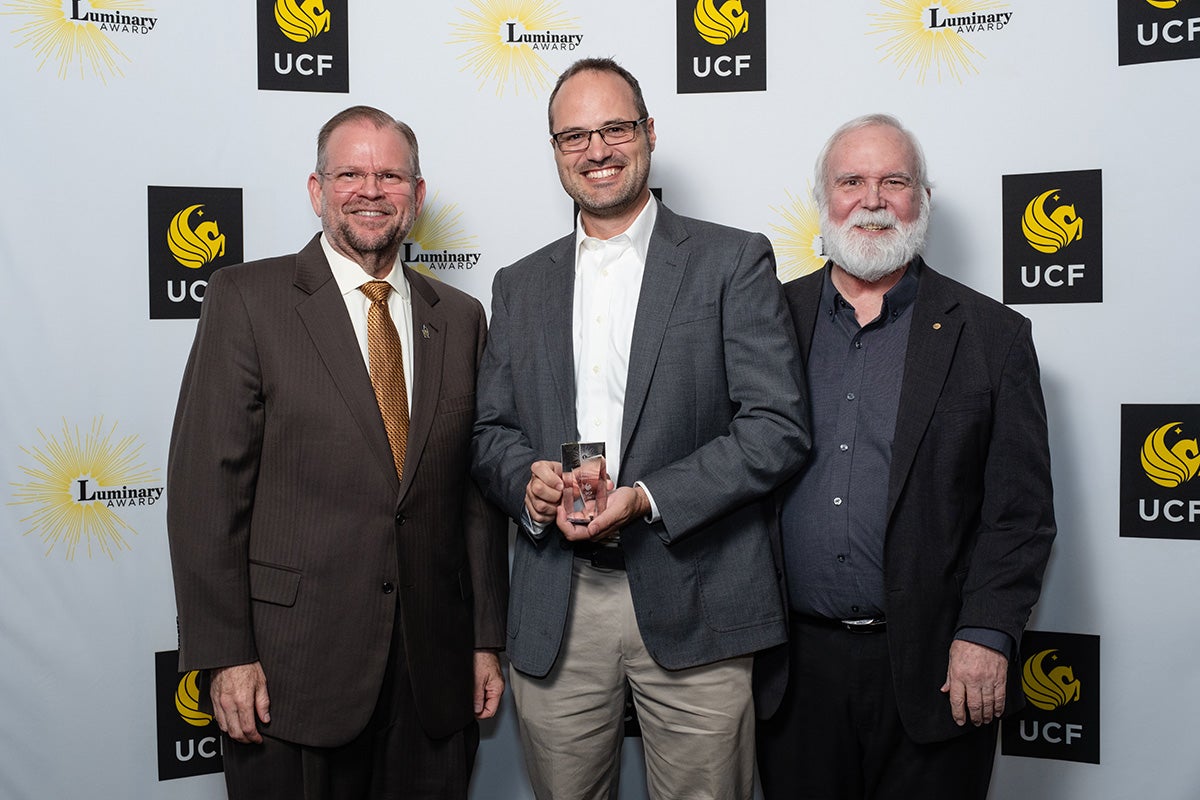 Each year, Tommy James' acclaimed artistic and creative endeavors are experienced by millions of Walt Disney World guests.
He provided professional services for the design of the Tron rollercoaster ride, which welcomes more than 20 million visitors a year. And he served as lead project architect and designer for Toy Story Land and the Toy Story Mania ride, which is enjoyed by more than 11 million visitors annually.
A member of UCF's architecture faculty, James' work aligns seamlessly with the Luminary Award's recognition as he helps architects think about design and development from a more human-centric perspective.
His pipeline to better placemaking model, a research project he has refined since 2019, outlines a six-step process for conceptualizing place and enhancing community contributions to designed spaces. These steps include surveying spaces, designing them using collaborative virtual and augmented reality tools, and working to achieve community desired outcomes, such as plenty of greenspace and walkable neighborhoods.
James is also devoted to community and local service through his efforts with the Orlando Main Street Parramore district and his long-term service leadership as faculty advisor to UCF's chapter of Habitat for Humanity.
Barbara "Basia" Andraka-Christou, School of Global Health Management and Informatics, College of Community Innovation and Education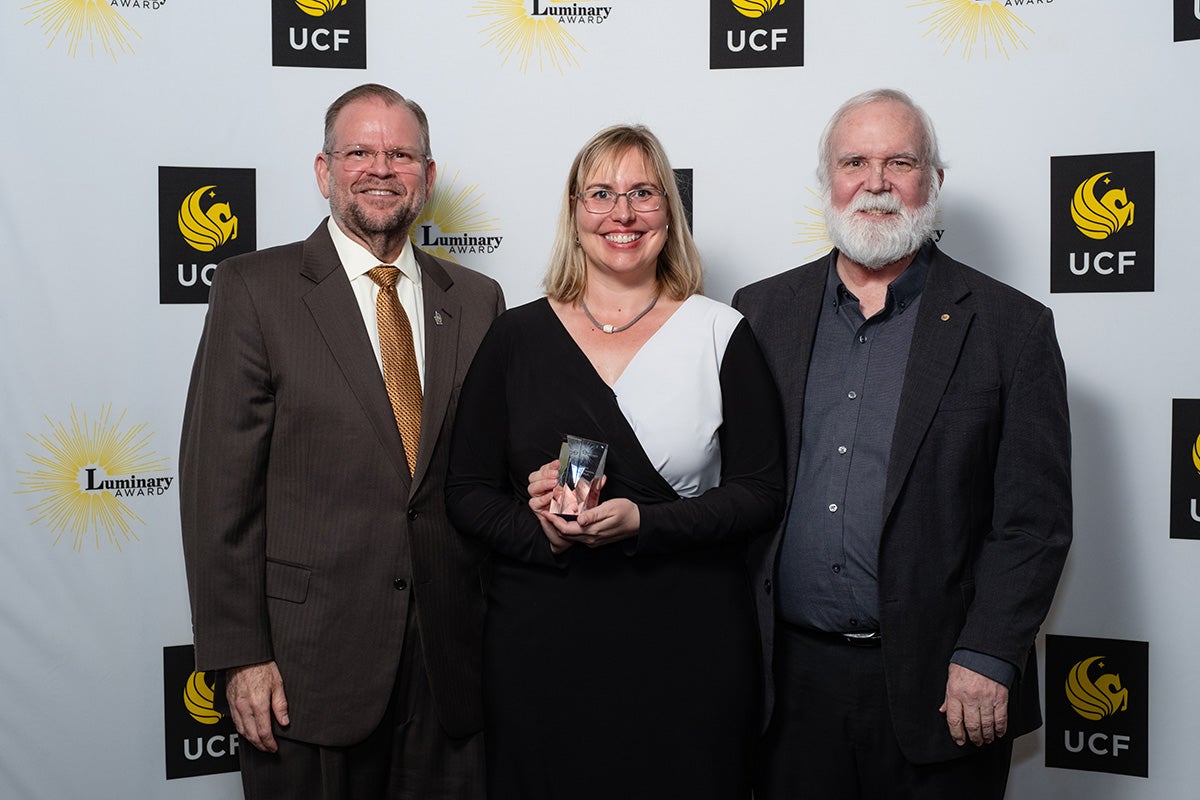 Barbara "Basia" Andraka-Christou is a leading scholar in health services and health policy related to substance use disorder. She authored the national award-winning book, The Opioid Fix: America's Addiction Crisis and the Solution They Don't Want You to Have (Johns Hopkins University Press). Her research has been cited by the Biden Administration in its national drug control policy, by the Government Accountability Office in a report to Congress and within federal judicial opinions.
She routinely shares her expertise with national news media, including appearing on NPR's Morning Edition, and international news media, such as with the Canadian Broadcasting Corporation and Swiss Public Radio.
More than 60 of Andraka-Christou's peer-reviewed articles appear in journals ranked among the highest in the substance use disorder, medical and health policy fields, and she has secured approximately half a million dollars in external funding for her research.
Her dedication to teaching and mentorship is exemplary. She founded and led a mentoring program for women doctoral students seeking a career in academia. She makes her classes engaging and intellectually stimulating by incorporating headline-grabbing court cases and news stories. Her collaborative nature and willingness to share her expertise have made her an invaluable asset to her colleagues, students and the university.
Desiree Díaz, Department of Nursing Practice, College of Nursing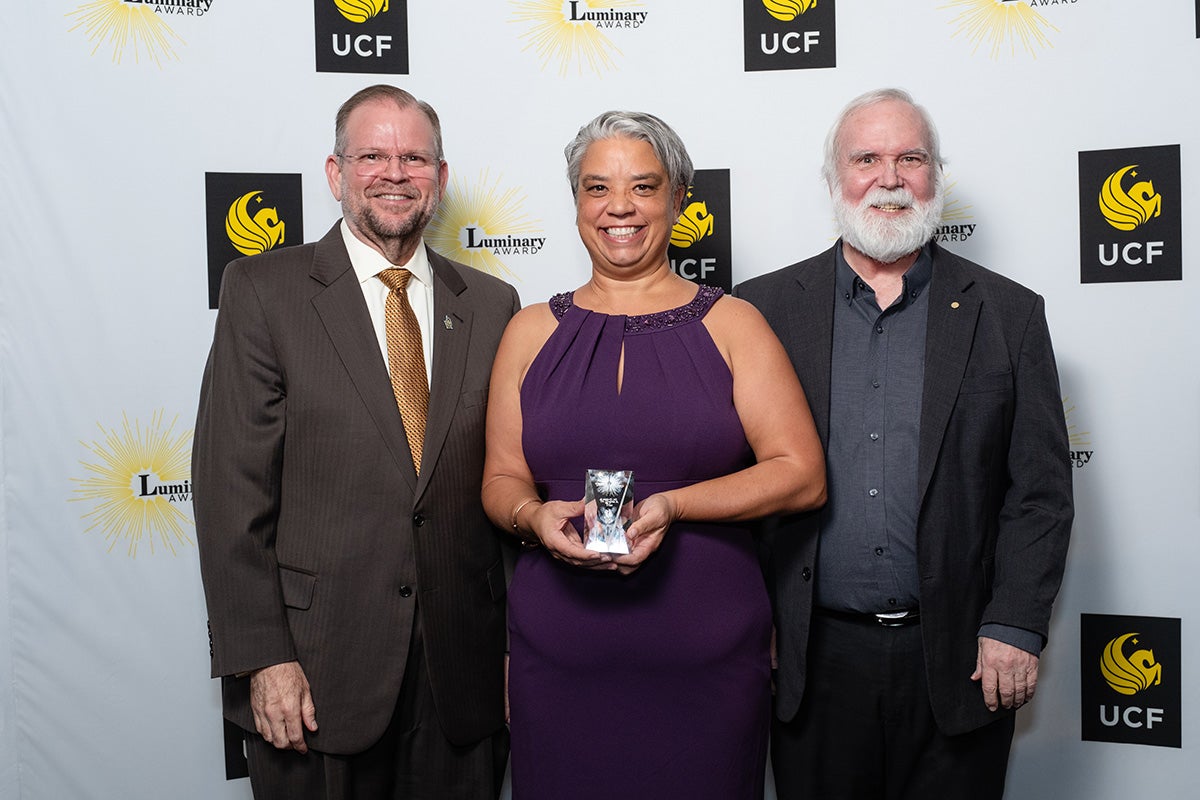 Desiree Díaz is a highly-accomplished researcher with significant contributions made to healthcare simulation research at local, national, and global levels, transforming experiences for students, faculty, and institutions. She is the co-author of the only international healthcare simulation dictionary, and her research has been transformative in healthcare disparities and the representation of minorities in simulation research.
For over a decade, Díaz has pioneered exploring linguistic bias and representation in simulation-based research. As president of the International Nursing Association of Clinical Simulation and Learning, she has disseminated best practice standards in simulation internationally to places such as Thailand, Latin America and the Bahamas, to name a few. She also co-founded the Caribbean Simulation Alliance, furthering the advancement of simulation research and science in the Caribbean.
Díaz has three pending U.S. patents, and is the PI, Co-PI, or Principal Project Contact in 21 funded projects, including endeavors in the past two years involving more than $5 million. Yet, she still makes time to foster the next generation of researchers by mentoring and engaging junior faculty and students.
Her many achievements include induction as a fellow in both the American Academy of Nursing and the Society for Simulation in Healthcare Academy.
Aristide Dogariu, CREOL, the College of Optics and Photonics
The term "Luminary" is a very fitting description for Aristide Dogariu. He is an accomplished and exceptional professor known for his groundbreaking research in the scattering of light. His work not only delves into the mathematical intricacies of this challenging field but also translates into impactful applications. He has developed life-saving technologies, such as a blood coagulability monitor for open heart surgery, and has pioneered an innovative camera capable of seeing in fog and around corners.
His research has garnered widespread attention with local and national press outlets, showcasing his ability to bridge complex scientific concepts to real-world applications. He has secured more than $18 million in research funding while at UCF and his collaborators include leading researchers worldwide.
Dogariu is ranked in the top 1.5% of his field for citations. He is a Pegasus Professor, a trustee chair professor and a fellow of several international professional societies. In 2015, he was honored with the prestigious international SPIE G.G. Stokes Award for his remarkable contributions.
In addition to his research prowess, Dogariu is a dedicated and popular instructor, appreciated for his rigorous teaching in core graduate classes and active involvement in curriculum development within college graduate programs.
Kerri Donaldson Hanna, Department of Physics, College of Sciences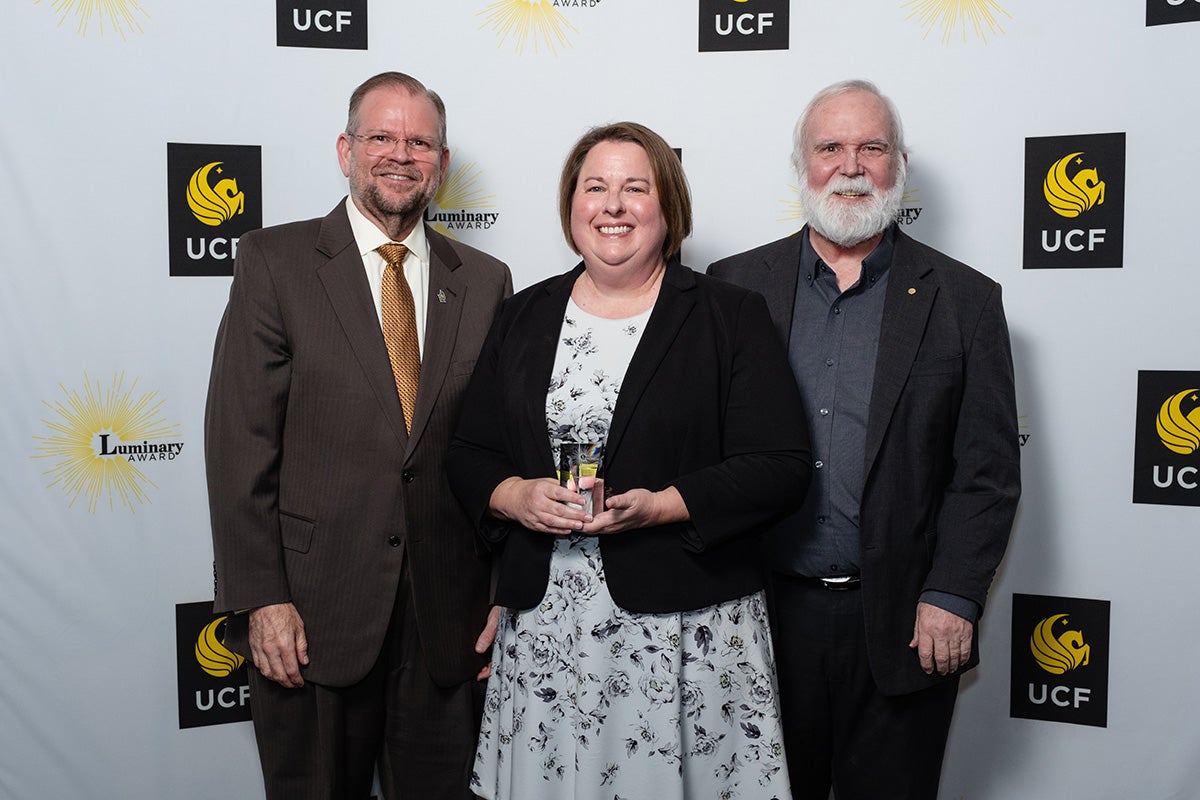 Kerri Donaldson Hanna's research is literally beyond this world. She's a prominent researcher in the field of planetary remote sensing and lunar geology with significant contributions to space exploration and scientific understanding. Since joining the Department of Physics in 2019, she has been a co-investigator and key team member on various active planetary missions, demonstrating her expertise and commitment to advancing our understanding of the moon and other celestial bodies.
She has served on multiple lunar missions, including Lunar Trailblazer, the Lunar Compact Infrared Imaging System, the Diviner instrument of NASA's Lunar Reconnaissance Orbiter and the European Space Agency's Comet Interceptor mission. Additionally, she has been a participating scientist on the OSIRIS-REx NASA mission, showcasing her versatility and expertise in space research.
A significant achievement is her role as principal investigator of the Lunar-VISE mission — a $35 million endeavor with instruments on both a stationary lander and a rover. This spacecraft is aimed at understanding the formation of a mysterious volcanic dome on a part of the moon that has never been visited. This mission marks UCF's first principal-investigator-led space mission beyond geosynchronous orbit and is one of NASA's selected missions under the "PRISM" program.
Through these and other remarkable distinctions, Donaldson Hanna has elevated UCF to the exclusive group of institutions to lead a mission to another world. In recognition of her research impact, she received the Susan Mahan Neibur Early Career Award from NASA and UCF's Reach for the Stars Award in 2023.
Mary Little, School of Teacher Education, College of Community Innovation and Education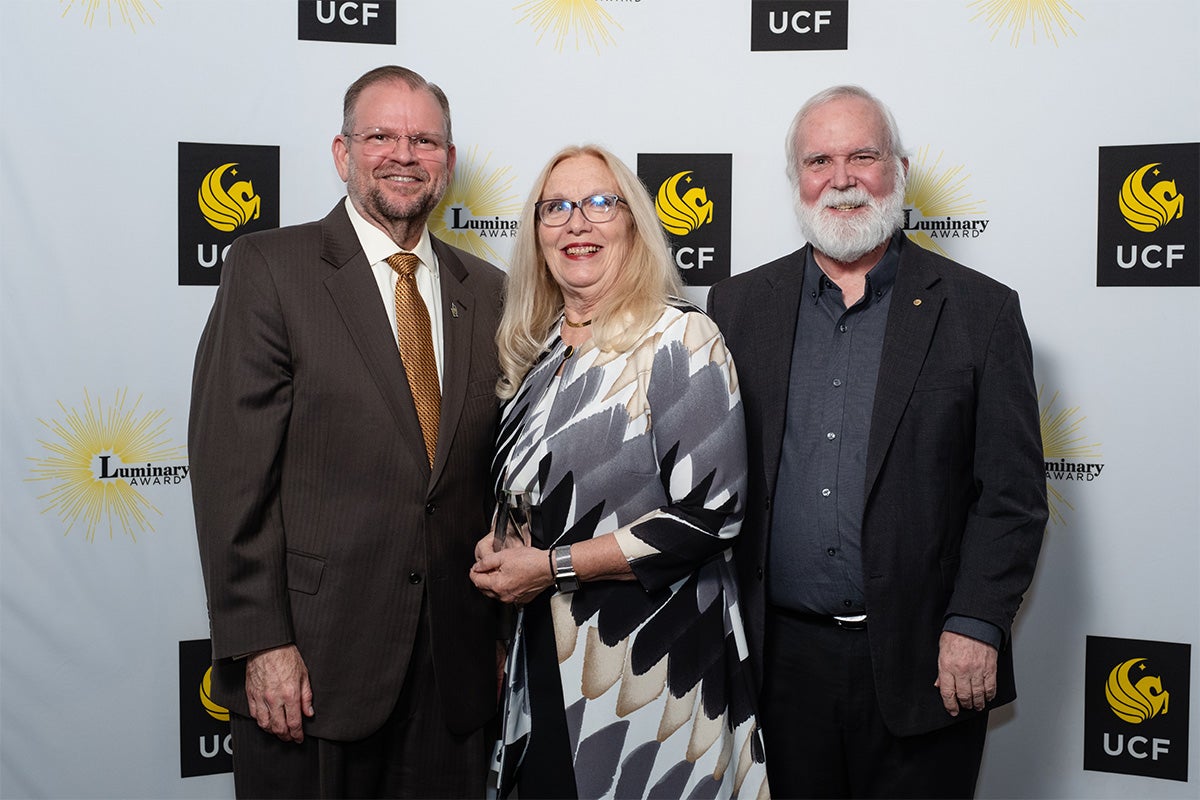 Mary Little has secured more than $25 million in external funding, consistently applying her extensive expertise in teaching and learning research to impact public school teaching and learning. Currently, Little is principal investigator of five Personnel Preparation and Research grants funded through the U.S. Department of Education and the Office of Special Education Programs, totaling almost $8 million.
Each of these collaborative, interdisciplinary grants focus on innovative methods, personnel development, and research to address recruitment, development, and retention of teachers and related school personnel, such as school psychologists and speech-language pathologists.
One of the federally funded projects she leads is the Teacher Quality Partnership (TQP) Project, a partnership between faculty and administrators within UCF's School of Teacher Education, Florida's leading producer of teachers, and Orange County Public Schools — the nation's eighth largest public school district. The collaboration has become a national model for boosting student intern hiring after graduation to address teacher shortages in diverse high-needs schools.
The TQP team received national attention by winning the 2022 national Dr. Shirley S. Schwartz Urban Education Impact Award. The award honors an outstanding partnership between a university and an urban school district that has positively and significantly impacted student learning.
Little's exceptional leadership impacts and improves the educational profession through research, partnerships and community engagement.
Irene Pons '00, Department of Legal Studies, College of Community Innovation and Education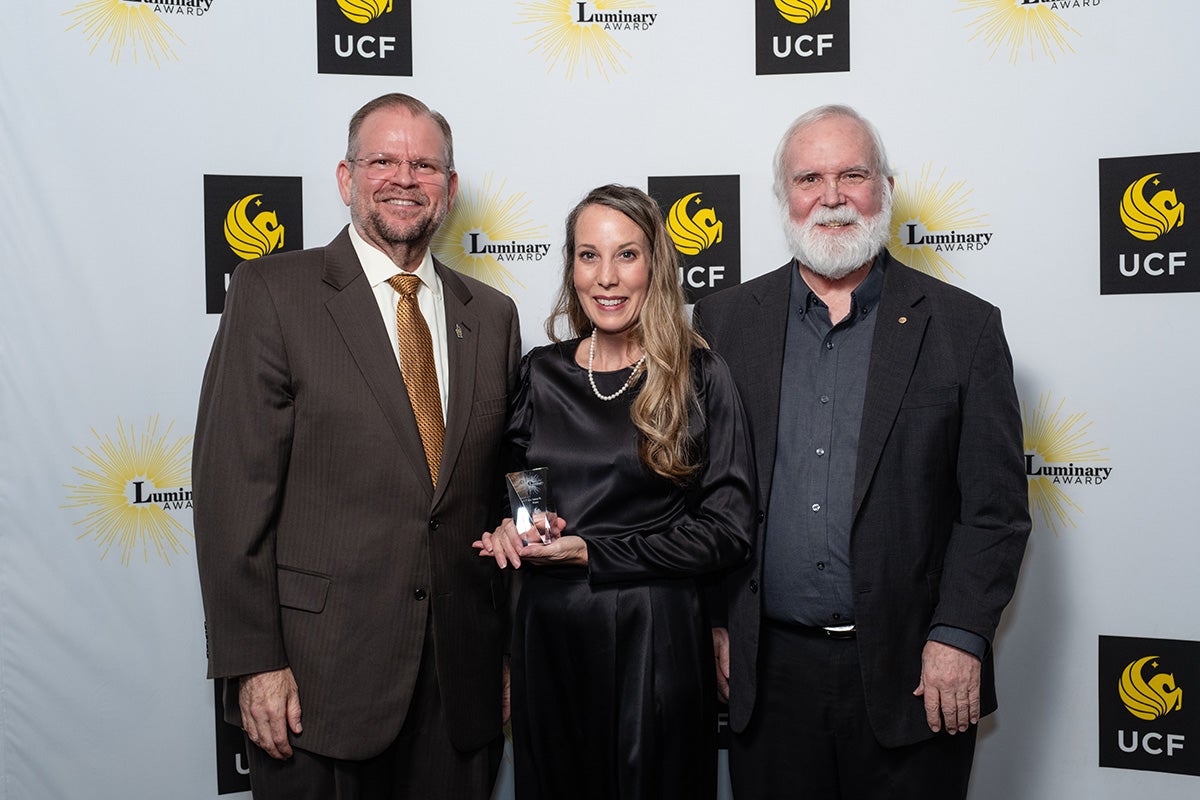 Irene Pons '00 is a legal studies faculty member and an American Bar Foundation Fellow who has been practicing law in Central Florida for more than 16 years. She's known in the community for her significant contributions to humanitarian efforts.
Pons has fully embraced the College of Community Innovation and Education's strategic initiatives of cultivating a culture of diversity and inclusion, promoting interdisciplinary research teams and advancing groundbreaking ideas with social impact in various aspects of her professional life.
To further the college's goals, Pons created and led an alternative spring break experience, A Break for Impact, which allows students to see the intersection of legal concepts and humanitarian crises at the U.S. southern border.
The experience focused on providing humanitarian and legal aid to migrants, refugees and asylum seekers from diverse backgrounds as they attempt to navigate the asylum process. From a humanitarian perspective, volunteers provide essential assistance, such as food, water and medical attention to individuals in need. The students also assist with immigration forms and translation services for non-native speakers.
A docuseries on this resulted from an experiential learning opportunity for students who were unable to make the trip. This work was recently recognized with five Emmy nominations, and in 2020 it won an Emmy while being seen by thousands of UCF students and other viewers nationally and across the globe.
Her dedicated efforts and the insights generated through her documentaries are significant contributions to the world and bring light, hope and care to the lives of thousands of individuals.
UCF Celebrates the Arts, School of Performing Arts, School of Visual Arts and Design, College of Arts and Humanities
Jeffrey Moore, Bert Scott, Rudy McDaniel, Paul Lartonoix, Claudia Lynch, Vandy Wood, Rob Siler and Tim Brown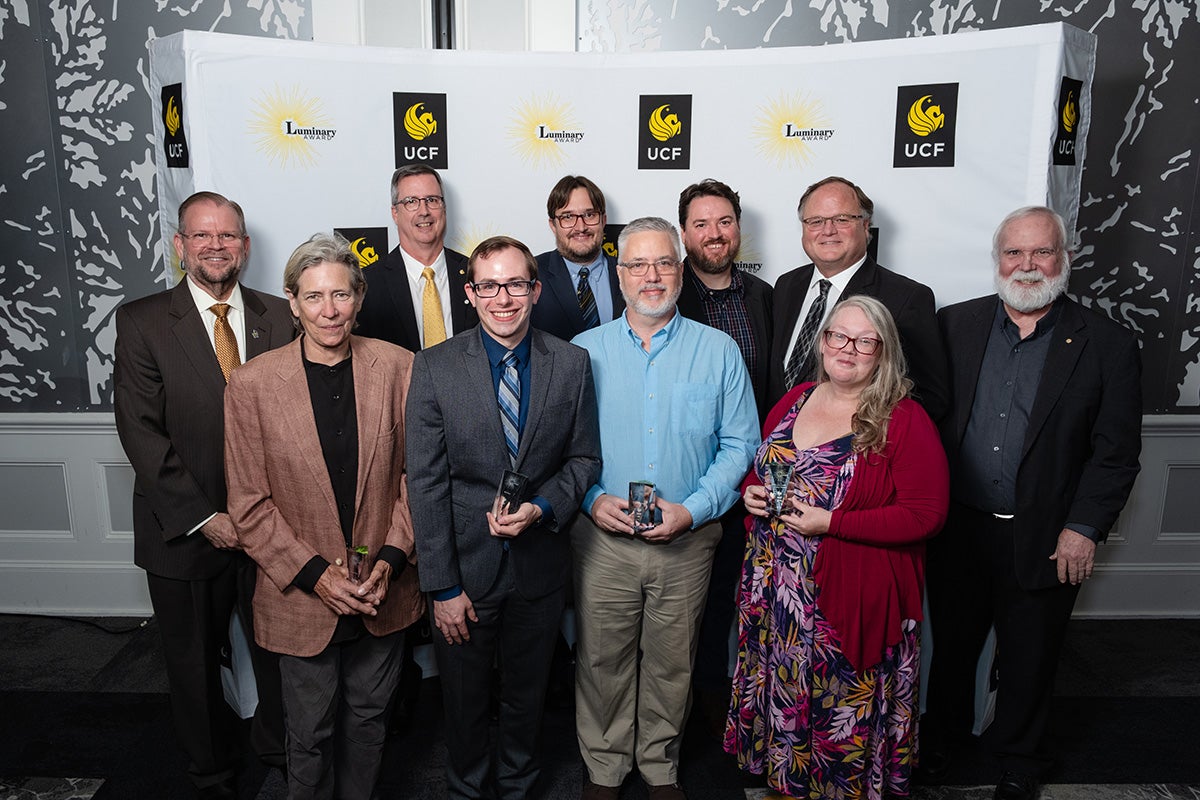 For nearly a decade, a group of dedicated faculty members has been the driving force behind the remarkable success and evolution of the UCF Celebrates the Arts Festival, an annual celebration downtown that showcases the amazing talents of UCF's students and faculty for the Central Florida community.
UCF Celebrates the Arts is a community treasure set to mark its 10th anniversary in 2024. It owes its inception to Dean Jeffrey Moore's visionary leadership in establishing it as a prominent fixture within the UCF and Orlando arts scene.
In the early years, the festival relied on a production company to manage its operations, a cumbersome and expensive process. However, two years ago, Paul Lartonoix assumed the role of associate producer, proving to be a champion for organization, commitment and professionalism.
At the heart of the festival's success lies a core group whose contributions may not always be widely recognized, yet they are the very essence of the festival's triumph each year.
Claudia Lynch, the head of stage management for theatre, has played an integral role in managing all aspects of scheduling, training and supervising more than 40 stage management students in an unparalleled training environment.
Bert Scott, head of production, manages the design of events and oversees technical needs, bringing valuable expertise to the process.
Rudy McDaniel, director of UCF's School of Visual Arts and Design, has taken on the visual arts aspect of the festival, organizing all exhibits and events related to the school. McDaniel has overseen the selection and installation of many exhibits, events, and the lobby displays that are an integral and impactful aspect of the festival. Through his efforts, hundreds of the school's student works are displayed, projected and highlighted.
Design and Technology faculty members Rob Siler, Vandy Wood and Tim Brown oversee additional design and technical aspects of the programming, ensuring all event needs are met. This year, they created lighting, projection and visual design for the jazz concert, the Young Composer's Challenge, the dance concert, and the alumni showcase. Year after year, the faculty of the design/technology and stage management program devote hundreds of hours to the success of UCF Celebrates the Arts.
These individuals are the unsung heroes of UCF Celebrates the Arts and have diligently facilitated the smooth operation of 35-40 groups, ensuring a flawless experience for all involved. Their dedication was epitomized by Broadway star Megan Hilty and WUCF staff members, who praised the festival's level of support and organization, recognizing it as unparalleled.
This teams' tireless commitment has propelled the festival into the national spotlight, garnering awards, press attention and grant funding. Notably, the festival was honored with the City of Orlando's Golden Brick Award for the 2022 festival, a testament to its standing as a premier Orlando arts event.
The reputation and recognition the festival enjoys today underscore the relentless efforts and dedication of these exceptional individuals who have made this journey of artistic celebration and education a resounding success.