This year's Reach for the Stars honorees are united by their passion to help people and positively change the world. By promoting positive healthcare and helping improve how we respond to survivors of violence to enriching the human experience through space exploration, advanced computing and cultural understanding, the honorees are helping unleash the potential of people and ideas.
The Reach for the Stars award recognizes early-career professionals with highly successful research and creative activity with a national or international impact. It is second only to the Pegasus Professor award as UCF's highest faculty honor. This year's awardees will be recognized as part of the Founders' Day Faculty Honors Celebration on Wednesday, April 5, from 3 p.m. to 5 p.m. in the Pegasus Ballroom of the Student Union.
Meet the 2023 Reach for the Stars honorees: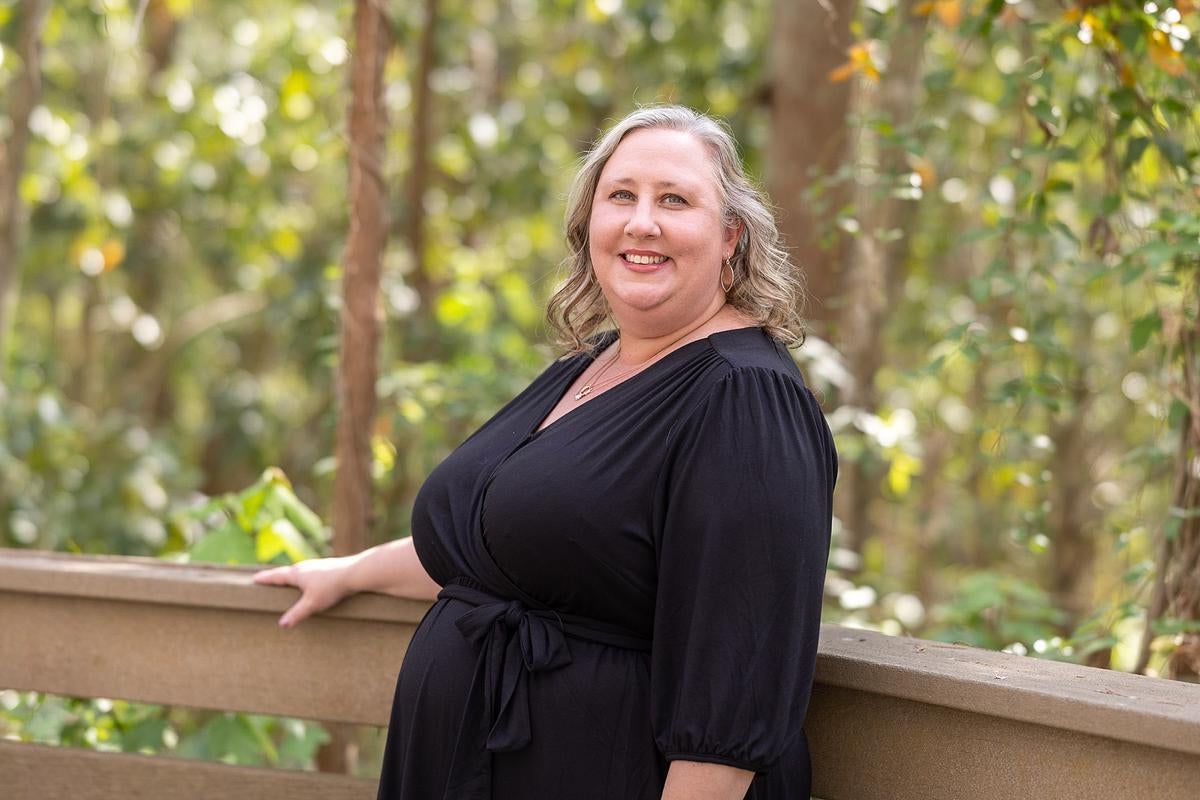 Bethany Backes
Ph.D. in social work from the University of Maryland Baltimore
Bethany Backes is improving how we respond to survivors of violence.
She does this through her research into domestic, sexual and stalking violence. Her goal is to create and improve programs, services and responses that prevent violence from happening again and provide support for individuals and families to meet their short- and long-term needs.
"I want to understand how, why and when survivors seek help from justice, social service and community-based agencies and if those agencies are meeting the needs of survivors," Backes says.
"No one is immune to violence, yet we should be doing everything in our power to prevent it from occurring and recurring," she says.
More than 40% of women and over 20% of men have experienced interpersonal violence throughout their lifetime, according to the Centers for Disease Control. The impact of this violence is felt across individuals, families, communities, the nation and the world due to the mental and physical harm it causes as well as its long-term social and economic consequences.
"I want to give voice to survivors and to those that work with them in order to create and sustain change," she says. "Also, it is important that this work drives to the larger goal of reducing violence and mitigates the negative impacts of victimization. However, that cannot occur without major systemic changes across our social and familial ecologies."
Her impact on the success and well-being of survivors of interpersonal violence is already having widespread effects thanks to the numerous projects she is leading.
She is principal investigator of the U.S. Department of Justice, Office on Violence Against Women-funded project, Safe Transitions, which examines the intersection of housing, safety and homelessness among survivors of domestic violence across the country.
"We have an amazing team of colleagues and community partners and are talking with survivors to ensure the project centers those experiences," she says. "We hope it will greatly impact policy and provide a framework for communities in building and sustaining safe housing programs that meet the needs of survivors."
She's also part of an ongoing interdisciplinary project funded by the Elizabeth Morse Genius Foundation to develop a screener for use in student health services.
The project has brought together faculty, student health services and victim services, and they are working alongside students and other stakeholders to develop and validate a set of screening items that are reflective of UCF's student body to identify experiences of interpersonal violence.
"Our focus is on early intervention and part of this process is educating students on interpersonal violence, providing them with multiple avenues to get assistance and giving them autonomy to make the decision that is best for them," she says. "As this project continues, we plan to replicate it at other college campuses."
To support students in her field, she also worked collaboratively with postdoctoral scholars to develop a directed research course specifically on gender-based violence where undergraduate students are exposed to research on these topics while also learning about self-care and vicarious trauma.
For her help ensuring the success of postdoctoral researchers, she's received UCF's early career Postdoctoral Mentorship Award.
"This is so meaningful to me," Backes says. "It is a privilege to work alongside these bright and dedicated postdocs and be a part of their journey."
She says the major reason she chose to work at UCF is because of the Violence Against Women Cluster.
"To be at a university that specifically supports this area of research is not that common," she says. "Being able to work in a collaborative environment with others studying similar and overlapping areas can only enhance our impact in this area. Plus, the students are incredible and very interested in conducting research alongside the cluster faculty and we are grateful for the opportunity to mentor these bright, dedicated student researchers."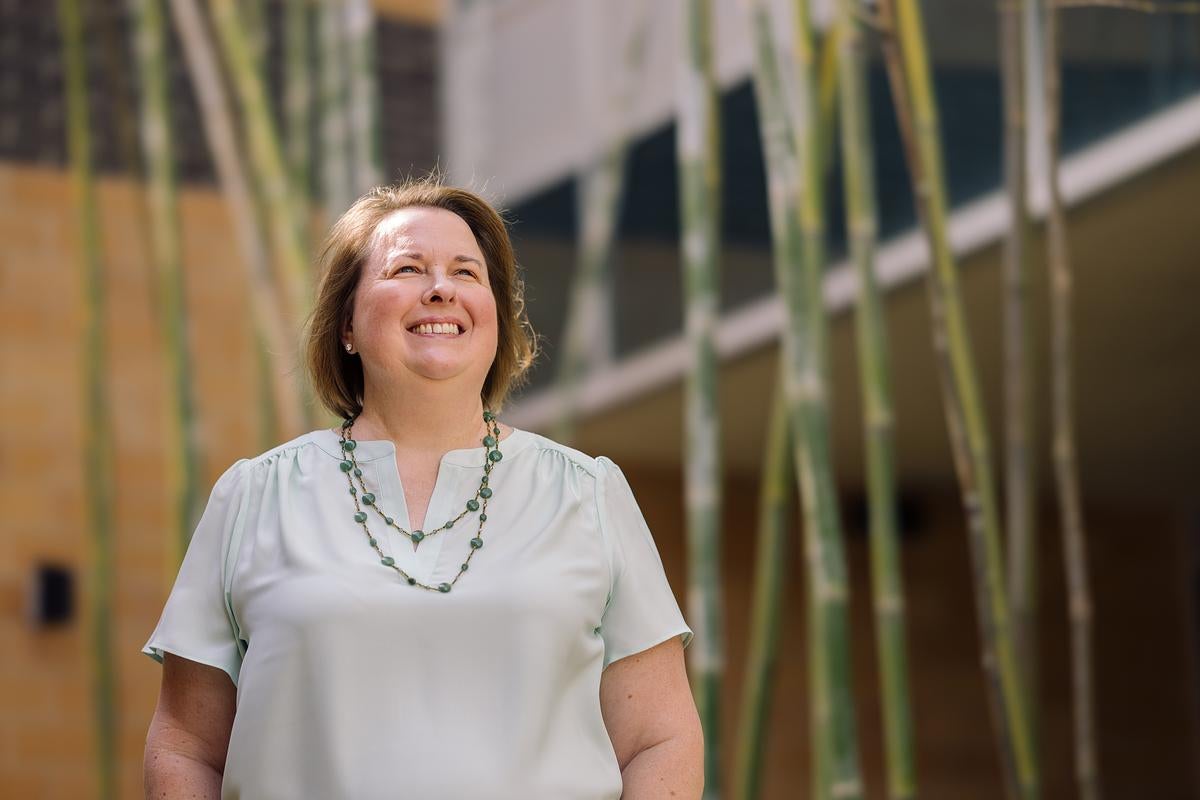 Kerri Donaldson Hanna
As a planetary geologist, Kerri Donaldson Hanna gets an inside look at outer space. Her work allows her to examine simulated and actual samples of the moon and asteroids, either in the form of meteorites or from those collected by the Apollo astronauts, and compare them to observations from telescopes and spacecraft.
The work informs our understanding of the formation of the moon and other small bodies, which provides clues into how the Earth and the rest of the solar system evolved into what we know today.
Her expertise has led to her joining high profile NASA missions like Lunar Trailblazer, which will launch in Fall 2023, and working on their Lunar Compact Infrared Imaging System (L-CIRiS) project, which is going to the moon's south pole in late 2026.
Along with UCF planetary scientist Adrienne Dove, Donaldson Hanna is leading the $35 million NASA Lunar-VISE mission to explore the moon's volcanic Gruithuisen domes. The mission, scheduled to launch in mid-2026, will search the volcanoes for resources that could be used for our long-term exploration of the moon and space.
And her work is not only helping to positively impact our knowledge of the solar system, she's also helping to unleash the potential of Knights here at UCF.
"One of the research accomplishments I'm most proud of at UCF is building a really talented group of undergraduate and graduate students as well as postdoctoral researchers to study the moon, Mercury and asteroids," she says. "Having a great research group makes science a lot more fun and rewarding."
The potential to collaborate with leading researchers as well as students excited about science is one of the main reasons she chose to work at UCF.
"I was very excited to join UCF — America's Space University — because of the fantastic group of faculty and scientists doing planetary and space science," she says. "It is a great environment to collaborate and expand my areas of research, and having access to such smart and talented undergraduate and graduate students to recruit to do research with me was also really appealing."
She says the ultimate goal for her research would be to be a part of a mission with humans or robots that would sample rocks from the far side of the moon where there is a lot of pure anorthosite and then study those samples in the lab.
"I have studied anorthosites, which are rocks composed primarily of the mineral plagioclase, for much of my career, so getting samples from an area of the moon that we have yet to sample to answer questions about the formation and evolution of the moon would be fantastic," she says.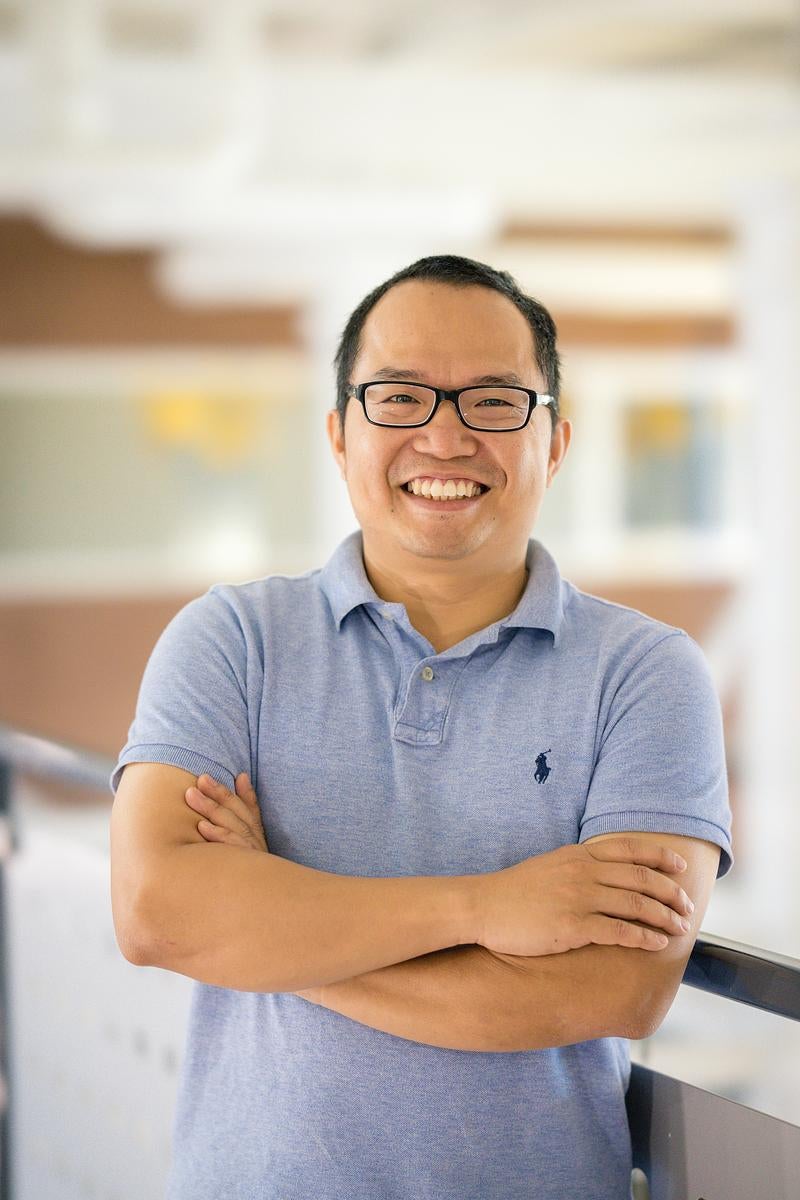 Yanjie Fu
Artificial intelligence is the foundation of future computing, but it can be highly sensitive to even the smallest disturbances, which can lead to catastrophically poor performance.
That's why computer scientist Yanjie Fu focuses his research on developing robust machine intelligence that can withstand disruptions, such as imperfect or complex data.
"AI systems, unlike humans, are brittle, not robust, and often struggle when faced with novel situations," Fu says. "Therefore, in a real-world, open, dynamic and uncertain environment, it is critical to develop robust AI systems."
Fu is solving the problem by building tools to address robustness issues from framework, algorithmic, data and computing aspects.
He says the ultimate goal for his research is to develop strong and generic System 1 (representation and projection) and System 2 (reasoning and decision) intelligences, so machines are equipped with human-like abilities.
His impact has extended to both his field and his students. His two graduated doctoral students have joined academia as tenure-track faculty members, and he has received the U.S. National Science Foundation CAREER award, as well as best paper awards in leading conferences in his field.
He said the abilities of AI are changing, and it is an exciting field for innovation and discovery.
"In the past, AI techniques have been used to address specific tasks," he says. "The recent advances of ChatGPT show that it is promising to develop strong, generic and human-like intelligent systems to perform tasks that humans accomplish. This is an exciting direction."
Fu says he chose to work at UCF because it is a dynamic, vibrant and research-intensive university.
"UCF is highly regarded in engineering and computer science education and research," he says. "At the computer science department, the College of Engineering and Computer Science, and at UCF, I have great opportunities to work with world-class researchers and model faculty members, so I can observe, interact with, imitate and learn from my colleagues, and moreover, improve myself."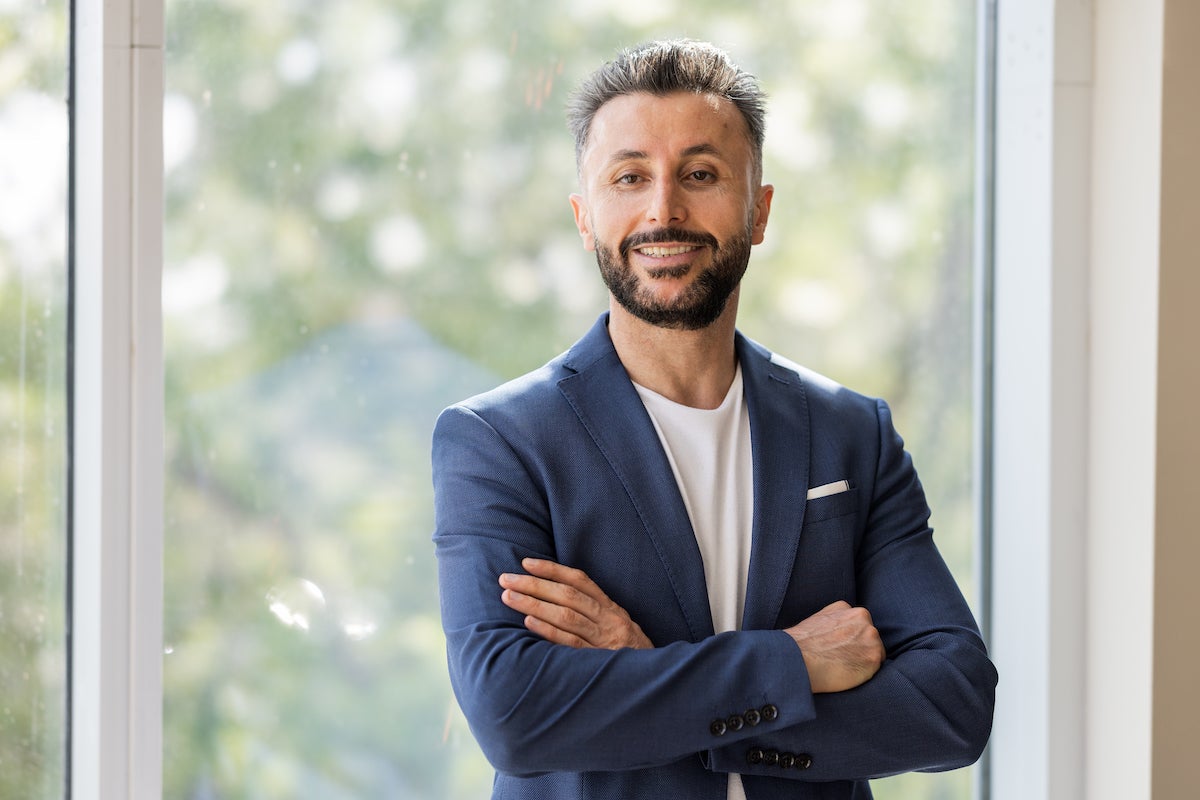 Haidar Khezri
Haidar Khezri uses language teaching, translation, literary criticism, and minority and refugee studies to help students, scholars and the broader public understand the complexities of the Middle East.
As a scholar of languages and literatures, he's published several books, translations of dozens of poems and journal articles and worked on major sponsored projects that have been discussed in academic circles and featured in national and international media, such as the Financial Times, the Jewish Telegraphic Agency, La Tribune, Kurdistan 24, Reuters and The Washington Post.
He's also written for media outlets, such as The Conversation and openDemocracy, and he has been interviewed about minority and human rights by various media outlets, such as Voice of America.
"The Middle East is the home of important religious and cultural traditions, as well as one of the most important geopolitical areas of our contemporary world," Khezri says. "Yet, its diverse minority languages and cultures remain largely obscured. This is the area in which I am contributing at the forefront of generating knowledge."
His efforts to enrich the human experience have extended into UCF classrooms and beyond by designing and developing the nation's first Kurdish curriculum for North American universities, making UCF one of only two universities in the nation to regularly offer Kurdish language courses. Additionally, he led the design of the Kurdish curriculum for Metro Nashville Public Schools and Nashville State Community College, enabling Kurdish to be included for the first time in the programs of any high schools and community colleges in the U.S. The U.S. Department of State has listed the Kurdish language as one that is critical to the U.S.'s national security, prosperity and positive engagement with the world.
He says he's proud to reflect on how his scholarly work is setting the standard in key areas of language-teaching, cross-cultural understanding and international literary exchange.
"My students and readers gain a richer understanding and appreciation for the Middle East," Khezri says. "This ultimately promotes understanding, tolerance and peace."
One of his most recent research projects examines attitudes among Syrian refugees in Germany, which includes hundreds of extensive interviews conducted in three waves from 2017 to 2022. The study covers crucial topics of our time, he says, including antisemitism, migrant integration, LGBTQ+, women, minority rights and conspiracy theories.
"In the last decade, social sciences as well as other academic disciplines have witnessed an increased interest in minorities, refugees and forced displacement as a subject of inquiry," Khezri says. "I am sensitive to and interested in studying different aspects of one of the biggest refugee crises in our world today to explore ways in which we, as global scholars and citizens, can contribute to alleviating this crisis."
He says he chose to work at UCF because of the opportunities it offers to unleash the potential of every individual.
"UCF is a young, vibrant university, that's open to creative and big ideas," he says. "At UCF, I hope to establish a center for minority and human rights and global justice."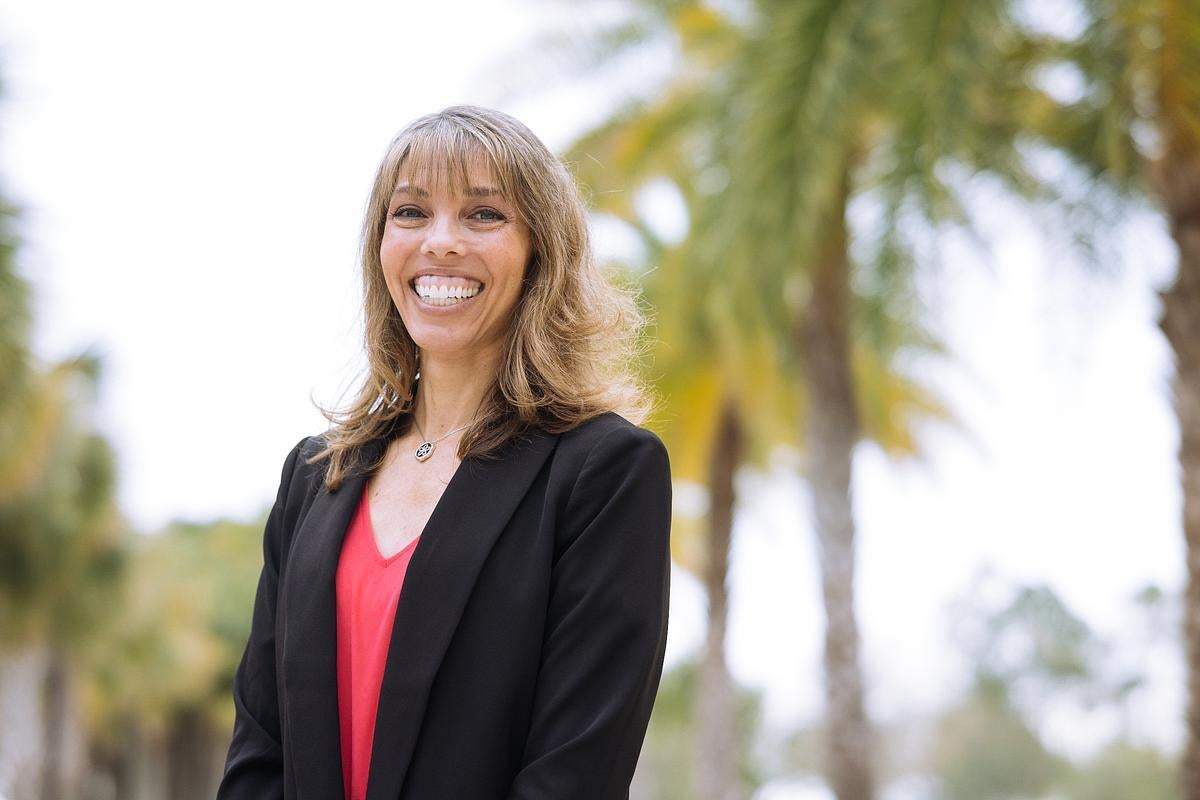 Lindsay Taliaferro
Assistant professor in the College of Medicine
Ph.D. in health behavior from the University of Florida
LGBTQ+ youth demonstrate health disparities — especially related to mental health outcomes and receipt of high-quality, affirming healthcare — compared to their heterosexual and cisgender peers. For example, LGBTQ+ youth demonstrate four times greater risk of suicide than their peers.
It's for this reason that Lindsay Taliaferro says she feels passionate about her work researching factors that protect against suicidality and facilitate receipt of high-quality, affirming healthcare for LGBTQ+ young people.
She conducts strengths-based — rather than deficits-based research — that examines effects of modifiable protective factors across individual, relationship, community, and societal levels, that can help eliminate health disparities and achieve health equity among LGBTQ youth.
This includes examining structural factors — such as state nondiscrimination laws, LGBTQ supportive school and regional climates and access to affirming healthcare — and their effect on healthcare utilization and health outcomes, particularly suicidal ideation and behavior, among LGBTQ+ young people.
"Ultimately, I hope to positively impact the health and wellbeing of LGBTQ+ youth populations by strengthening supportive relationship, community and structural-level factors," she says.
She's achieving this goal through her research, which has been funded by the National Institutes of Health and the American Foundation for Suicide Prevention.
She's also received an NIH Sexual and Gender Minority Early-Stage Investigator Award, a UCF Women of Distinction award, and a UCF College of Medicine Early Career Investigator Award for Achievement in Research.
Since she conducts interdisciplinary research that involves a team science-type of approach, she says her success reflects the work of great interdisciplinary teams.
"I feel privileged to work with wonderful collaborators for whom I feel very grateful," she says.
Taliaferro chose to work at UCF because she appreciated the research support and collaborations the university afforded her.
"Faculty, staff and administrators in the College of Medicine are absolutely amazing," she says. "And my colleagues and collaborators from across different departments at UCF have always shown me kindness, generosity and unwavering support."