UCF's Violence Against Women Cluster researchers work across the disciplines of education, social work, criminal justice, sociology and medicine to create knowledge to guide policymaking designed to reduce the experience and impact of violence toward women.
About 33 million women will experience violence in their lifetimes. In addition to physical, sexual, emotional injury and even death, the economic costs of violence against women in lost work productivity and healthcare services are as high as $12.6 billion in the United States.
Effectively impacting this social issue can save countless lives and billions of dollars.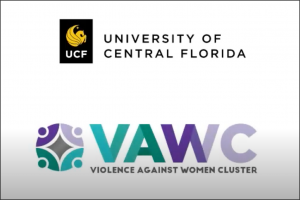 To better understand the complexity of violence against women and create innovative responses that transcend any one discipline, the cluster studies it from an interdisciplinary approach that merges health, social welfare and social justice perspectives.
The cluster incorporates all of these fields to better understand violence against women and provide insight into preventing it.
UCF Colleges Involved with Violence Against Women (VAW) Research:
Violence Against Women (VAW) Research
Projects
---
Publications
"When stay-at-home orders leave victims unsafe at home: Exploring the risk and consequences of intimate partner violence during the COVID-19 pandemic"

, Catherine Kaukinen, Ph.D.,

American Journal of Criminal Justice

45, 668–679: Jun, 2020

"Intimate partner violence and material hardship among urban mothers"

, Julia O'Connor, Ph.D.,

Violence Against Women

26(9), 935-954: Jul, 2019

"Place, injury patterns, and female-victim intimate partner homicide"

, Amy Reckdenwald, Ph.D.,

Violence Against Women

25(6), 654-676: Sep, 2018

"Gender differences in the association between childhood sexual abuse and risk behaviors among people living with HIV in Haiti"

, Karina Villalba, Ph.D.,

Aids Care

1-7: Apr, 2020

"The aftermath of cyberstalking: School, work, social, and health costs of victimization"

, Erica Fissel, Ph.D.,

American Journal of Criminal Justice

45(1), 70-87: Jun, 2019

"Responding to sexual assault on campus: A national assessment and systematic classification of the scope and challenges for investigation and adjudication"

, Alison Cares, Ph.D.,

National Institute of Justice

NCJ Number 254671: Jan, 2020

"The role of drinking motives and perceived controllability of events in the association between college women's sexual assault victimization and binge drinking"

, Jacqueline Woerner, Ph.D.,

Addictive Behaviors

90, 210-216: Mar, 2019
Violence Against Women (VAW) Degree Programs
UCF offers multiple degree programs for students interested in courses related to preventing violence against women. For more programs, search UCF programs below.
Violence Against Women (VAW) Faculty
Kim Anderson, Ph.D.

Professor of Social Work

Bethany Backes, Ph.D.

Assistant Professor of Social Work

Alison Cares, Ph.D.

Associate Professor of Sociology

Erica Fissel, Ph.D.

Assistant Professor of Criminal Justice

Jana Jasinski, Ph.D.

Pegasus Professor of Sociology

Catherine Kaukinen, Ph.D.

Professor of Criminal Justice

Elizabeth Mustaine, Ph.D.

Professor of Sociology

Julia O'Connor, Ph.D.

Assistant Professor of Social Work

Amy Reckdenwald, Ph.D.

Associate Professor of Sociology

Karina Villalba, Ph.D.

Assistant Professor

Jacqueline Woerner, Ph.D.

Assistant Professor of Social Psychology