Cluster Leads:
Science Lead & Assistant Professor of Criminal Justice & Social Work
[email protected]
UCF's Violence Against Women Cluster researchers work across the disciplines of education, social work, criminal justice, sociology and medicine to create knowledge to guide policymaking designed to reduce the experience and impact of violence toward women.
About 33 million women will experience violence in their lifetimes. In addition to physical, sexual, emotional injury and even death, the economic costs of violence against women in lost work productivity and healthcare services are as high as $12.6 billion in the United States.
Effectively impacting this social issue can save countless lives and billions of dollars.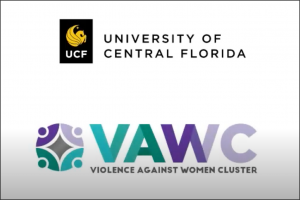 To better understand the complexity of violence against women and create innovative responses that transcend any one discipline, the cluster studies it from an interdisciplinary approach that merges health, social welfare and social justice perspectives.
The cluster incorporates all of these fields to better understand violence against women and provide insight into preventing it. To support this vital program, please visit here.
Media & Other Resources:
Orlando Sentinel reports, "A new study shows domestic violence incidents spiked more than 8% nationwide in 2020 following lockdown orders intended to stop the spread of the coronavirus pandemic — a trend also seen in Central Florida, according to one local leader." This article can be found here.
UCF's Violence Against Women Cluster Co-Lead, Catherine Kaukinen, PhD, served as a guest speaker on a recent radio broadcast with 90.7 WMFE, entitled, "New Study Co-Authored by UCF Professor Finds Domestic Abuse Has Increased Since The First Lockdown." This interview was held on February 26th, 2021 and the audio and transcript can be found here.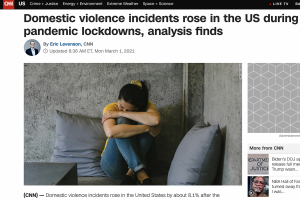 Kaukinen's work on domestic violence during COVID-19 has also been featured on CNN. Learn more about the report here.
Potentially life-saving research by VAW cluster member, Amy Reckdenwald, PhD, by reshaping the way law enforcement approaches domestic violence.
UCF Colleges Involved with Violence Against Women (VAW) Research:
In The News
---
Helping the Helpers
From treating post-traumatic stress disorder to creating devices that detect toxins such as fentanyl, UCF is making first responders' jobs…
Violence Against Women (VAW) Research
Projects
---
Publications
Violence Against Women (VAW) Degree Programs
UCF offers multiple degree programs for students interested in courses related to preventing violence against women. For more programs, search UCF programs below.
Violence Against Women (VAW) Faculty
Violence Against Women (VAW) Post Doctoral Researchers