Just five blocks from UCF Downtown is the Orange County Courthouse, a proximity that has Cynthia Schmidt filled with anticipation of holding classes in the Dr. Phillips Academic Commons in fall 2019.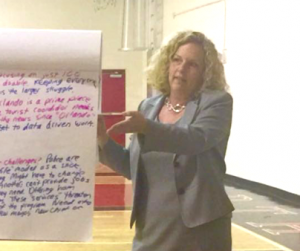 Cynthia Schmidt, J.D., lecturer and director of UCF's Center for Law and Policy in the Department of Legal Studies, led a breakout session at the Ceasefire Summit, a gun violence reduction strategy in Orlando.
In fact, Schmidt, lecturer and director of UCF's Center for Law and Policy in the Department of Legal Studies, has already begun work with a select group of undergraduate students, co-teaching "The Killing of Trayvon Martin – Legal and Social Perspectives on the Civil Rights Implications for American Criminal Justice" at FAMU College of Law with Dean LeRoy Pernell.
"All of the students had to interview to be hand selected for the class," Schmidt said. "They see it as an honor being in this space. They don't like to miss class."
Each of the 9 UCF students spend the first two-hours of class with FAMU Law students. The third hour is for the lucky UCF students only, who are pursuing various majors. Schmidt loves watching her students present converging ideas from different frameworks.
"The information that we're discussing is much more vibrant because they are bringing ideas to me that they are learning elsewhere," she said. "Lawyers look carefully at a single piece of work, where social workers look at systems and framing. The result is that the marketplace of ideas is enhanced because of their majors."
Angelo Baldado, a junior majoring in social work, said the class has completely changed his perspective on both his field and his career outlook.
"The class has impacted me to the point where I'm considering going to law school," Baldado said. "I can still be an expert at social work, but I need to pull things from sociology, legal studies and other areas. This class was a good way for me to see that."
For junior political science major Patrick Isidore, the guest speakers have been a highlight to the course.
"It's a different type of class," Isidore said. "Usually you have a teacher and a textbook, and they give you a couple pages to read from the textbook, with some PowerPoint slides. But a couple of weeks ago, we had the Sanford mayor, city manager and deputy police chief come and talk to us. We get to actually talk to people who are in the field handling things. It gave us a different perspective from what the media was showing us."
Isidore, who intends to pursue law school, has also enjoyed talking to the FAMU Law students. He goes out of his way to ask them for advice, get a better understanding of what to expect from law school and even picks up on what types of questions they ask in the classroom. It's an opportunity he feels he wouldn't have had if the class was held elsewhere.
UCF students also benefit from the resources at FAMU Law, which includes access to the Law Library. Schmidt, who is a former criminal defense lawyer, says it's the best law library in Orange County.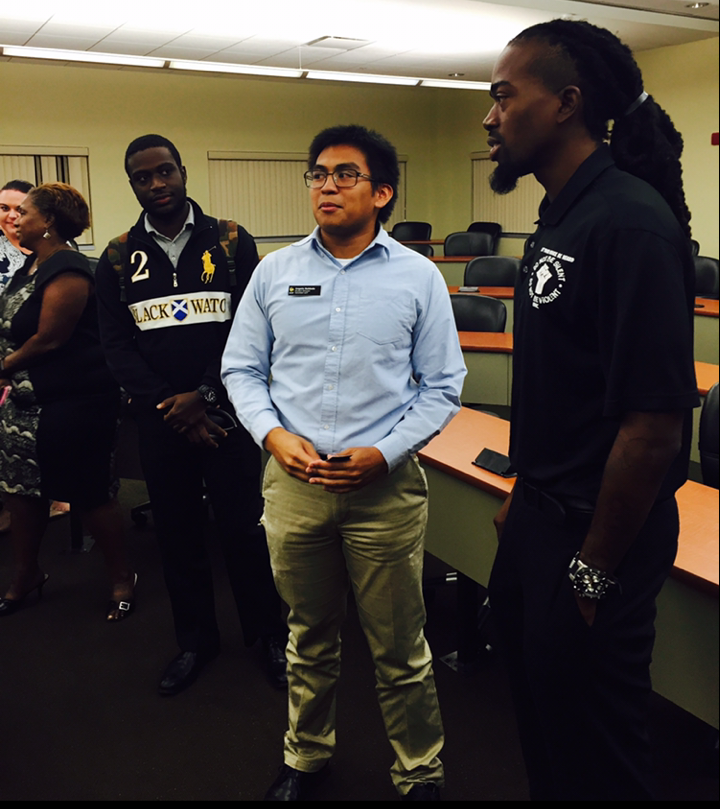 UCF students (L-R) Patrick Isidore and Angelo Baldado talk to social justice activist Miles Mulrain Jr.
Being close to Parramore has also helped Schmidt secure relevant guest speakers. In addition to the Sanford officials, she has also hosted social justice activists including Miles Mulrain Jr., founder of the nonprofit Let Your Voice Be Heard. "Most of the speakers are from the west side of downtown and know where to go," she said.
The cross-listed class isn't Schmidt's first foray into work downtown. For the past four years, she has hosted seminars and events in the Parramore community, working directly with Parramore Kidz Zone on several initiatives.
This has also led her to become an unofficial mentor for youth in the neighborhood, encouraging them to become more actively involved with the community – a lesson her students are also learning first-hand.
"I'm just wondering, what do I do after this?" Baldado asked. While the semester isn't even half way over, he's already reluctant for the class to end. "I'm so excited to take what I learned here and apply it to social work. But, I want more!"