Bullets from a semi-automatic rifle drilled into Room 1214 of Marjory Stoneman Douglas High School in Parkland, Florida, as dozens of students dove for cover in fear for their lives.
As the shooting started on Feb. 14, 2018, Kaitlyn Jesionowski crouched behind a computer cart. It was the last time Jesionowski, now a UCF student, would see some of her classmates alive.
"We all kind of just looked at each other, and then everyone dove to a corner," she says. "It's hard to believe. It felt like it was in slow motion."
It's been almost two year since the shooting killed 17 students and faculty and injured 17 others. The survivors are rebuilding their lives as they recover from the tragedy.
Jesionowski, 19, a sophomore nursing-pending major, says she has woven together a support system of friends and family who helped her cope with the shooting.
Talking about it makes things a little bit easier, she says.
Shaping a pathway to recovery
After the shooting, Jesionowski raised her shaking hands and ran down the hallway that was smeared with blood and littered with bullets and broken glass.
And later on, Jesionowski ran — to recover.
To cope with grief and begin healing, she threw herself into her hobbies: running, working out, dancing.
Jesionowski, who was a member of her high school's track team, says running has helped her cope, but she still carries the trauma of the shooting with her every day. She also occupied herself with Irish dancing, though she said the loud clacking sounds of the hard shoes — reminiscent of the deafening pops of a rifle — made it a difficult hobby to go back to.
"Everywhere I go, I have to see where the exit is if something happens and kind of make a plan." — Kaitlyn Jesionowski
"Everywhere I go, I have to see where the exit is if something happens and kind of make a plan," she says.
However, Jesionowski says, the shooting has eventually shaped her for the better, strengthening and improving her outlook on life.
"Like people say when you have a near-death experience, you kind of change," she says. "I definitely focus on the more positives … focusing on love and everything more than hate. That's very cliché to say, but it's true."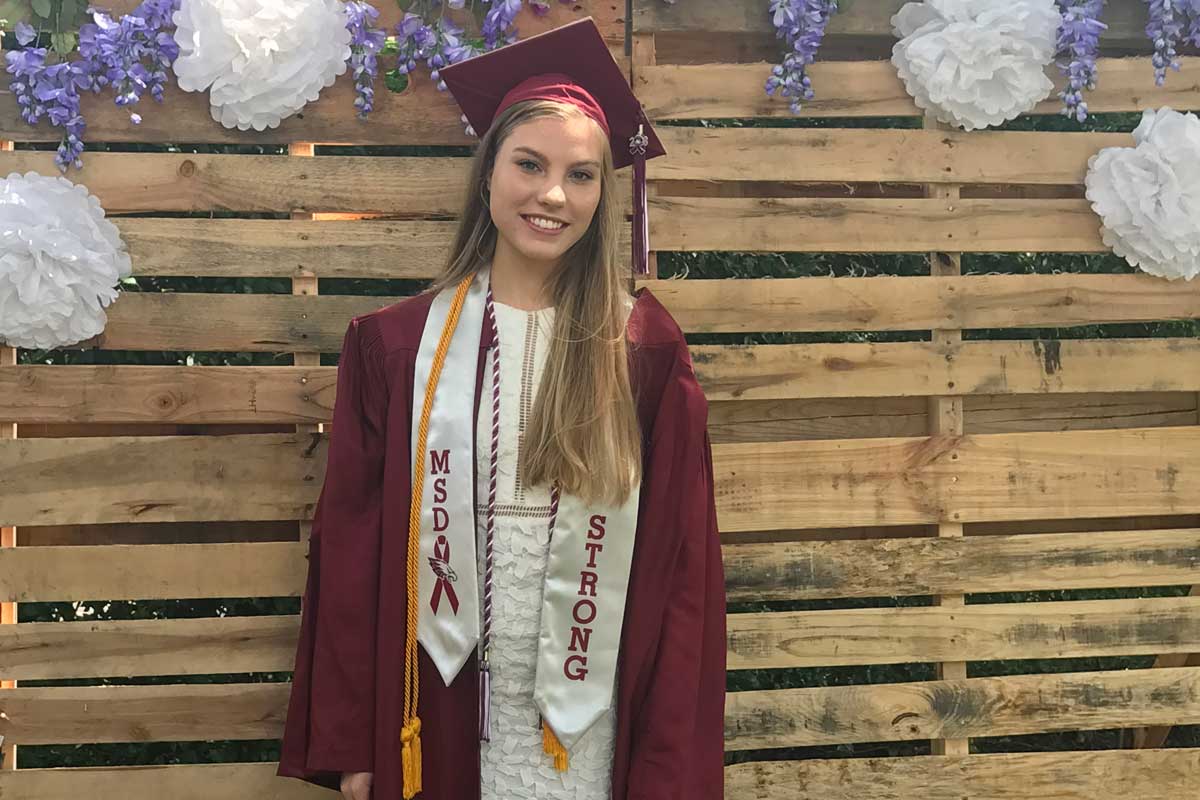 It was good to move away from home and come to UCF, Jesionowski says, adding that everything for her was too focused on Marjory Stoneman Douglas.
But she still has two younger sisters who attend the high school.
"I definitely worry about [my sisters] … But also my entire family, wherever they go, like a shopping mall. [A shooting] could happen there," she says.
The massacre in Parkland created a national conversation, sparked by a group of outspoken students calling for stricter gun-control laws.
Also, filmmaker Charlie Minn directed the documentary Parkland: Inside Building 12, which centers on the stories of the survivors and victims, including Jesionowski, and features raw crime-scene footage. The film played at a theater in Orlando in January.
"[There were] just so many examples of heroism and humanity that were going on inside of the classrooms, and I don't think those stories have really been brought out," Minn says.
Looking forward
Jesionowski arrived at UCF in Fall 2018 and she says she's forging a life focused on the future.
She currently is a nursing-pending student and says she's always thought she wanted to work in the medical field, but the shooting helped solidify that plan.
"I think just helping people and being able to be there … [I] like connecting with patients more," Jesionowski says.
She also encourages people not to live in fear, but to be cautious, prepared and appreciative every day.
Candlelight Vigil
A candlelight vigil will be held on Memory Mall at 6 p.m. Feb. 14 to recognize the two-year anniversary of the mass shooting at Marjory Stoneman Douglas High School. UCF students impacted by the tragedy — those who were attending MSD at the time of the shooting as well as those who lost loved ones — will give remarks.
Located just three hours south of Orlando, Marjory Stoneman Douglas in Parkland, Florida, is one of UCF's largest high school feeder schools. More than 400 former MSD students are currently enrolled at UCF. This includes more than 160 freshmen and sophomores who were students at MSD when the shooting occurred.
Following the 2018 shooting, UCF offered letters of condolence to each of its MSD students as well as counseling, support workshops and care packages.
UCF students coping with a tragedy or mental-health concerns can access a variety of resources:
Counseling and Psychological Services
CAPS, a free service for students enrolled at UCF, offers individual, group and crisis counseling, along with a variety of other programs. An after-hours crisis hotline can be reached at 407-823-2811. CAPS also offers online resources on trauma and coping with grief, among others.
A Gun Violence Support workshop at CAPS is being held on Feb. 13 at noon for students.
UCF Victim Services
Victim Services is a confidential victim-advocacy program for students who have been impacted by crime, violence or abuse. Crisis intervention is available 24/7 through UCF Victim Services, either in person, or by calling 407-823-1200 or texting 407-823-6868.
Student Care Services
Student Care Services guides students through stressful situations and offers resources and referrals. SCS can be reached at 407-823-5607.
Therapist Assisted Online Self Help
The online program provided by CAPS allows students to individually work through interactive modules, which are meant to help overcome anxiety and depression, at any time of the day from the comfort of their home.