The new associate provost for UCF Downtown is a seasoned academic leader and distinguished criminal justice scholar who helped launch the campus in Fall 2019.
The appointment of Ross Wolf '88 '91MPA '98EdD by Michael D. Johnson, provost and executive vice president for Academic Affairs, elevates his role from assistant provost for UCF Downtown that started in April 2019. As associate provost, Wolf will oversee campus academics and operations, partnerships, initiatives and community relations for an urban campus that serves more than 7,500 students. His appointment follows an internal search process and is effective Feb. 18.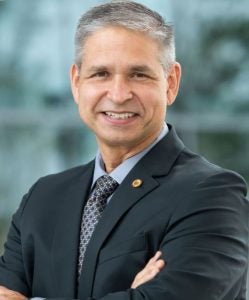 "Dr. Wolf will play a lead role in fostering a robust academic environment that promotes faculty excellence, student success, innovation and community engagement," Johnson says. "Developing these areas excellence at UCF Downtown is a key to UCF becoming a world-leading public metropolitan research university."
Wolf's UCF administrative service began in 1991. It includes leadership roles as an associate dean in the College of Community Innovation and Education and the former College of Health and Public Affairs. Wolf is also a tenured professor in UCF's Department of Criminal Justice whose scholarship includes numerous books, grants, and publications focusing on volunteer policing and police administration.
His extensive career entails current roles with the International Association of Chiefs of Police (IACP) Police Administration Committee and as an executive board member of the International Managers of Police Academy and College Training (IMPACT) Section. He also serves as a visiting fellow at the Institute for Public Safety, Crime, and Justice at the University of Northampton in the United Kingdom.
Wolf holds three degrees from UCF: a doctorate in educational leadership, a master's in public administration and a bachelor's interdisciplinary studies. He said in a short time UCF Downtown has energized the surrounding Orlando community while helping UCF students achieve their personal and professional dreams.
"UCF Downtown is a testament to the powerful impact that can occur from partnering in earnest with our state colleges, government, the community and industry leaders," Wolf says. "I look forward to continuing to serve the students, faculty and staff in making UCF Downtown a national model for inclusion and excellence in higher education."