When Yuisa Colón-Rosado '16 sees a problem, she's compelled to be a part of the solution. Just look at why she got into nursing.
After eight years of working in marketing for UCF's College of Community Innovation and Education, Colón-Rosado was in an accident and experienced some health issues that put her in contact with medical professionals more than she had ever been before. But it wasn't the best experience.
"I was very dissatisfied with the care I received, so I thought 'What better way to fix it than from the inside?'" Colón-Rosado says.
"There is a palpable frustration, stress and uncertainty within our nursing community. I just wanted to help in some way."
So in 2014, she made the switch from UCF employee to student to pursue a bachelor's in nursing. Shortly thereafter, she was awarded a Professional Doctoral Diversity Fellowship from the university, allowing her to pursue a degree to become a nurse practitioner. And now she's using her experience with academic research to find solutions for proper mask protection for her fellow UCF nursing graduate students
"There is a palpable frustration, stress and uncertainty within our nursing community," she says. "I just wanted to help in some way."
Taking Action
On Jan. 21, the first case of COVID-19 was reported in the U.S. Due to the unknown nature of the novel virus and shortages of supplies in hospitals across the nation, the CDC did not recommend the general public wear face masks for protection. However, in the following months, it was found that up to 25 percent of people infected with the coronavirus did not present symptoms, prompting the CDC to change its stance in early April.
"If I could, I would make masks for every nurse."
"In the beginning of the outbreak, my family questioned whether we should be wearing masks in public. There was a lot of confusion because of ongoing changes of the CDC's guidance," Colón-Rosado says. "But I looked into the effectiveness of wearing masks in the community and research about cloth masks, it was clear that they were needed."
At first the masks were just for her family and friends. She even shared the patterns with her brother, an artist in New York where the virus is hitting the hardest in the U.S., and sister, a college art student in Puerto Rico, how to make them to keep their friends and selves safe. With the help of her mother, a retired seamstress, Colón-Rosado has ramped up production to more than 200 masks, which she's funded herself.
"My mom has always been supportive when I've wanted to solve problems," Colón-Rosado says. "She's always encouraged us to be the best we can be and do the best we can, no matter what it is. If I could, I would make masks for every nurse."
Using a Facebook group to connect with Knight nurses, she's been able to mail and schedule distribution for about 40 masks. Last week, Colón-Rosado delivered another 120 masks to local hospitals.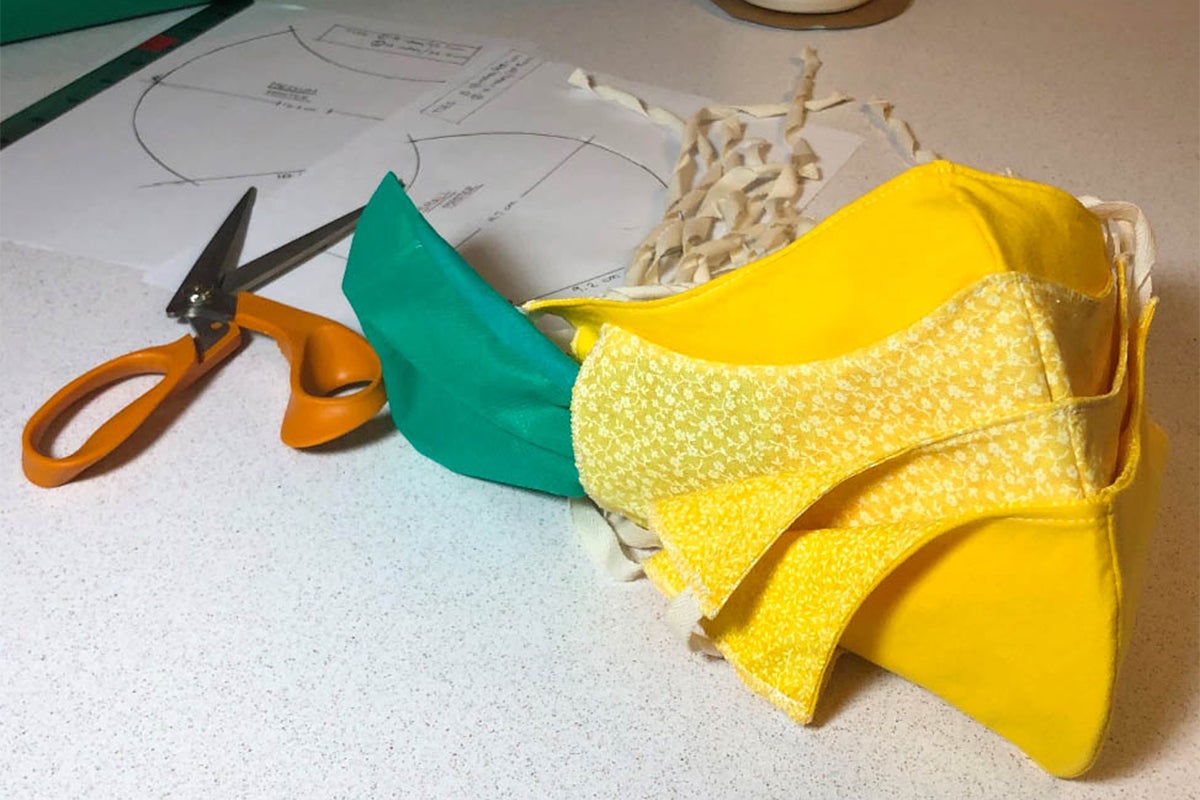 Developing Design
As a student in UCF's Adult-Gerontology Acute Care Nurse Practitioner DNP program, Colón-Rosado knows the importance of using the best information available to make decisions in the healthcare field. So when she decided to make masks, she turned to research. Using scholarly journals and articles, she's been able to find some guidance on the best designs for mask protection, but she notes there is a need for more studies on the subject.
"This is something that the medical community should be testing and improving on, as the Institute of Medicine recommended in a 2006 report."
"Although research is limited, it shows any type of mask provides some degree of protection. But I wanted to know how we could make the them as safe as possible," she says. "Right now I'm using the materials and design features that the evidence suggests can be effective because the priority is to have protection now, but this is something that the medical community should be testing and improving on, as the Institute of Medicine recommended in a 2006 report."
As more and more people are making masks at home, Colón-Rosado has some suggestions based on her research and experience. The recommendation she stresses is using masks alone is not a solution. It's important to practice isolation for people who are symptomatic, social distancing and hand washing together to combat the virus. Her other tips include:
Use Good Hygiene: Be sure to wash your material before sewing and wash your masks after each use to decrease the risk of cross-contamination. Washing your hands before putting on and taking off the mask is just as important."When you launder your cloth masks add bleach if the material can handle it. Using a solution of 1 percent bleach destroys the viral genome of the influenza virus, and while this COVID-19 is new and we aren't certain of how it will react, some researchers suggest it may be effective." If you want to use an alternative to bleach, use a 10 percent solution of vinegar with detergent instead. Bonus: Washing and drying the material on high heat before sewing your masks also ensures the fabric has shrunken to its maximum capacity.
Look at the Material: "Ideally you want a material that is woven tight enough that it will filtrate viral-loaded particles, but also will allow you to breathe without increasing effort because that can be detrimental to the person using them," she says. Try wearing your mask for a few hours at home to make sure it will not disrupt breathing or make users dizzy.
Surgical Precision: While both masks feature panel designs, procedural masks include ear loops and surgical masks have ties. Colón-Rosado found that ear loops do not allow the mask to seal around the face, plus the elastic used to create ear loops often wears out with washing, so she suggests using ties like the ones on surgical masks instead.

"You want to make sure is that the fabric or material is as close to your skin as possible to minimize air leaking," she says.

Double Protection: Consider creating a pouch within your masks for a filter. In addition to two layers of cotton fabric, Colón-Rosado has included a removeable, waterproof filter made from two layers of polypropylene non-woven fabric, which is the same material used for reusable shopping bags and is available online and at craft stores. "I wanted to find a filtering material that would ideally be waterproof but improve ventilation. This one is very light and less expensive than regular fabric and it can be decontaminated using boiling water, autoclave, or UV-light," she says.