As UCF approaches its inaugural season as the youngest member of a Power 5 conference, the athletics department is taking a look back to commemorate this special moment in history. The following feature is a part of UCF's 12 for XII series — 12 stories that define UCF and the meteoric rise of the Knights in their journey to the Big 12 Conference.
---
May 24, 2023. Big 12 Business Summit. Arlington, Texas.
Eric DeSalvo '09, UCF associate athletics director of #content, settles into his seat among the crowd of marketing and sales leadership staff from around the Big 12 Conference as the league's commissioner, Brett Yormark, takes the stand for his opening remarks.
"He starts it off and he goes, 'These are the four things that are my pillars: innovation, creativity, disruption and taking risks,'" DeSalvo recalls. "And I immediately think, is he talking about himself or UCF?"
Being "bold" and "innovative" and "disruptive" might just sound like hot buzz words for brands to adopt in 2023. But in UCF's case, it's authentic. The Knights actually are all of these adjectives because they've had to be.
Without the resources of longer-established universities — University of Florida was founded in 1853, UCF in 1963…
Without a longstanding history of fandom and donor support — University of Texas' alumni association was organized in 1885. UCF's in 1975…
Without decades of nationally televised games and promotional broadcasts — Ohio State has hosted ESPN's College GameDay a record 22 times, UCF once…
UCF has had to strategically rely on its youth to find ways to break through the noise in a state that boasts three other Power 5 institutions.
Enter: The benefit of big and the power of social media.
Building a Brand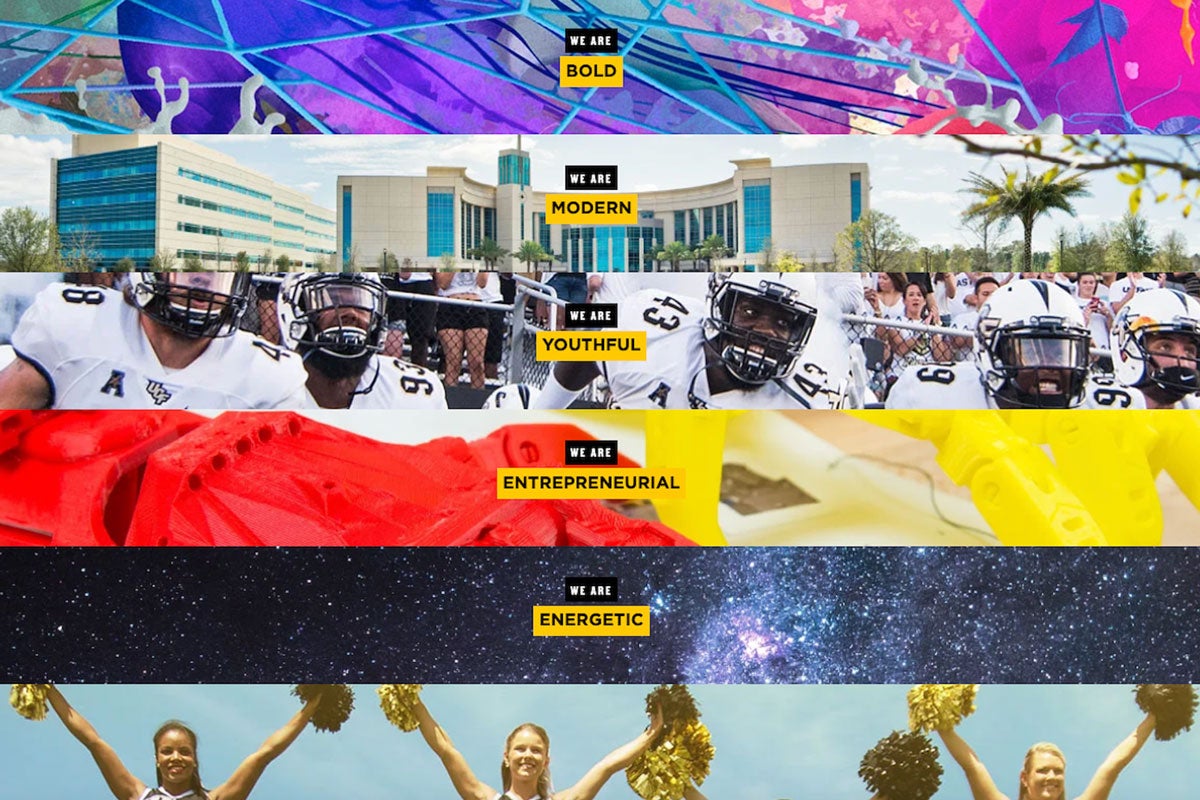 Established in 1963, UCF's meteoric rise to the Big 12 Conference makes it the youngest Power 5 institution in the country.
"It's a modern athletic department. I think it's the future of higher education. It's the future of college sports," says Zack Lassiter, vice president of athletics for Abilene Christian University who served as UCF's senior associate athletic director of external operations from 2012-15.
But it wasn't always necessarily this way.
DeSalvo knows UCF's brand arguably better than anyone. The son of UCF graduate Joe DeSalvo '75, he grew up going to UCF games in the mid-1990s at the Citrus Bowl and went on to graduate from UCF himself. He has worked for the athletic department since 2011 — first in communications before he transitioned to what is now known as the #content department in 2013.
He says in his youth, he would have described UCF as having "a lot of potential" and "on the brink."
"For a long time, UCF was "UC-If" — If we only didn't get a phantom holding call against Georgia. If we didn't miss the extra point here. And there were so many of those games across all sports that you were like, you're right there — if only," he says. "But you saw the potential. You were definitely on the cusp."
On3 National College Football host Andy Staples, who moved to Central Florida as a middle schooler and graduated from Lake Mary High School, echoes the same sentiments.
"You didn't think of UCF in the same way you would have thought of Miami or Florida State or Florida," Staples says. "You'd go to the campus and you didn't see a lot of UCF gear. It didn't feel like a destination-type campus. We went there a lot for science fairs or somebody would be having their graduation at the arena — it didn't feel as much like a place that people say, 'I grow up wanting to go to UCF,' or 'I've been a UCF fan my whole life.' You just never would expect anybody to say that back in the '90s. Watching it change over the decades has been pretty amazing."
" 'I've been a UCF fan my whole life.' You just never would expect anybody to say that back in the '90s. Watching it change over the decades has been pretty amazing." — Andy Staples, On3 National College Football host
When former Athletic Director Todd Stansbury recruited Lassiter to join UCF's athletic department in 2012, the west coast native didn't have much familiarity with UCF.
Lassiter made it a point to ask a lot of questions and listen to campus counterparts, young alumni and students to gain a better understanding of how the university had gotten to where it was so quickly.
"We were young, but we were big, and so in that sense you could tell that, that was something that we could probably do better than anyone else," Lassiter says.
Indeed, UCF's enrollment in 2012 just tipped 60,000. Today it's more than 68,000. The university confers more than 18,000 degrees annually, and its alumni base clocks in at more than 368,000 — nearly half of which still live in Central Florida.
Perhaps the most important stat is that the average alumni age is 42 years old. So, by the time that Lassiter joined the fold, social media platforms like X (formerly Twitter, founded in 2006) and Instagram (founded in 2010) were starting to really take off in the sports world and UCF's biggest fan base was very active on social media.
It was the perfect combination.
"Perception is reality. And if you feel like you're getting hit up by a bunch of UCF fans on Twitter, their reality is you are because the numbers are there between our enrollment and alumni," DeSalvo says. "Our fanbase can celebrate the big moments with big numbers. They can pile on to somebody who shows some disrespect. They can win a Twitter poll like no other. By always showing up, they've backed up what is on paper."
So, the department decided to lean into social to stand out. UCF Athletics hired a full-time social media manager, Keal Blache '11, who served a short stint. When he vacated the position in 2013, Lassiter approached DeSalvo about the opening because of DeSalvo's penchant for being creative with the social accounts in his role at the time as the communications contact for the volleyball and baseball teams.
"I'll never forget — I think I'm at (former UCF basketball player and athletics staff member) Mike O'Donnell's wedding. And Todd Stansbury's there and he goes, 'Hey you're moving over to the social role, right?' I'm like, 'Yeah.' He goes, 'Alright. Push the envelope.' OK. Todd is telling me to push the envelope. I'll do my best.
"I can thank Blake Bortles and Storm Johnson and J.J. Worton '14 and Terrance Plummer '21 and that crew for helping me push the envelope because there's no greater year one than going to the Fiesta Bowl."
In the last decade, UCF has had three athletic directors — all of whom DeSalvo says have continued to buy-into the "push the envelope" mentality — four football head coaches and four university presidential leadership transitions. But the same voice on social media, which has benefitted UCF immensely.
"If there is somebody better at what Eric has done and what he has built, I haven't met him. And there were a lot of other talented people that were a part of that. But I think what made him so great is he believed it," Lassiter says. "He could do it in a way that could connect, and a lot of our folks loved that it was a UCF person doing this. That's the authenticity of what social can be at its best — how do you become yourself in a way that galvanizes and gets people excited? He ran with it in ways that I hope 50 years from now if there's a story about who were those individuals that played a part of that, I think Eric deserves a ton of credit for what he did. I think he had a lot of really talented people around him, and he was given kind of the keys to the kingdom so to speak, and we took off."
Those talented people are who DeSalvo credits for the team's ability to not only stay relevant but maintain UCF's status as one of the best brands to follow.
"The staff is key. I can't have all the ideas. The ideas can come from anyone — from the AD (athletics director) to the interns, and many have over the years," DeSalvo says. "We also have a work environment to where it's loose, but they are well aware of who our brand is. I always say, 'There's no bad ideas.' I also get to say, 'We don't say no around here a whole bunch.' If it's trending and there's a way we can insert UCF's brand into this conversation and it makes sense, let's do it."
The Tweets That Made Us
Nicole Auerbach, The Athletic Senior Writer: Not everyone realized this as early as UCF, where social media is about fun. It's about engaging and having fun, maybe going viral. But it's about doing things that are different and not just having no personality. They always had personality, and I think that was immediately embraced by the fan base that was very online and very ready to engage on any topic.
Eric DeSalvo: The tweet was on a whim. I'm with (former Associate Athletics Director for Strategic Communications) Dan Forcella and I drafted it before the playoff selection show had gotten to it. We were wanting it to be Bama. And it happens, and I hit send. It really put us out there. It's my favorite tweet I've gotten to send.
Eric DeSalvo: That was designed by (former graphic designer) Channing Curtis. We kept seeing the Elmo version, and I asked him, "Hey can you just put Knightro in his place?" The first time we ever got to use it — he made it that day — we cracked the top 10 in the College Football Playoff rankings.
Andy Staples: I use Knightro gifs pretty frequently. I think Knightro with flames behind him is a very effective way of getting your point across. Those folks are very online. They're very savvy. They know how to get our attention in the media, and they know how to keep the discussion going. They will defend UCF tooth and nail. They will not let you get away with slandering UCF in any way, shape or form. Which I appreciate. And there are other fan bases that are like that. But [UCF] seems to be a little more in on the joke than some of the others. The more established fanbases, you get people who are just mad at you. UCF Twitter, they know what they're doing. And they know they know what they're doing.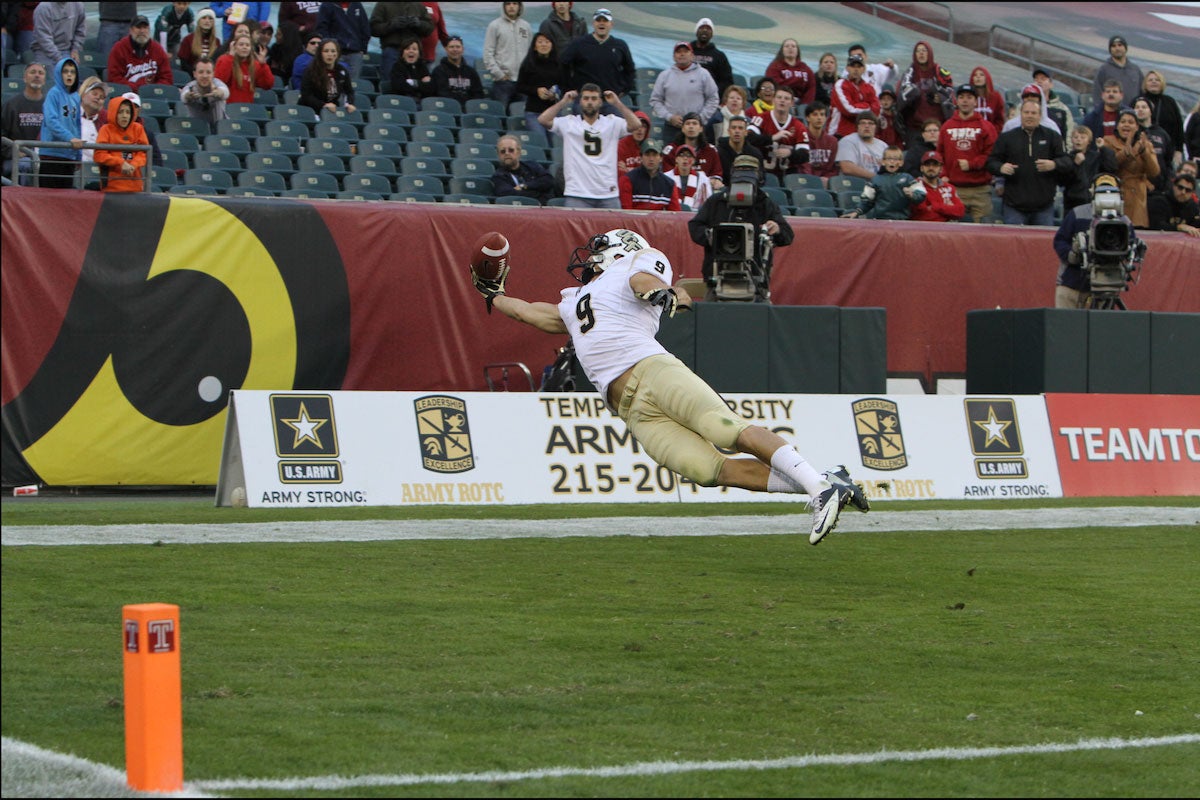 Eric DeSalvo: I wasn't at that game — I was at my mother-in-law's. But the game was on ESPN3. You could actually rewind, thankfully. He catches that ball. I'm losing my mind.
That was the No. 1 Vine for us for a long time. That one was getting so much national play.
That's up there because it was so iconic.
DeSalvo: I joke that my iPhone that shot Danny White saying "national champs, undefeated" should go to the (UCF Athletics) Hall of Fame.
Nobody knew Danny was going to say that. We had a plan in place where we would continue to challenge the CFP. That's what we were doing and needed to do for our team. (Senior Executive Associate Athletics Director of Brand Advancement and Chief Branding Officer) Jimmy Skiles took precedent from when he saw the year Auburn wasn't in the national championship game and were undefeated — they had national championship rings made for their team. It was on the front cover of Sports Illustrated. And he remembered it. If they could do that back then, why can't we?
So, we crafted messaging for like "undefeated champions." We didn't straight up say national champions. (Former graphic designer) Chris Stoney made some motion graphics, "13-0. Only undefeated team, who's next?"
We knew if we didn't do anything by the time our game ended and the playoff game started that day, we would be kind of irrelevant in the grand scheme of games. It would be a nice win and move on.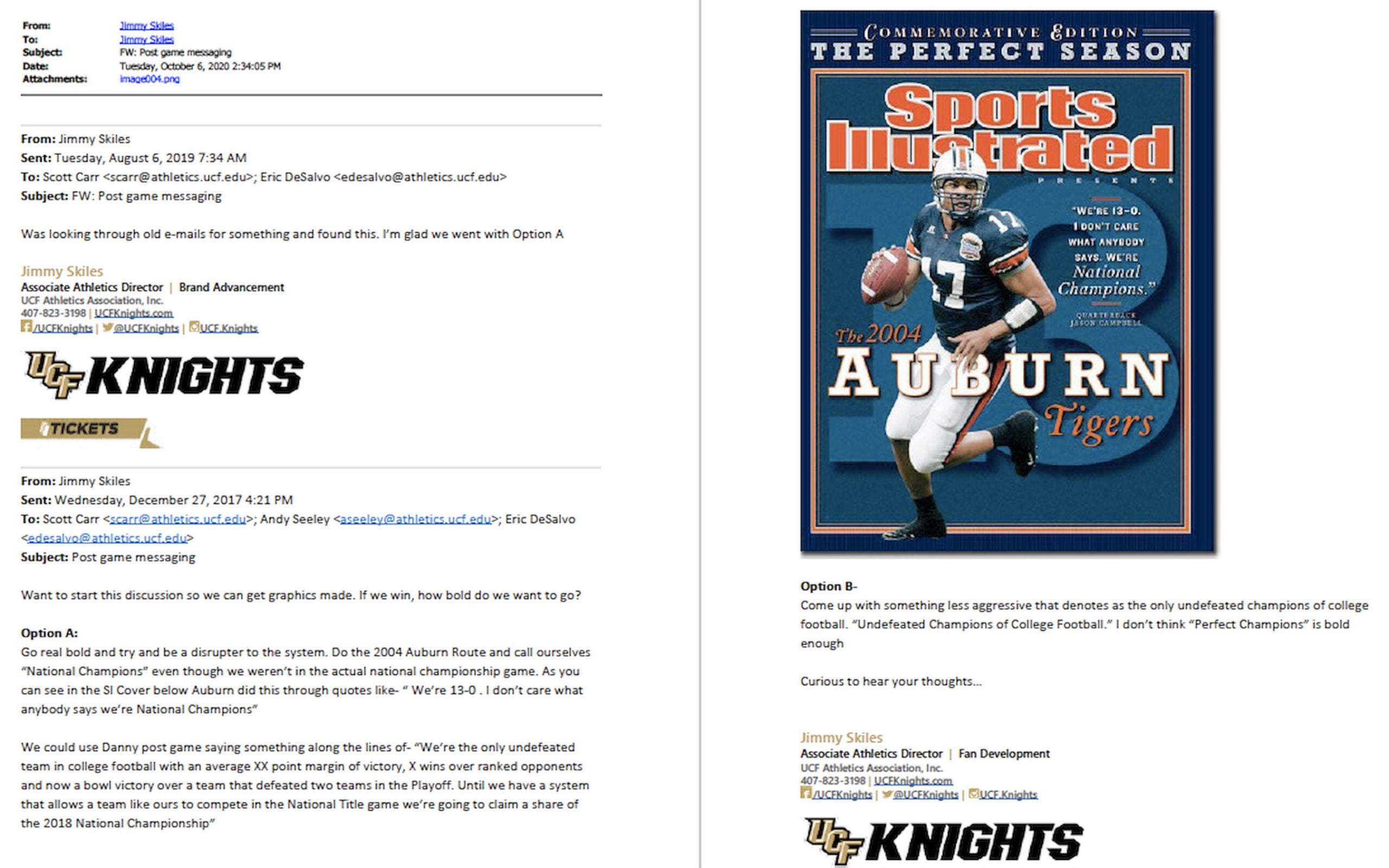 People should know Danny looking into my phone wasn't anything new. I kind of conditioned him to do that, especially at road wins. I would go live at Facebook right as the clock would hit zero to take fans behind the scenes. A lot of the time we'd be walking by Danny as we went to the locker room. So, it wasn't anything new for him to see my phone get shoved in his face.
He just quickly says those magic words. Oh boy. Here we go.
Andy Staples: Don't run afoul of UCF Twitter. That's all I got to say. This is a very passionate, very aggressive online fan base. Which listen that will fit right in (the Big 12). The good thing about UCF is that passion will match with Kansas State and Oklahoma State and Iowa State — they are extraordinarily passionate people. They really love their teams. These are groups that will really appreciate one another.
Charging On
As social media has served as one of the tools to help define UCF's brand over the years, one constant has been the Knights' ability to rise up, to band together, to believe in its potential — to Charge On.
As a rallying cry, Charge On was introduced during the Stansbury and Lassiter era.
"It wasn't as though there was one calling card that really captured the energy or the belief of a UCF fan — like 'Go Knights!' was something to where, well how many other Knights are there in college athletics?" Lassiter says. "And I remember thinking that in social media hashtags were really important. What is that we can do?"
"Obviously a decade later it's become something that I feel is the perfect, simple way to describe who UCF is." — Zack Lassiter, UCF's senior associate athletic director of external operations from 2012-15.
And then Charge On surfaced. Lassiter recalls the idea came from an alum, who suggested it because the phrase is part of the lyrics in UCF's fight song.
"When the idea was proposed, it seemed to make too much sense," Lassiter says. "This describes who we are. There's a great history behind it. It's incredibly nimble and flexible in how you can apply it certain ways."
So, Lassiter conducted an experiment. He walked around UCF Athletics' main administration buildings and starting using the term without explanation to elicit genuine reactions from the staffers.
"Nobody could figure out a way to say why that wouldn't work," he says. "Obviously a decade later it's become something that I feel is the perfect, simple way to describe who UCF is."
There is still so much of UCF's story to be written. More traditions to carve out. More pushing the envelope unapologetically.
And what makes DeSalvo and the rest of the gatekeepers of the brand excited about the next chapter is the union with the renegades of the Big 12.
"We're finally in a league that is exactly where we should be … its identity is completely us," DeSalvo says. "Not only do we get to do this stuff here and try to do it as big as possible, now we have the backing of a Power 5 league that is going to help just throw gasoline on the fire and get it out there further."