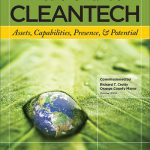 Orange County Government in partnership with the UCF Venture Lab hosted a Cleantech Symposium Workshop on February 18 at the UCF Executive Development Center, to discuss the creation of a statewide Renewable Energy Portfolio Standard (RPS).
The Cleantech Symposium featured experts in Cleantech policy, technology and finance to discuss ways of increasing renewable energy production by creating an RPS for Florida with a special guest appearance by Florida's Governor Charlie Crist. Attendees had the opportunity to actively participate in building a consensus on an important issue that will impact Central Florida and the state, with a forum for open dialogue with industry experts.
An RPS is currently being proposed in the Florida Legislature that would require the increased production of energy from renewable energy sources such as wind, solar, biomass, and geothermal. The RPS would create renewable energy production in Florida by requiring utilities to produce a certain percentage of their electricity from renewable sources.
Speakers included Special Guest – Governor Charlie Crist; industry experts: Dr. Jim Fenton, Director, Florida Solar Energy Center (FSEC); Michael Dobson, Founder, President & CEO, Florida Renewable Energy Producers Association; Tommy Boroughs, Partner, Holland & Knight and former Florida Energy Commissioner, FSEC PAB; George Cavros, attorney and counsel for Natural Resources Defense Council & Southern Alliance for Clean Energy; and Jennifer Szaro, Renewable Energy Manager, Orlando Utilities Commission (OUC) among other Cleantech experts.
Seventeen recommendations for growing cleantech were presented in a report released on October 7, 2009 by the UCF Institute for Economic Competitiveness: Metro Orlando Cleantech – Assets, Capabilities, Presence & Potential. Seventy percent of people surveyed upon release of this report selected creating a Florida RPS as either their first or second priority for a cleantech symposium.
Orange County is continually asking "What's Next" for our economy. Many people believe that cleantech represents the next big wave of innovation and job creation. In 2008, Mayor Richard T. Crotty launched two initiatives to target cleantech economic development—aimed at attracting, creating, and growing the companies the produce the products and provide the services that will allow us and the rest of the world to go green. The first initiative was preparation of the Cleantech Report that identified our assets, capabilities, and potential. The second initiative was a Cleantech Symposium Series that would provide broad-based input into the Cleantech Report.
Transcripts, videos and copies of presentations from the February 18 Cleantech Symposium Workgroup have been posted to the UCF Venture Lab. Stay tuned for the announcement of the next Cleantech Symposium Workshop which will focus on Green Buildings & Ordinances.