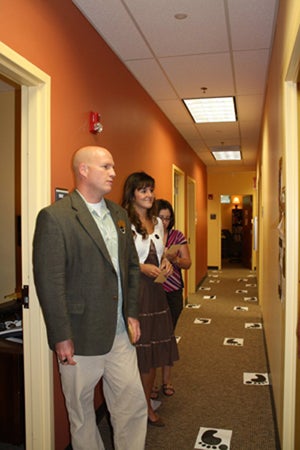 During the week of October 12-15, the UCF Counseling Center highlighted several events that emphasized student mental health and wellness. The week began with a Strengths Screening event in front of the Marketplace in Ferrell Commons. Students had an opportunity to complete a self assessment that emphasized personal strengths and could discuss it with a clinician. The event was a great way to start the week.
On October 14, the Counseling Center hosted an Open House for all staff and faculty. As the jazz band played outside the center's entrance, over 160 guests were welcomed in by the Director Stacey Pearson and clinicians. Guests had an opportunity to tour the center by following the "footsteps" on the floor. Attendees learned new facts about the center's services by: reading "fun facts," talking with clinicians about their areas of specialty and reading the biographies posted on each clinician's door. The center's new branding identifier, "[b] Centered," was introduced. At the end of the tour, guests were welcomed into the waiting room, where they could continue to chat with the center's staff, ask additional information and enjoy refreshments. Overall, the event created an opportunity to further develop the Counseling Center's relationships with its UCF partners.
On October 15, the smell of free pizza filled the air as the second annual Healthy Knight Expo was on its way. The expo focused on mental and physical health, and overall wellness in students by increasing awareness, sharing valuable resources and helping students connect to services on campus. Representatives from the Counseling Center; Health Services; Recreation and Wellness Center; and the Alcohol and Other Drug Prevention Program; as well as community partners American Foundation for Suicide Prevention and National Alliance on Mental Illness, were present to assist in this effort. Specific topics were highlighted and discussed during the expo that addressed salient issues on campus: sleep deprivation, stress reduction, eating disorders and overall diversity awareness.
Also representing at the Expo were the registered student organizations, Active Minds and Knight Allies. The event gave them an opportunity to speak with other students about the organizations' mission and goals. Raffle items and LINK Loot were given out to students who participated in a questionnaire. Students were engaged in conversations and gained new knowledge about themselves, others, and resources on campus.
The Counseling Center is an office in the Division of Student Development and Enrollment Services.