The company responsible for the online video game hit Fortnite has awarded a UCF assistant professor a grant to develop an immersive technology to take virtual experiences to new levels of reality.
Epic Games provided UCF information scientist and artist Maria Harrington a $25,000 grant to expand her cutting-edge augmented and virtual reality work, which she began in 2016 with a website virtual field trip guide and resulted in the VR 1.0 version, The Virtual UCF Arboretum. It is available for download from and use on any game or VR-ready PC.
The virtual experience allows users to hike through UCF's real arboretum, which is home to 247 acres of unspoiled Florida habitat. The landscapes range from swamps to scrubby flatwoods. The virtual arboretum provides stunning images that look real because they've been created based on detailed and botanically accurate information. The project pulls from field observations, photos, measurements, drone footage and historical geographic information system (GIS) data. Users can also access a virtual field guide that provides more detailed information about any object in the virtual model. As users traverse the landscape, they can get a close-up view of any plant they see, and can listen to the sounds of the creatures that call the property home.
"Not only are they photorealistic and beautiful, but what you see is information that represents the data­ ­— truth — and not creative or artistic fantasy."
"These immersive models are different than others, because they are data visualizations of the botanical and ecological information," Harrington says. "Not only are they photorealistic and beautiful, but what you see is information that represents the data­ ­— truth — and not creative or artistic fantasy. Much like botanical illustrations of the past, they are a form of scientific communication, ideal for constructing museum exhibits and in support of educational and informal learning activities desired by the public, especially now during COVID-19."
Epic Games provided the money through its MegaGrants program, which seeks to encourage development of the unreal engine ecosystem (all the components that make virtual reality possibly online) or 3D graphics community that makes games like Fortnite more realistic. According to Forbes, the gaming industry was worth $138.7 billion worldwide in 2019. Game-based learning is estimated to account for more than $2 billion in the United States alone.
The grant will allow Harrington to explore new techniques to improve the experience and to potentially broaden the collection to initially include botanical gardens and university arboretums from the American Southwest and Pacific Northwest.
The project became a reality because of the collaboration among colleagues from the College of Arts and Humanities, and the UCF Arboretum and Department of Biology, in the College of Sciences, and the Landscape and Natural Resources team at UCF.
Harrington's research and experimentation over the past decade has resulted in many programs that have earned local, national, and international recognition.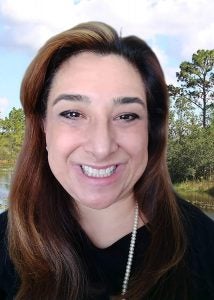 For example, the AR Perpetual Garden App allows users to create a perpetual garden of native Appalachian flora with a finger tap on the surface of a smart phone or tablet. The app lets you see the world the way an expert scientist might imagine it and to experience the wild variety of flowers and plants in a springtime forest bloom surrounded by the accurate sounds of birds and insects thriving off of the nectar, wild fruits, and nuts of that habitat.
She collaborated with the Carnegie Museum of Natural History's botanist and ecologist to authenticate all the facts, figures and plant populations of the ecosystem and then created a multi-modal, three-dimensional spatial, information visualization. With any AR enabled device, a user can create a virtual garden of wildflowers anywhere, from the kitchen to the subway station. Users can get a close look at the veins on a leaf of a Wake Robin (Trillium erectum), and can also listen to a variety of creatures in the garden including the Black-throated green warbler singing or insects like the Katydids humming. Users can experience many details and complexities of a natural world, Harrington says. The app is available on Apple iTunes and Google Play stores.
The app's quality is so good, that in March it was named a finalist in the international GLAMi Awards. The international awards recognize the best innovative projects in the cultural heritage sector that engages, informs and excites the public. Some of the others in the competition included the Smithsonian and the Metropolitan Museum of Art.
Harrington was inspired by museum dioramas that she saw as a child at the Carnegie Institute, which had "tons" of information, but for today's tech savvy audience, may be a bit dull. She wanted to create a way to connect people to the rich information and stories quietly locked away behind the beautiful traditional glass displays, and in a technologically modern and engaging way to help retain knowledge. That's one reason the app can be used inside or outside museums to extend the learning impact of real dioramas and gardens, and at home or in backyards for casual social experiences.
The project became a reality thanks to an international collaboration among the members in Harrington's lab at UCF, The Powdermill Nature Reserve at the Carnegie Museum of Natural History, and the MultiMedia Technology program of the Salzburg University of Applied Sciences, Austria.
"It is all about bringing teams of experts and students together who share a vision and have complementary skills, applying innovative technologies to create transformative and impactful applications for humanity, and to help people experience new and beautiful environments, without them even realizing it, and to learn from the experience in a personally meaningful way" Harrington says.
Harrington joined UCF in 2016. She is an assistant professor of digital media in the UCF Nicholson School of Communication and Media and she is part of the university's Learning Sciences Cluster. Her research covers the development of digital media artifacts from human-computer interaction, user centered design, and data visualization perspectives. She's had numerous papers published in peer-reviewed journals and been a speaker at several national and international conferences. She's earned multiple awards and fellowships and is a research associate with the Carnegie Museum of Natural History, Powdermill Nature Reserve. She has several degrees including a doctorate in information science from the University of Pittsburgh and undergraduate degrees in economics and art from Carnegie Mellon University.