While each Knight's time at UCF is full of memorable experiences, grad Jesse Stokes '17 shared an extra special one with a small group of his peers – being a part of Team Knightro. During his time at UCF he had the chance to wear the beloved mascot's iconic black and gold suit while throwing down the gauntlet to the opposition. He encouraged his fellow Knights to "Charge On!" during athletic events and heightened the excitement at various gatherings on campus.
After keeping his double-life a secret during much of his time as Knightro, Stokes finally revealed his true identity during a 2017 basketball senior night game.
Being Knightro is just one of the many opportunities Stokes has taken advantage of while at UCF. For him, taking every opportunity is especially important because he is the first in his family to be on track to earn a college degree.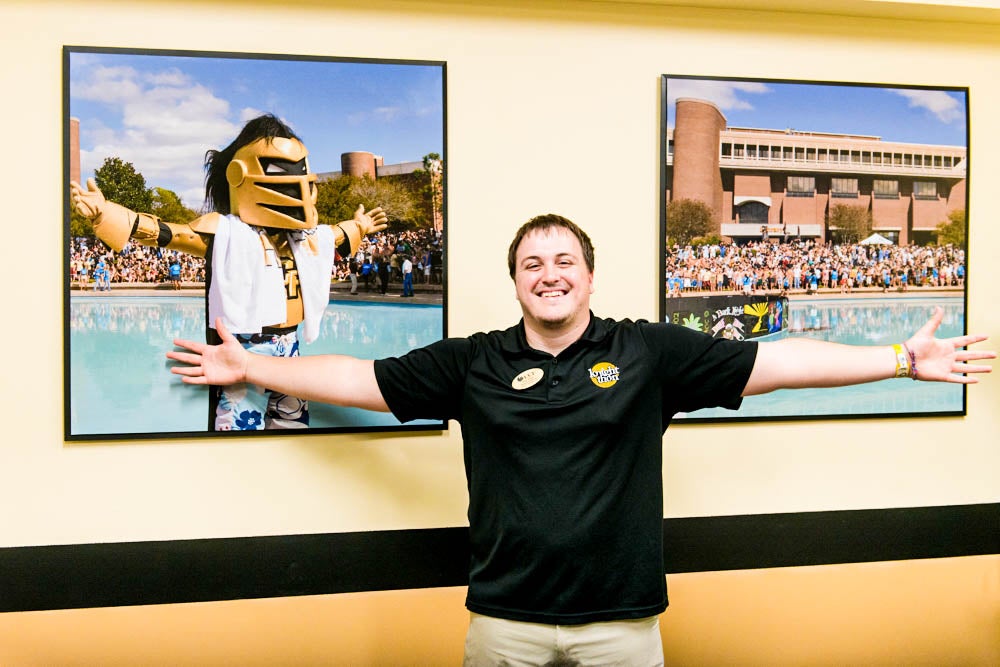 "My dad worked at a sawmill and my mom became a manager of a convenience store," Stokes says. "My mom was my best friend growing up and she raised me to be something different. I could have easily fallen into the crowd of my peers, people who never thought of college and never really cared about school in general. My parents made sure I had everything they didn't."
Born to a teenage mother who graduated from high school and a father who did not, Stokes proudly worked his way toward a bachelor's degree in hospitality management from the Rosen College of Hospitality Management with a sports business management minor.
A Florida native, Stokes benefitted from a Bright Futures Scholarship, awarded to Florida high school graduates for high academic achievement, and an athletics scholarship when he became part of the Knightro mascot team. He also received a one-time scholarship his freshman year from, Idaho Timber, his father's employer. Getting financial help was key to helping Stokes reach his goal.
First-generation college students often rely on financial assistance to pay for higher education. During Stokes' time at UCF, former President John C. Hitt was a first-generation college student who stressed the importance of scholarships and access to education. Stokes appreciates the support he received and credited his mother with championing his education.
"Growing up, my mom and dad worked hard. Both of my parents were poor and on assistance growing up, and college was never even a thought for them," Stokes says. "My mom is my hero, and everything I am today is because of her. She guided me to be a standout student, a servant of my community, and a light in the world."
While he was a student Stokes also volunteered his time as marketing director for Knight-Thon, organizer of UCF's Miracle Network Dance Marathon, the largest student-run philanthropy. The goal of the event is to educate, inspire and unite the UCF campus and community to provide ongoing support for Greater Orlando Children's Miracle Network Hospitals, such as Arnold Palmer Hospital for Children.
He also worked part-time at the Student Union and full-time for Wycliffe Bible Translators. The Orlando company translates Bibles into other languages; Stokes helps plan events and handles the company's social media as part of the marketing team.
Rick Florsheim, an instructor at Rosen College, taught Stokes in his hospitality and tourism marketing class.
"I remember him being an engaged student," Florsheim says. "He was an active participant in class discussions and heavily involved in the group-marketing projects that were presented in class. He was very hands on."
Part of Stokes' passion and drive to be so involved ties back to the local community.
"I love Orlando, and I am dedicating everything I do to giving back to the community that has given me so much opportunity and growth," he says.