The new UCF Downtown campus has many eye-catching features, but there's an especially vibrant one on the third floor of Dr. Phillips Academic Commons – the Unleash Your Potential mural. In a study space, Harry Foreman '18 worked for eight days to transform white walls of an entire room into a colorful masterpiece intended to inspire.
Creating the mural was a personal experience for the Parkland, Florida, native who studied graphic design and emerging media management at UCF, where Foreman says he was able to unleash his own potential.
Keeping in mind the downtown campus serves both UCF and Valencia College students, he worked with an abstract design and used elements with references to both academic institutions. Yellow and red represent Valencia's colors, while the stars symbolize UCF's motto of "Reach for the Stars." Oranges are a classic Florida staple and two wings on the side walls reference the swans at downtown's Lake Eola and the Pegasus, a UCF symbol.
Foreman shares more about his work and what it was like creating the mural:
How did you become interested in art?
I went to a high school up north to play hockey and I went to college up there, too, on a lacrosse scholarship. My major was psychology, but that only lasted a semester because I wasn't happy with what I was doing.
So I came back to home in South Florida at 19, started working three jobs and drawing every day. It was just something I knew I wanted to get into and saw infinite potential in. You can put bits of your intellect and creativity on a wall, T-shirt, paper or whatever you want—and I think that's really liberating. Art made me want to learn, develop a passionate mindset and see life through a different lens. A lot of the determination I put into it came from my rigorous training as an athlete.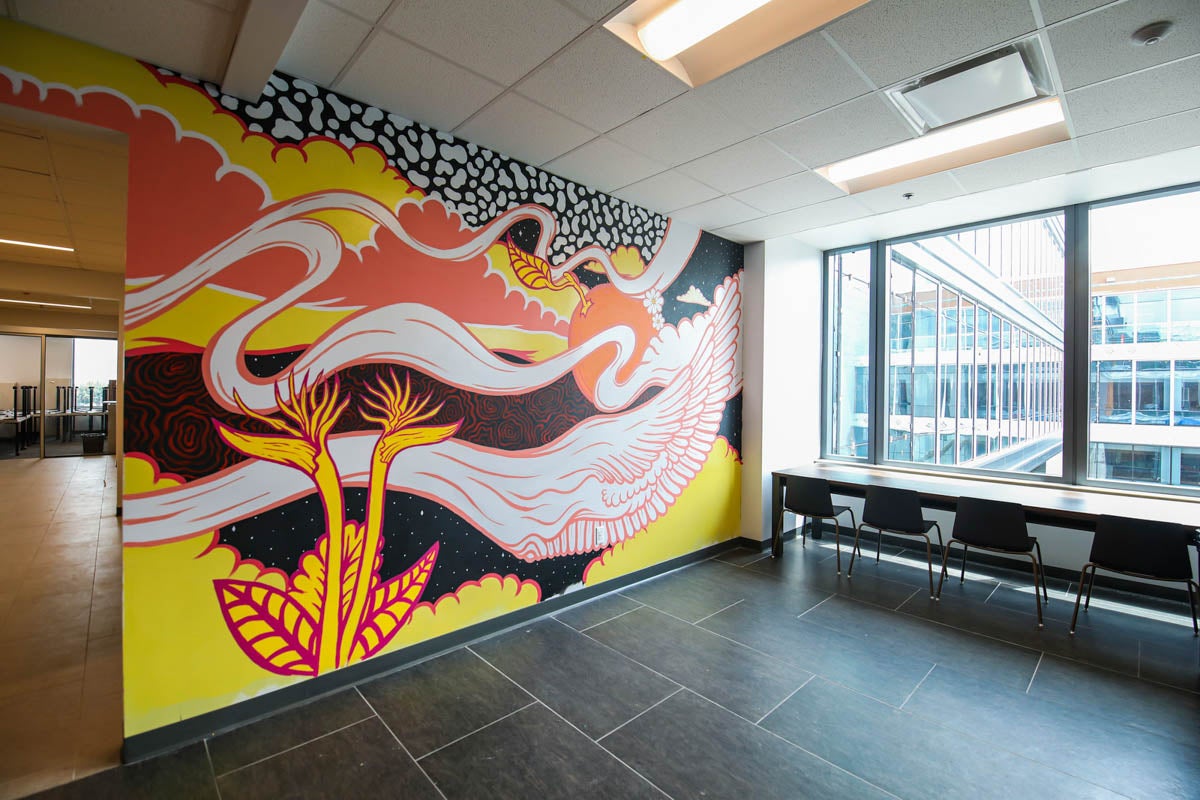 How would you describe your artistic style?
I have an illustrated style that uses wispy lines with different levels of thickness and curvature. I love very lucid and free-flowing imagery. But as far as what I'm capable of, I'm very good at being a camouflage artist and shapeshift to create most things.
What does creating this mural mean to you?
When I was living in South Florida with my parents, I told them I was applying to jobs and drove to Orlando for a day. I showed up at UCF and met with Chuck Abraham, who is the head of the graphic design program, and showed him some of my paper drawings to see if he thought it was worth me altering my life by coming to Orlando. I asked him, "Do you think I have what it takes?" and he said "Definitely."
From there I kept working at it and came to UCF for school. I've figured things out in my own way, but UCF has helped me unleash my potential so for me to be working on this means a lot. When students are arriving here and walking around, I hope they see this space and are inspired. It's colorful and vibrant and I hope it speaks to people and inspires them to do cool stuff.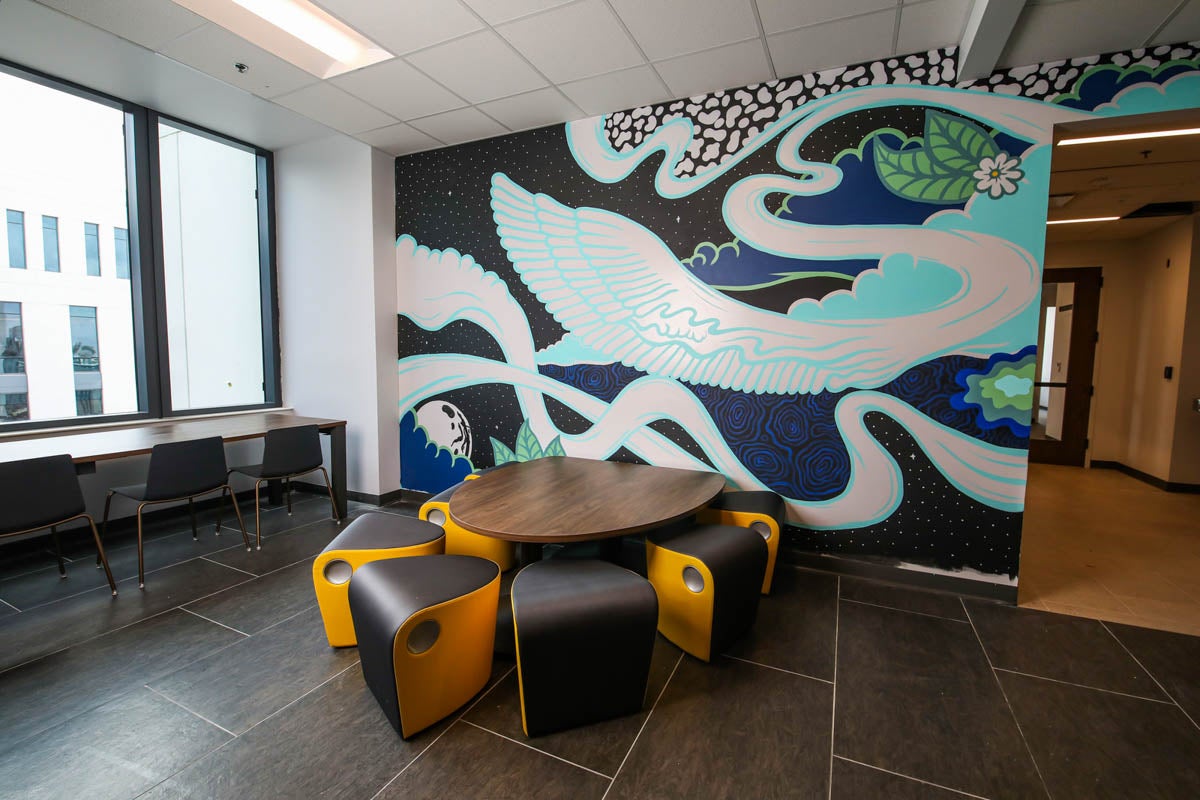 How did UCF shape your artistic journey?
I was always kind of working my tail off. The graphic design program at UCF is no joke; they make you work hard. They teach you a lot about time management and taking on projects, I was working as much as I could while pursuing entrepreneurship by starting my own business,Akyros, which is my artist name. But I really enjoyed the creative community and the more I learned about it and became enveloped in it the more it gave back to me. I owe a lot to the design community at UCF, like my professor Victor Davila. UCF has a lot of community, competition and talented people that pushed me to find my potential.