Just so you know, don't leave the country with more than $25 in nickels – or you could be charged with a federal crime and face five years in prison.
That's just one of the curious federal laws addressed in a new book by Mike Chase '07, a UCF film graduate who went on to study law and is now a criminal defense attorney in Hartford, Connecticut.
His book, How to Become a Federal Criminal: an Illustrated Handbook for the Aspiring Offender, was published in June by Simon & Schuster and presents 320 illustrated pages of outlandish federal laws that are on the books – and that you may even have unknowingly broken.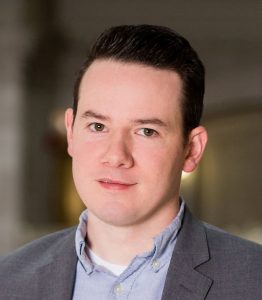 After graduating from UCF, Chase spent some time making movies in Los Angeles and then attended the University of Connecticut School of Law, where he graduated in 2011. For the past eight years he has worked with Shipman & Goodwin LLP representing clients in federal criminal defense matters.
Chase says the federal justice system deals mostly with just a handful of offenses – involving guns, drugs, immigration and fraud – but there are so many peculiar and obscure crimes on the books that it's almost impossible to know them all.
"In 2014 I started tweeting one federal crime every day on the handle @CrimeADay. I've never missed a day and I estimate I have about 800 years left to go," he says. "This book was a way to take the thousands of hours of research I've done into these laws and get more into the 'why' of it all … Everyone deserves to laugh at a system that has so many crimes nobody can count them."
The book also gets into why certain laws came into existence and in some cases discusses the occasions when people were prosecuted for them.
"People have been charged and convicted of selling mail-order dentures, illegal flamingo sales, and even boarding a boat a little too early," he says. "Certainly people aren't getting charged with cheese crimes every day, but these are real crimes and some of them maybe shouldn't be."
Such as:
Making an unreasonable gesture to a passing horse in a national park.
"This is one of my favorites. It's probably intended to prevent people from scaring horses, but it's drafted very broadly and presumably flipping off a horse could be charged."
Giving out unlabled, single-serving margarine in a restaurant unless it's triangular in shape.
"This is a great holdover from the notorious butter wars of the late 1800s. Apparently lawmakers (with a little help from the dairy industry) were super concerned that people would be tricked into eating margarine thinking it was butter."
Trying to change the weather without a permit.
"It specifically prohibits things like using lasers to make it rain, but it's not clear that there's a viable rain-laser on the market."
Mailing live scorpions in packaging that isn't clearly labeled "LIVE SCORPIONS."
"You know what, I'm okay with that one."
Selling overly runny ketchup.
"Personally, I think all ketchup should be a crime, but federal law is clear that it can't be too runny."
Letting your falconry falcon appear in a movie that's not about falconry.
"You're allowed to train a bird of prey if you have a permit, but you can't let it star in a movie unless the movie is about falconry. So be careful."
Combining Chase's love of film and the law, what is his favorite movie about criminal law?
"My Cousin Vinnie is way at the top of the list," he says. "I teach trial practice at UConn Law School now, where I teach law students how to try a case to a jury, and there's no better movie to use as an example when teaching good – and bad – cross-examination than My Cousin Vinnie."
While he was in UCF's Bachelor of Fine Arts program, he said he learned the importance of telling a story and doing it with your own unique voice.
"When I came to UCF as an 18 year-old kid, I don't think I had a voice yet," he says. "But I spent three years in that program with the same 30 or so colleagues, who were such impressive storytellers and artists that it forced me to be better, funnier and smarter. Plus, storyboarding my own films didn't hurt when it came time to illustrate a book about ridiculous laws."
He says he hopes his book brings to life what is sometimes a boring topic.
"You can learn an awful lot about how statutes and regulations and criminal law in general works by reading it, but you can also laugh the whole time," he says. "And it doesn't just skewer Congress and regulators. It actually points out how necessary some of these laws are – because there are no limits on how dumb and dangerous people can be."