About 20 minutes west of UCF's main campus, a domiciliary within the Lake Baldwin VA Medical Center campus houses veterans who need a temporary place to live while they get back on their feet. These veterans all fought in different wars, served in different branches and suffered different injuries. They have one thing in common, though — they're suffering from some sort of pain.
"What we see here are veterans who are dealing with substance abuse, alcoholism or homelessness, often because of post-traumatic stress disorder. Some have developed addictions as a way to deal with their pain," says Michael Weaver, a recreation therapist at the Lake Baldwin VA.
Thanks to a UCF professor, these veterans now have a weekly, healthy outlet for their pain: art.
Kevin Haran, a professor of art, hosts weekly drawing lessons via Zoom for veterans of the Lake Baldwin VA Domiciliary. In August 2019, Haran began hosting in-person, hands-on weekly art sessions on drawing, sculpture, printmaking and more, but because of the COVID-19 pandemic, the in-person classes had to cease. Haran and the VA staff knew of the joy and the benefits these art lessons were bringing the veterans and found ways to improvise around the limitations.
Following COVID-19 guidelines and in the comfort of their rooms, veterans each Wednesday tune in via Zoom to learn to draw a new image. Haran arranges his camera to focus on his hand and drawing so that the veterans can follow along. For veterans who don't have a device of their own, the VA provides them with a laptop and webcam. And although COVID-19 has restricted these art lessons and social interactions, the benefits from this program are evident.
Weaver has noticed the art lessons are a social outlet for the veterans, they help with hand-eye coordination and cognitive functioning, boost self-esteem and serve as a mental relief.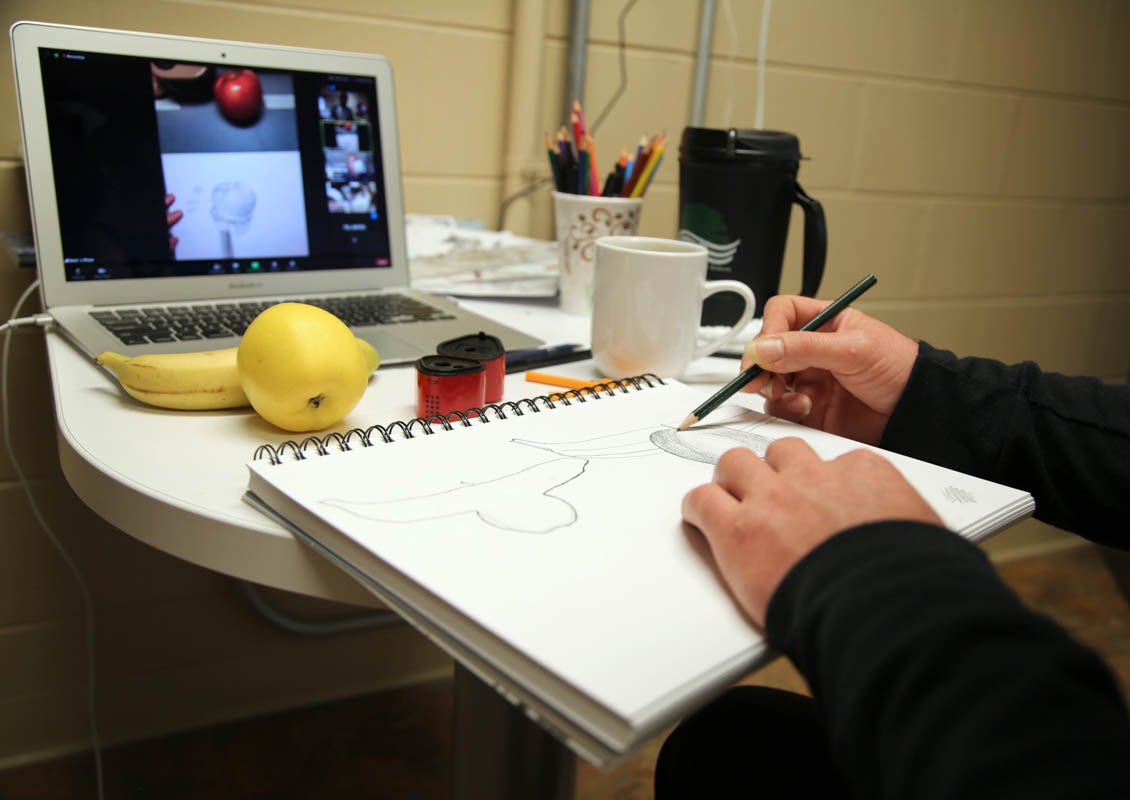 "We do groups [recreational therapy activities] all day long, and this one is my favorite," says Brian Zarajczyk, a veteran at the Lake Baldwin VA Domiciliary. "It is therapeutic, relieves my anxiety and brings a sense of calmness. It has been years since I last drew. Since the program, I started with basic pencils and now invested in special sketch pencils."
Zarajczyk served in the Army for 4 years. He is one of about 10 veterans who tune in weekly to the art lessons, which since going virtual have been able to reach double the amount of veterans.
Even for Haran, these weekly art lessons serve as an outlet. Many of his immediate family members are veterans, and Haran grew up hearing their stories and developed an appreciation for military history. Many of his art pieces over the past 20 years have been depictions of war and military life.
"I can't truly understand what these servicemen and women have gone through, but the fact that they want to spend some of their spare time learning to draw and are getting pleasure from it — sometimes it's a little overwhelming because art is something I take for granted," Haran says.
The virtual art lessons will continue at least until the end of the year, with the in-person classes resuming as soon as it's safe to do so.