When Aliyah Gonzalez '21 '23BSN began her freshman year at UCF, it was a big change.
"I literally remember getting lost every day my first week," says the two-time alumna. "As a first-generation student, I didn't have anyone to lean on for questions and to get that guidance."
"Navigating UCF, learning study skills, and learning how to be an efficient college student was a big learning curve."
Gonzalez is not alone, as approximately 44% of Hispanic students are the first in their family to attend college. Fortunately, she found support and opportunities to succeed at UCF — a designated Hispanic-Servicing Institution (HSI) and recognized nationally for supporting Hispanic students' success.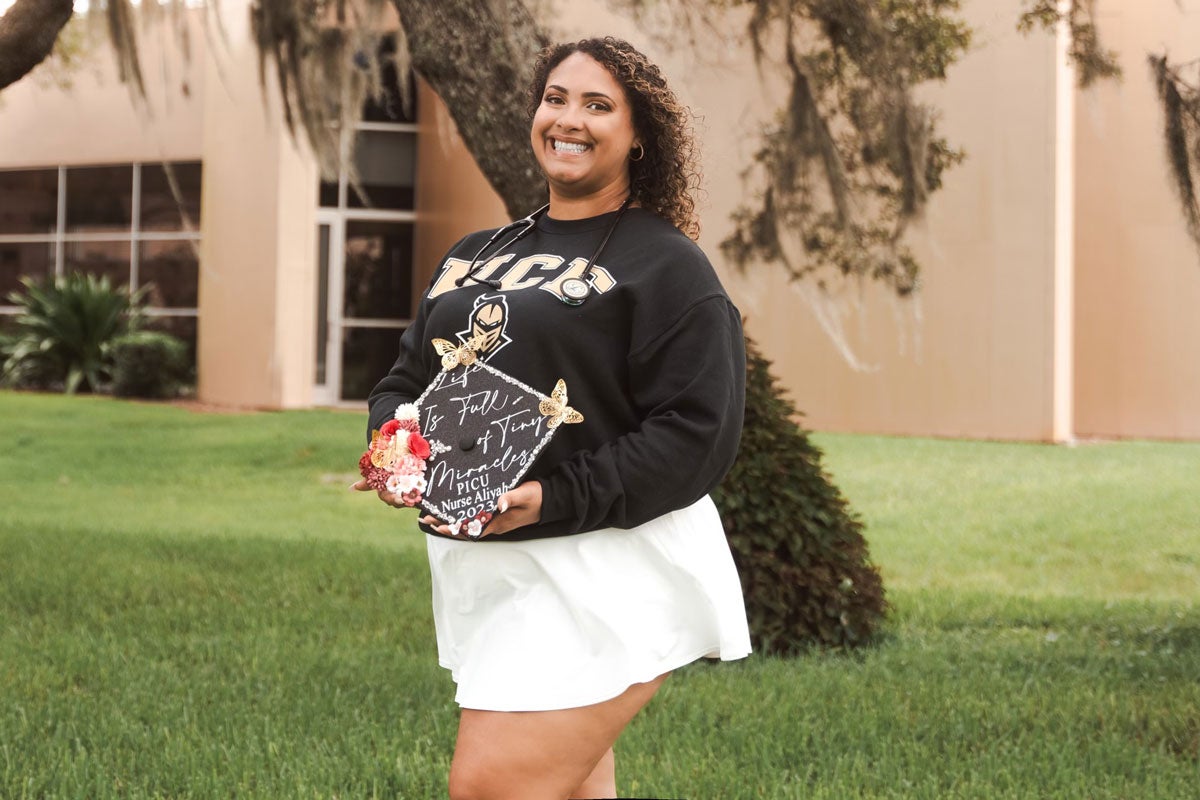 Moving to a Bright Future
Gonzalez's family is originally from Puerto Rico, but she grew up in New York. Her parents moved the family to Orlando when Aliyah was in high school to provide better opportunities for her and her sister, and to provide a better quality of life for her grandparents.
That move led to UCF for Gonzalez, who, like many first-generation and Hispanic students, chose a school that's close to home to be near family.
"My family is really important to me, and I wanted to make sure I had my support system nearby," she says.
Gonzalez received a Bright Futures Medallion Scholarship and the health sciences major excelled in her STIM (simulation, technology, innovation and modeling) classes — fields where many Hispanic students are underrepresented and classes that can be challenging for many.
She was motivated to help other students and became a supplemental instruction (SI) leader at UCF's Student Academic Resource Center. After three semesters, she was promoted to an SI mentor and helped train other students.
"Through (the center), I found my group of people," she says. "My supervisor was really supportive and helpful. I also gained leadership skills and improved my public speaking skills."
Becoming an Advocate
UCF's Student Government also became a resource for Gonzalez, who became a student senator. "I was able to not only listen to the needs and struggles of students within my college, but have the platform to do something about it," she says.
One initiative she says she's especially proud of is organizing and launching a pilot remote research program to support students who were unable to secure research opportunities due to the pandemic.
She also is passionate about using her voice to help others in the community. When she lost her grandmother very suddenly during high school, Gonzalez knew she wanted to make a difference in healthcare.
"Once I graduated with my first degree with UCF, I couldn't imagine myself anywhere else truthfully." — Aliyah Gonzalez '21 '23BSN
"I wanted to be the person to ask additional questions and advocate for my patients when things don't make sense to make a difference in their lives," she says. During her shadowing hours as a pre-med student, Gonzalez witnessed the impact and longevity nurses have with their patients. "That was more toward the impact I wanted to make."
So after graduating with her bachelor's degree in health sciences, she immediately returned to UCF in the accelerated second degree nursing program.
"Once I graduated with my first degree with UCF, I couldn't imagine myself anywhere else truthfully," she says. "I had found my people, my comfort and so many opportunities."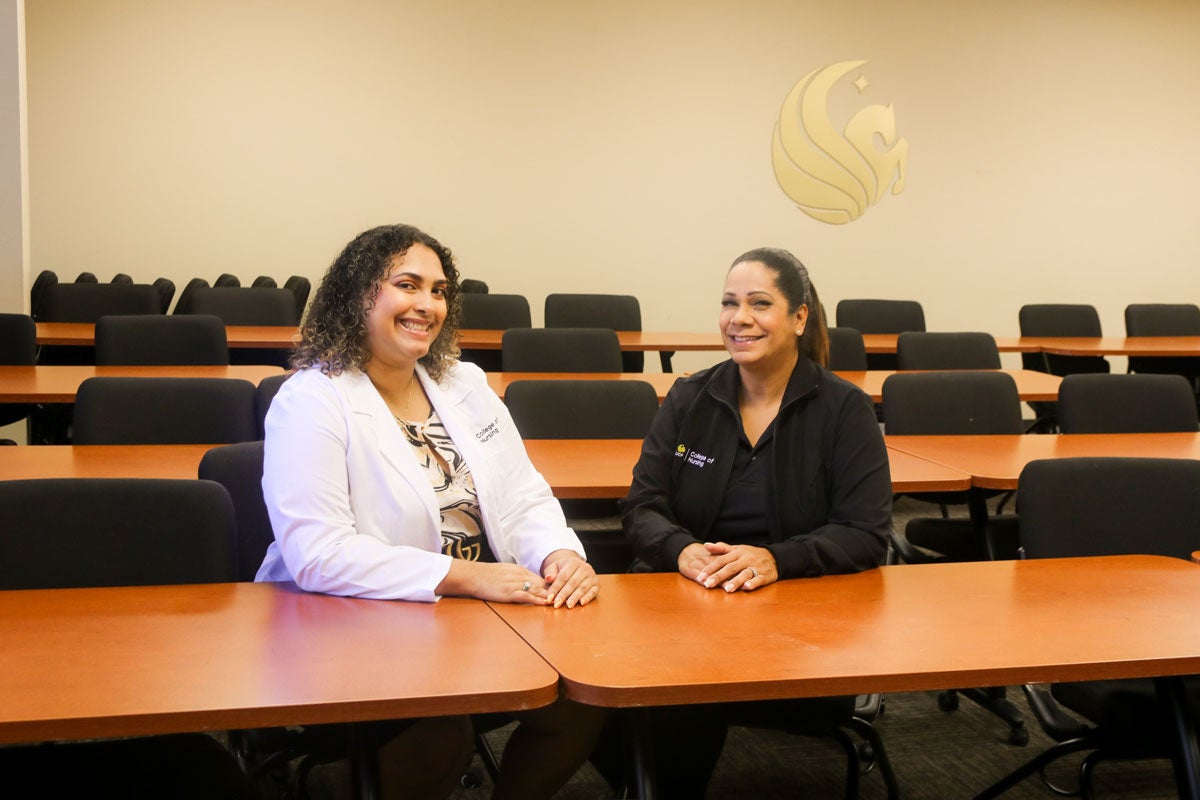 Shining as a Knight Nurse
Gonzalez credits her success in the rigorous and fast-paced nursing program to her solid foundation in sciences and the fact that she already had established good study skills.
She graduated in August with her bachelor's degree in nursing and passed the NCLEX-RN (national registered nurse licensing exam) on her first try. Before graduation, she already had a nursing job lined up in a pediatric intensive care unit in Orlando.
While she's beginning her practice as a Knight nurse, she's still deeply rooted at UCF.
Long-term, Gonzalez plans to return to earn a doctorate degree as a family nurse practitioner.
"I would like to eventually open my own practice in an underserved community," she says. "It can be intimidating for minorities to seek healthcare, especially if they don't speak English or have trouble with English. In whatever way I can, big or small, I want to provide care to improve their quality of life."
Hispanic nurses, like Gonzalez, are much needed across the U.S. but especially in Florida where 25% of residents are Hispanic and only 15% of nurses are Hispanic.
Right now, in addition to caring for patients as a new Knight nurse, she's helping ensure future Knight nurses join her on the front line. Gonzalez is using her experiences to support the success of UCF nursing students — especially Hispanic and/or first-generation like herself — as one of the new College of Nursing academic success tutors.
"As a first-generation student, my first semester was really hard. I understand where these students are in terms of stress and sometimes self-doubt, and I want to be a familiar face and a mentor to help them overcome those challenges," Gonzalez says. "I had a student who did that for me throughout my journey, and it alleviated a lot of that stress and insecurity to help me start to prepare to be a new nurse."
"Aliyah has demonstrated incredible leadership skills and a vast knowledge in applying the SI model to our nursing program, and has provided critical support and academic assistance to nearly 50 students so far," says Student Resources Manager Donna Mercado.
"UCF really does want you to succeed, and they set you up for success." — Aliyah Gonzalez '21 '23BSN
Tutoring is part of the new Knight Nurse Student Resources Center, which is in the early development stages and being led by Mercado. The center is partially supported with PIPELINE funding, which is state funding allocated earlier this year to provide critical support to help address the nursing shortage.
"As the College of Nursing increases enrollment now and in the new building, the college is also expanding efforts to ensure every student achieves their dream of becoming a Knight nurse and providing much-needed care to our community," Mercado says.
"UCF really does want you to succeed, and they set you up for success," Gonzalez says. "You just have to have the courage to take the first step to reach out. From there, everything else will fall into place."