David Mariutto '12 spent the past six months working on a mail targeting program for a presidential election campaign from his family's house in Plantation, Florida. Sitting at a borrowed desk and chair, he nailed down the logistics and details that went into sending millions of dollars of mail to individuals across over a dozen states.
Mariutto was the senior mail analyst for President Joe Biden's presidential election campaign. He coordinated efforts with a team that spanned the country. "It was amazing, and it was very overwhelming," says Mariutto, who received his bachelor's degree in public administration from UCF.
Despite the rise of social media and digital marketing, direct mail efforts still have a strong hold in campaigning. According to a 2018 Political Digital Advertising Report, 50 percent of total campaign and PAC budgets were spent on television and direct mail.
"My responsibility as the senior mail analyst was to design the logic behind our computer programs that would say, 'This person lives in this place and they have these characteristics and these models scores, so they should get this amount of mail, they should receive mail with this content, and they should receive it at this time,'" Mariutto says.
What did you do between graduating from UCF and landing this position?
My involvement at UCF led to my future career path, which took me specifically toward political communications and messaging strategy. After graduation, I interned at the statewide office for Obama for Florida. I was there for a few months, and then moved on to graduate school at the London School of Economics, where I studied politics and communication.
I came back to the U.S. and moved to Washington, D.C., where I worked at a polling firm as an analyst. I was there for three and a half years, then I moved in 2018, for that election cycle, to the Democratic Congressional Campaign Committee. I was a regional targeting director, which is a regional analytics position for the Midwest and Mountain West, [focused on helping] elect all the congressional candidates that we were working with. That was an extremely interesting and enlightening experience that covered the gamut of polling, paid communications, targeting and opinion research and melding them together in order to deliver messages to the right people at the right time in the right format.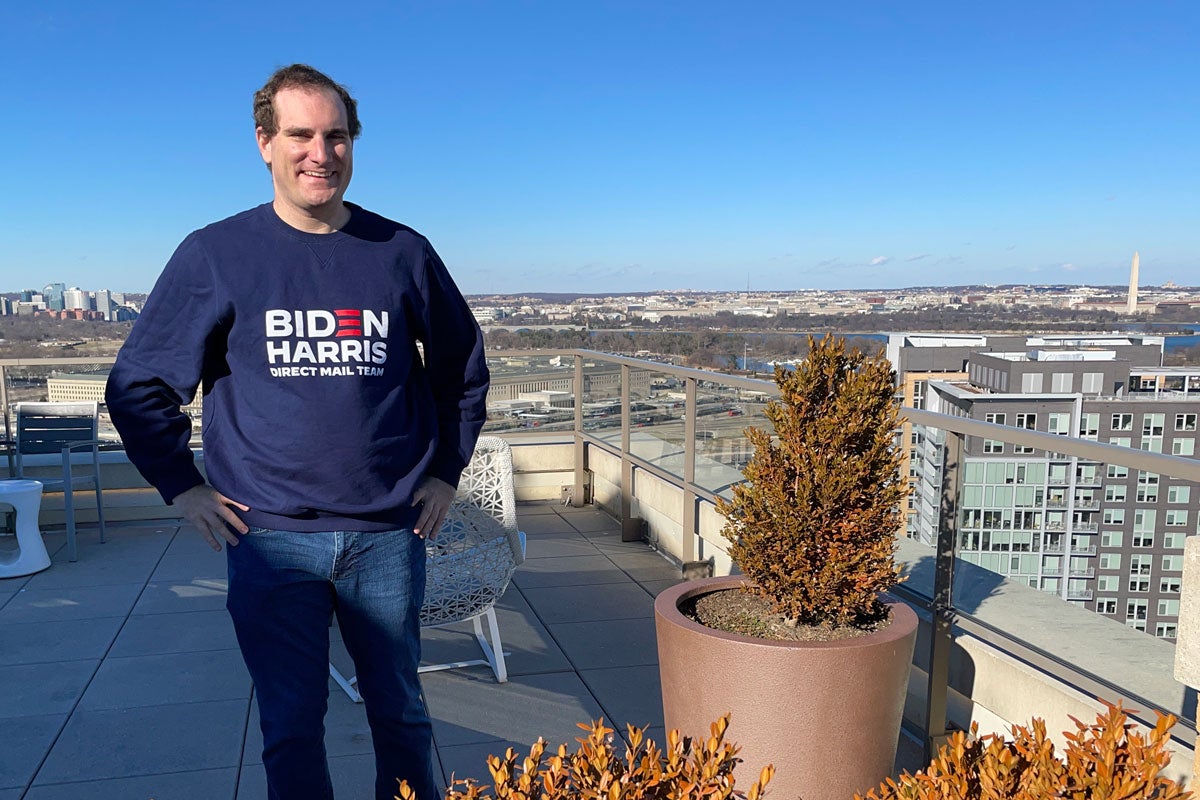 What was it like working on a major presidential campaign like this — in the midst of a global pandemic?
One of the biggest challenges of working on a presidential campaign for a challenger to an incumbent president is time. When you're a challenger for president, you have much less time to begin to plan and lay the groundwork, get all the technology in place, hire staff to do all the planning and do all the research than your opponent does. As part of that process, I was hired in July of 2020, so only a few months before the election. I essentially had a month to do all the infrastructural work necessary to stand up the campaign's mail program, and it was all being done remotely.
It was a whole new level of challenge, and we demonstrated that it's possible to band together amid pandemic conditions. A presidential campaign is a team that collectively comes together and makes personal sacrifices for several months in order to accomplish the job and carry our candidate over the finish line. It's one that I'm very proud to have been a part of, but also couldn't have done without my colleagues making the same contribution.
Did COVID-19 affect your work in other ways?
While I wouldn't say that the mail program was even more helpful because of the pandemic, I would say it took on more importance. The mail certainly was delayed and that factored into our concerns and our thought process when designing a program for the presidential campaign.
When you think back to your time at UCF and your various internships and experiences, did you ever think that you'd be part of a presidential campaign?
While at UCF, I did not imagine that I would be in this position because I was still trying to think of what I wanted to do with my life, but UCF gave me the flexibility and the room to explore all my various interests. The experiences that I had with my internships really helped solidify that, especially my communications role with the Florida College Democrats and seeing communication roles up close while interning for President Obama's reelection campaign. UCF gave me the background and the tools needed to apply my knowledge to this rapidly developing field and be able to succeed and take on such a commanding position.
Now that the election is over, what's next for you?
I've moved back to D.C. because I accepted a position with the civil service at the Department of State. I'm going to be working in their Bureau of Global Public Affairs doing survey research internationally. This furthers my interest in political communications, public affairs, and communications targeting and research, especially in the international context that I have found interesting for several years. I'm very excited to get to work.