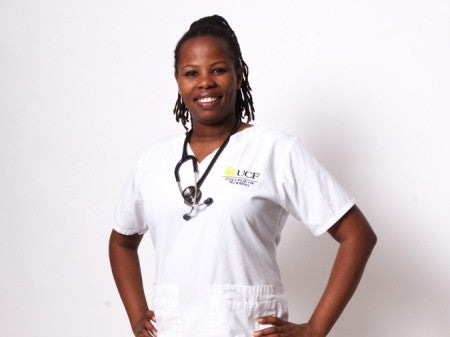 Caroline Muthaisu grew up in a one-bedroom house in Nairobi, Kenya, that she shared with her parents, three siblings and several other relatives. Her father died before she finished high school, leaving her mother with nine children to support.
Five years later, Muthaisu awaits her mom's arrival from Kenya so they can celebrate her graduation from the University of Central Florida with a bachelor's degree in nursing.
Muthaisu will be among more than 6,000 UCF students who expect to graduate during four ceremonies Friday, May 8, and Saturday, May 9.
"We're all very excited," Muthaisu said. "It's a celebration for the entire family."
When you want something bad enough, you work hard until it happens. Muthaisu said that's the belief that has kept her focused and determined to succeed all these years.
Muthaisu moved to Florida after a year of studying in a college in Kenya. An aunt suggested she move to Orlando to pursue studies in sonography. She soon realized that becoming a nurse would provide better opportunities for her and her family. She said she enrolled at UCF because of its exceptional nursing program.
"UCF has been phenomenal," she said. "The nursing program has a great reputation and graduates get jobs. It's a hard program, but the faculty is great. They really helped me and understood my circumstances."
Neighbors and friends in her village back home collected money so she could pay for her first semester of tuition at UCF. A U.S. sponsor and aunt helped her with other expenses as much as she could. When she became eligible to work, she took a year off to earn enough money to pay for the rest of her nursing program. She borrowed textbooks from classmates and, because she didn't have a car, caught rides with them to her clinical work in Parramore and other communities.
Muthaisu plans to get her master's degree and dreams of returning to Africa to open a clinic in a rural part of Kenya. She said many people in rural areas have never seen a nurse, let alone a doctor, and her clinic would give them access to basic health care and improve the quality of their lives.
"I love public health and I want to be able to help those who need it most," she said. "My village helped me get here and I want to give those same opportunities to others."