World leaders are taking notice of a little hub on UCF's campus where young lives are transformed in powerful — make that mega-powerful — ways.
True story: A teenage girl sketches a drawing of a bionic arm on a piece of paper. It's a princess arm, you might say, with gold swirls and strong, elegant fingers. Surely, this girl — Annika is her name — doesn't believe the cute picture will go any further than a scrapbook of mementos … does she? The world of prosthetic engineering and design is cumbersome, complex and exorbitant. It's never been a place for kids. Except Annika sends the sketch to Limbitless Solutions in Knights Plaza on the UCF campus. There, in a small office of computer desks and an even tinier manufacturing space, a team goes to work on Annika's dream. Six months later, there it is: a bionic princess arm, designed, built and ready to use.
"One advantage of being small is that we can bring ideas to life quickly," says Limbitless branding director Mrudula Peddinti '18, who majored in emerging media and digital media. "It allows us to change the conversation about bionic arms for underserved kids."
On Dec. 3, Peddinti and Annika Bryson-Emmert took the conversation to a stage no one could have imagined in 2014 when a group of UCF students founded Limbitless: the United Nations.
The United Nations in New York City … no pun intended, but how in the world did this happen?
It's actually the second time we've sent someone from Limbitless to speak at the U.N. Our cofounder, Albert Manero '12 '14MS '16PhD, went three months earlier. Annika was there, too. It says something that they'd invite us back.
They must have liked what they heard the first time.
The first conversation at the U.N. focused on empowering girls who need prosthetics. We've found that parents are far more willing to seek out options for boys, maybe because boys are perceived to be more physical. The ratio of prosthetics being sought and accepted is just one girl for every five boys.
How can your little place at the center of campus change that?
Design is one of the keys. The typical bionic arm looks just the way you'd imagine a bionic arm to look: robotic and mechatronic. The appearance feeds right into a stereotype that makes girls less likely to want a bionic arm.
And Annika has helped you break the stereotype?
When she drew up her idea for the ideal girls' bionic limb, we didn't know how it would be received. But think about it: who would know better how to design a bionic arm for girls than a bionic girl? We do the same thing for boys — empower them and give them a voice in what we create.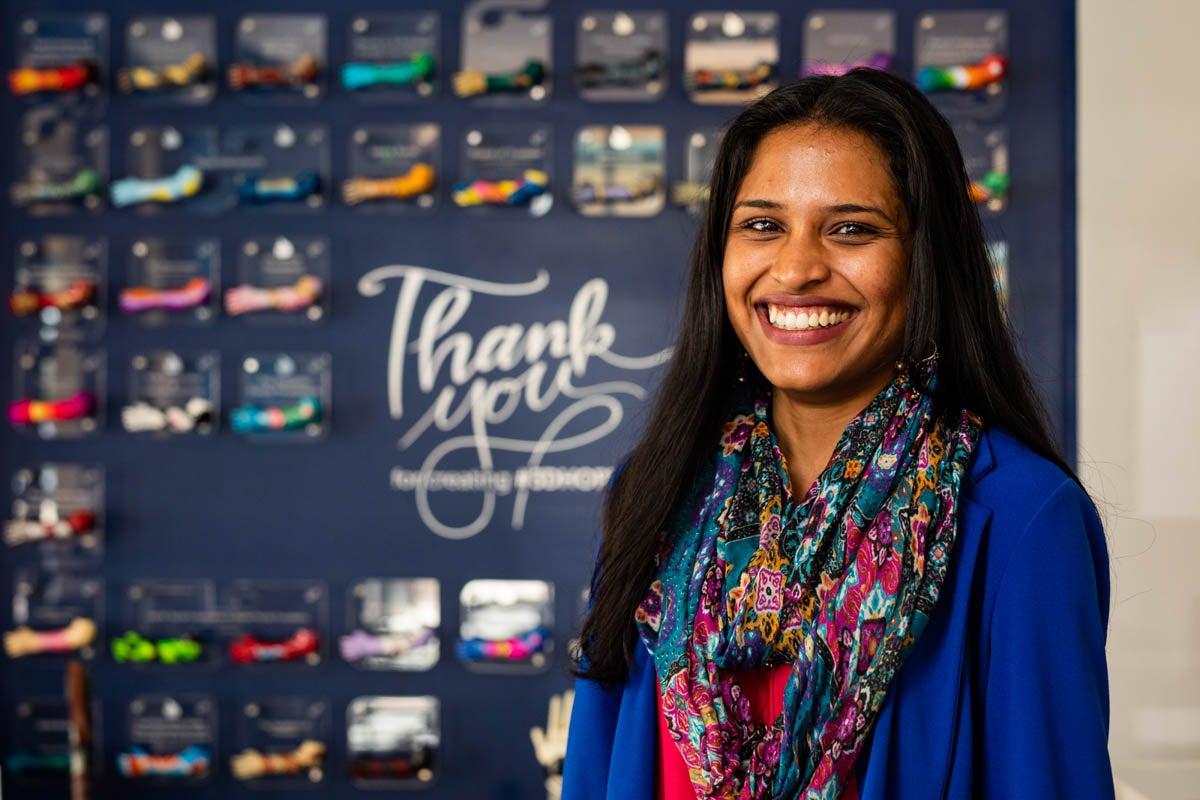 Bionic arms have been around for decades. Limbitless has only been around for five years. How did you even get into the conversation about changing the game, let alone lead it?
It's because we're different, and the time for a different approach is long overdue. The medical and tech industry has been focused on the research and development of bionic arms, and that's important. But to make an impact we need to change the focus from technology to the voices of the underserved — the kids. It's trying to imagine what it's like to be that kid hiding behind mom or dad because I'm missing a hand and I don't feel accepted for who I am. By letting a boy or girl create his or her own arm, it allows them to take control of their own story and to be more confident about themselves. That's the dramatic change we want to lead.
You said kids are "underserved." What do you mean by that?
The socio-economic barrier is enormous when it comes to prosthetics. A bionic arm typically costs between $40,000 and $100,000. Insurance companies often don't consider an arm to be as necessary as a leg — you figure that one out. It's worse for children because they're still growing, and who wants to pay for a $40,000 arm every two years? For us, it costs about $10,000 to fully fund a child in a clinical trial, and the entire cost is donated. Plus, by personalizing the bionic arm they're more likely to actually use it.
Why wouldn't they use it?
A typical bionic arm is clunky. It's frustrating for those trying to use them. Usage rates for upper-limb prosthetics are reported to be as low as 37 percent. Most users eventually abandon them. So we develop video games as training tools. It's an immersive experience where you use your prosthetic on the controller. Kids don't even realize they're training themselves. We call that kind of learning experience "hiding the vegetables."
You do all of this — the video game development, the design of the bionic arms, the manufacturing — here in this one space?
The small scale gives us some advantages. We collaborate with people from many disciplines on UCF's campus — computer science, mechanical engineering, electrical engineering, digital media, business and studio art. We're starting to do more with psychology and sociology too. It's a busy place.
And how does an art enthusiast like you fit in?
It's actually a perfect fit. I'm from a family of doctors and engineers, so when I entered UCF as a freshman in 2014 I privately wondered how I'd ever use art to make lives better … while also making a living for myself. Then I accepted an internship at Limbitless Solutions and connected right away to the mission.
As an artist, how would you create a picture of the mission?
I'd just point to kids like Annika. She's playing soccer. She's engaged with friends. And she's now spoken at the United Nations twice. She has a really cool bionic arm, yes, but even more important is that society isn't controlling her life story because of a physical challenge. She controls her own narrative, and that's powerful beyond measure.