Look around: Verdant water hyacinths, towering Australian pines and colorful Brazilian pepper trees are populating our landscape everywhere – and causing havoc.
These and hundreds of other invasive plant species are taking over Florida's beautiful natural environment, and in the process crowding out native species and reducing many animal habitats. That topic is the latest in UCF biology Professor Linda Walters' series of books, which are distributed free for young readers to understand and help take care of the world around us.
Silent Takeover! Invasive Plants in Florida is Walters' ninth book written with colleagues, students and family members, and this 28-page volume is a warning about the unwanted plants growing in waterways, forests, fields and even our backyards.
"It is very important that this book is read by the next generation," says co-author Katherine Harris '18, who received her bachelor's degree in biology as a Burnett Honors Scholar and was involved with the university's Coastal and Estuarine Ecology Lab. "Today's kids are so used to hearing about all the environmental problems that their generation will have to deal with, to the point that kids feel it is impossible to make a difference. I hope this book gives kids the opportunity to be informed and to feel that they can have a positive impact on the environment."
This book's team also included Samantha Yuan '08 '14MS, who holds UCF bachelor's and master's degrees in biology and is the research and outreach manager of Florida Fish and Wildlife Conservation Commission's invasive plant management section, and Owen Fasolas, a Winter Park artist and designer.
Young readers can find out about some of the most harmful invasive plants, the problems they cause to the natural ecosystems and how "to help keep Florida native and wild."
In Silent Takeover!, young readers can find out about some of the most harmful invasive plants, the problems they cause to the natural ecosystems and how "to help keep Florida native and wild."
Walters, a UCF Pegasus Professor, says her series of biology books has been funded by grants and has mirrored her research agenda over the past decade. The books have been on topics such as protecting oyster reefs, invasive species from home aquariums dumped into waterways, sea-level rise, shoreline stabilization, and endangered birds. Funding has come from the National Oceanic and Atmospheric Administration, The Nature Conservancy, U.S. Fish and Wildlife Service, National Park Service, Sea Grant, and the Florida Department of Environmental ProtectionFlorida Fish and Wildlife Conservation Commission.
Why is Walters interested in pushing these topics for her books?
"Honestly, how can you not be interested in these things," she asks, adding that without natural habitats "our lives would be much poorer in terms of every measure of quality of life you can think of…We humans have trashed them, so it is also up to us to understand and restore them with great urgency now."
This edition's distribution will push her total books in print to nearly 80,000 copies given out at schools, events and by requests through the years. Some agencies, such as the state's Fish and Wildlife Conservation Commission, purchase copies for their outreach events.
"I have no interest in making money off our books," Walters says. "The goal is to distribute the various conservation messages far and wide."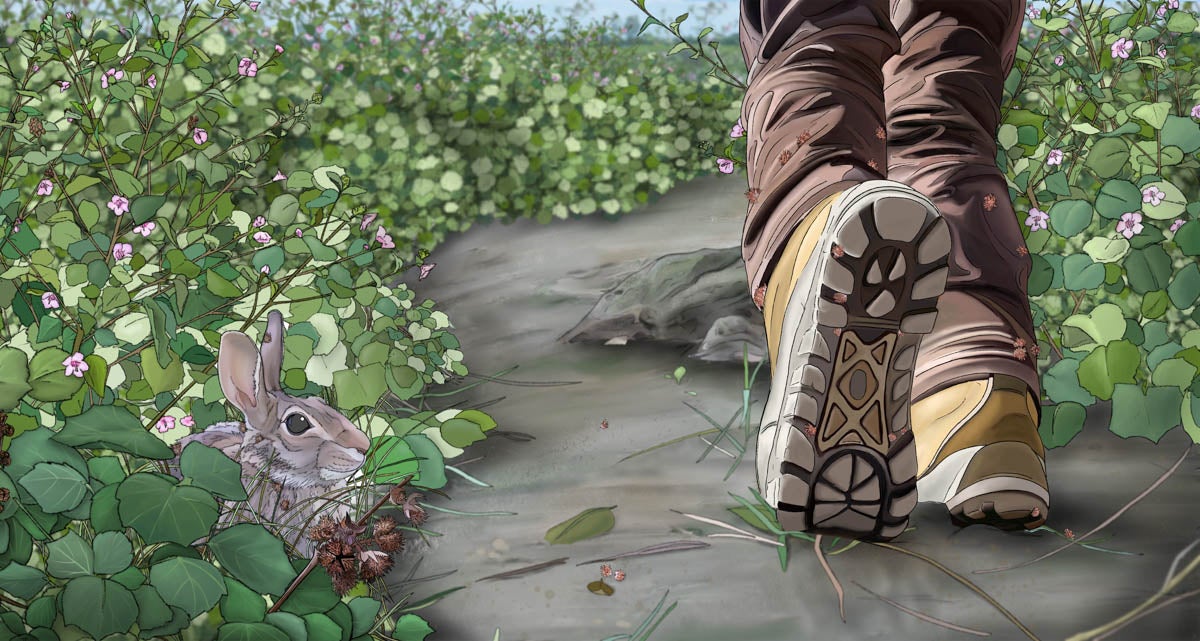 Walters says that even in our high-tech generation, children like to read a book that they're interested in. "You can hold it, read and reread it with someone you care about, and enjoy the art," she says.
She also loves to hear anecdotes about the books from parents, such as when they say their children "want one of our stories read to them night after night after night" or that "their kids take the lessons totally to heart and won't let them speed in their speedboats when near oysters or inappropriately care for their aquarium plants and pets."
As for what we can do to counteract invasive species, Harris said perhaps the best thing people can do is to stay informed on the subject.
"Many invasive plants are allowed to spread because people unknowingly plant them in gardens or throw out unwanted aquarium plants and houseplants," she says. "People can contribute to keeping Florida's native plants and animals thriving by making a conscious effort to stay informed and plant only native species."
Educators and others who would like a printed copy of "Silent Takeover! Invasive Plants in Florida" can contact Linda Walters at Linda.Walters@ucf.edu. Digital copies of all of Walters' books are available in the university's STARS archives at stars.library.ucf.edu/ceelabbooks/.