Titus Thomas was 8 when he entered the foster care system, the result of abuse and neglect by parents whose parental rights were later terminated. By 16 when he was adopted, he had lived with eight foster families in seven states, a complicated and stressful situation that often is hard to overcome.
But this week the 24-year-old will graduate from UCF with a Bachelor of Fine Arts as a member of the Tau Sigma National Honor Society – a huge accomplishment considering that foster care workers say only about 3 percent of young people coming out of foster homes graduate from a four-year college.
"I moved from city to city as a child because my parents moved every time a state started to investigate for child abuse," says Thomas, whose artwork was recently featured in an exhibit at the UCF Art Gallery. "I don't know too much about my biological family, which is the sad truth for most children in foster care."
The three paintings on display at the gallery exhibit were part of a very personal project: his life of isolation before entering into the foster care system.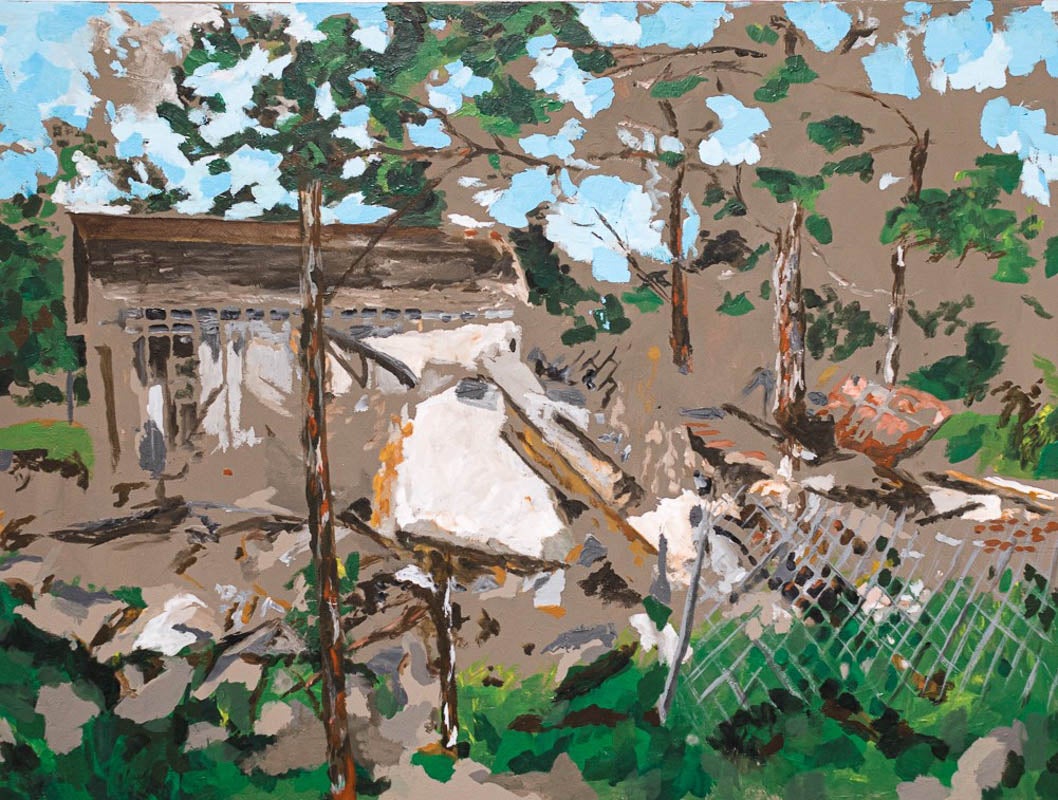 Thomas, who creates his artwork under the name Titus Cartwright, says he first became interested in painting because it was therapeutic. Now, however, he says it allows him to express himself and uncover past experiences.
"My artwork explores abandonment, memory loss, neglect, and isolation," he says. "I hope to show the effects of child abuse and my experiences in the foster care system."
In an online posting, the Heart Gallery, a Central Florida organization that advocates for the adoption of children, promoted his exhibit and what it said about giving hope to others in foster care:
"Art has been a healing way for Titus to express himself and his feelings, which prior to getting adopted was something that he struggled with greatly. His art has given him a voice and an outlet to share and shed light on not just the long-term effects of what he calls 'unprepared parenting' but also a platform to encourage and inspire our current foster youth to believe in their dreams and to stay open to the idea of being adopted. He has a specific message for those currently in foster care that may be afraid to open up and try again and it is this: 'Don't let the fear of your past keep you from the possibilities of your future. Learn to hope again, trust again and love again.'"
The student says he is grateful for his adopted family who gave him the love and acceptance he sought, and his UCF art instructors who kept him engaged with his work.
"They [his adoptive family] were very patient and understood that the impact of the traumatic experiences wouldn't be fixed overnight," he says. "They're also dog lovers and would rescue dogs from the shelters. We would have six dogs at a time."
As for his art professors, he says they have provided a great mix of experience and advice.
"They are all very different and I feel like they each make me more capable by making my artwork complete and more well-rounded," he says.
After graduation, Thomas plans to move to Georgia to continue to build his body of work, apply for grants to open a gallery, apply for graduate school – and, not surprisingly, take the arts to underrepresented communities.