Five UCF alumni are set to play in the NBA Summer League.
Tacko Fall '19 and Aubrey Dawkins '18 signed free agent deals Friday with the Boston Celtics and New Orleans Pelicans, respectively. Their fellow teammates BJ Taylor '18 and Chad Brown '19 along with former Knight AJ Davis '17 also made commitments to join teams in the Summer League.
"It's great to see so many of our guys get an opportunity to prove themselves at the next level," UCF Head Coach Johnny Dawkins says. "We're proud of all the hard work they've put in and can't wait to watch them perform this summer."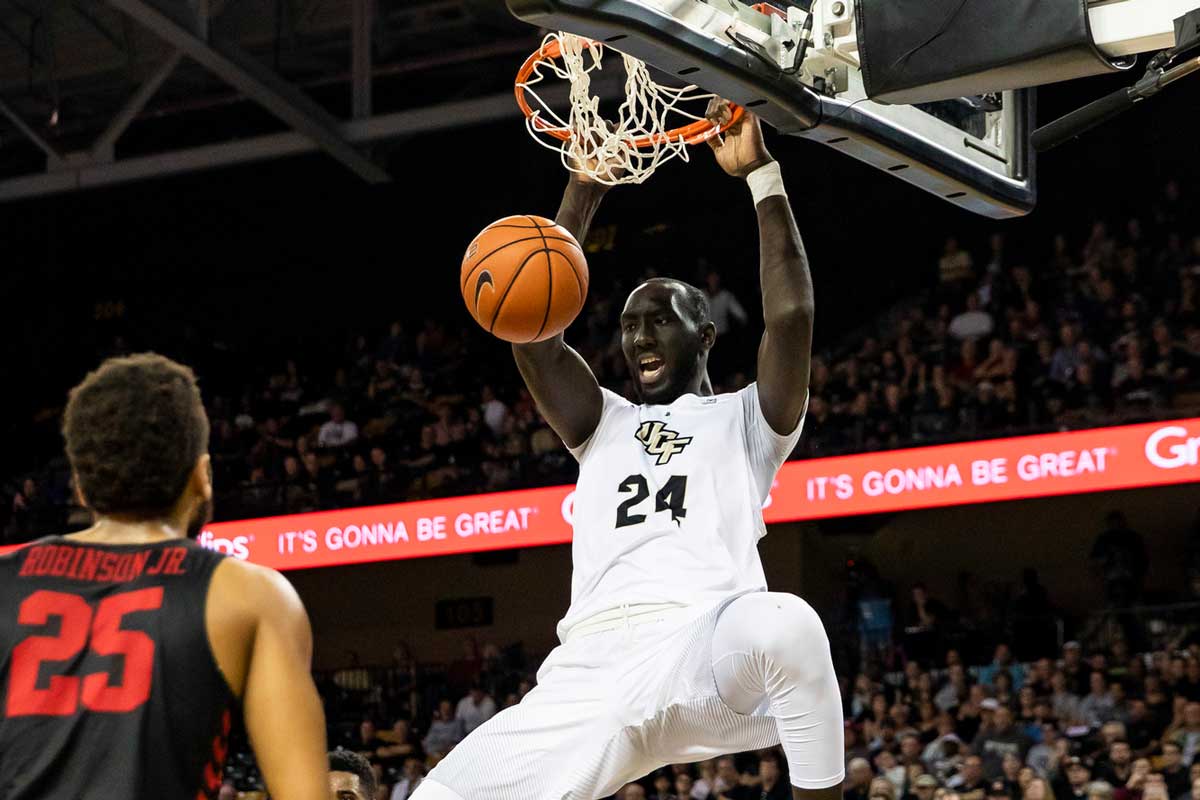 Tacko Fall '19
The 2017 American Athletic Conference Defensive Player of the Year, a 2017 Defensive All-American, and a 2019 All-Conference honoree in The American, Fall left his mark on UCF. The 7-foot-6 center graduated as the program's all-time leader in blocked shots (280) and field goal percentage (.740).
His career field goal percentage of 74.0 percent (497-for-672) set a new NCAA Division I record and he holds the top four single-season field goal percentage marks in UCF history.
Fall's 343 rebounds in 2016-17 were the most in single season in UCF's Division I history and his 887 career boards rank third all-time.
A four-year starter, Fall helped lead UCF back to the NCAA Tournament for the first time since 2005 this past season, averaging 11.1 points and 7.6 rebounds per game. His 13-point, 18-rebound, 5-block performance propelled the Knights past VCU for the program's first win in the tournament.
He earned his degree in interdisciplinary studies in May.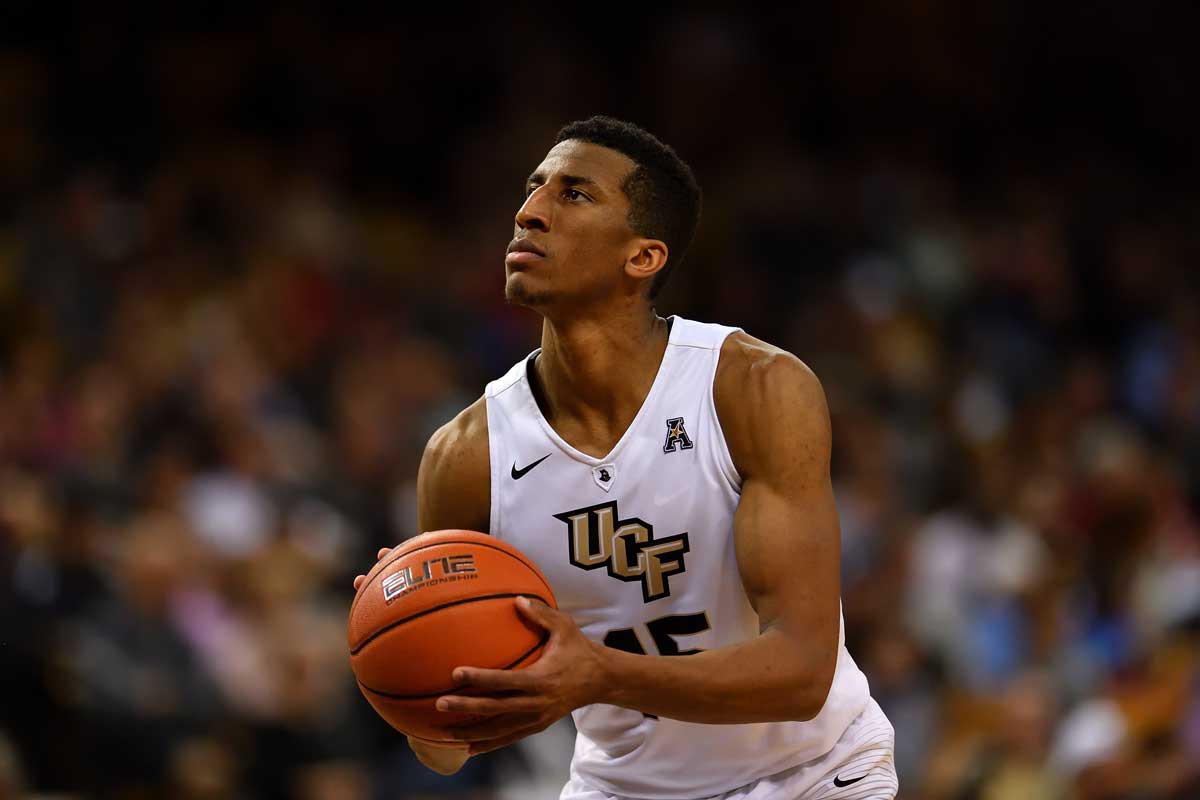 Aubrey Dawkins '18
Dawkins made his mark in just one season on the court for UCF after transferring from Michigan. The guard was named Second Team All-Conference in The American after averaging 15.6 points per game in 2018-19.
After sitting out a year due to NCAA transfer rules, Dawkins missed a second year due to a shoulder injury before finally hitting the court for the Knights. He was relied upon time and time again to knock down shots as one of UCF's most prolific 3-point shooters.
Dawkins' biggest moment came on the biggest stage when he scored 32 points against No. 1 Duke in the second round of the NCAA Tournament. He went 12-for-18 from the floor, 5-for-7 from 3-point range, dished out four assists and had three steals, as the Knights nearly upset the Blue Devils.
He's now set to start camp with former Blue Devil Zion Williamson, who was selected No. 1 overall in this year's draft.
Dawkins graduated in 2018 with a degree in interdisciplinary studies and a minor in sociology.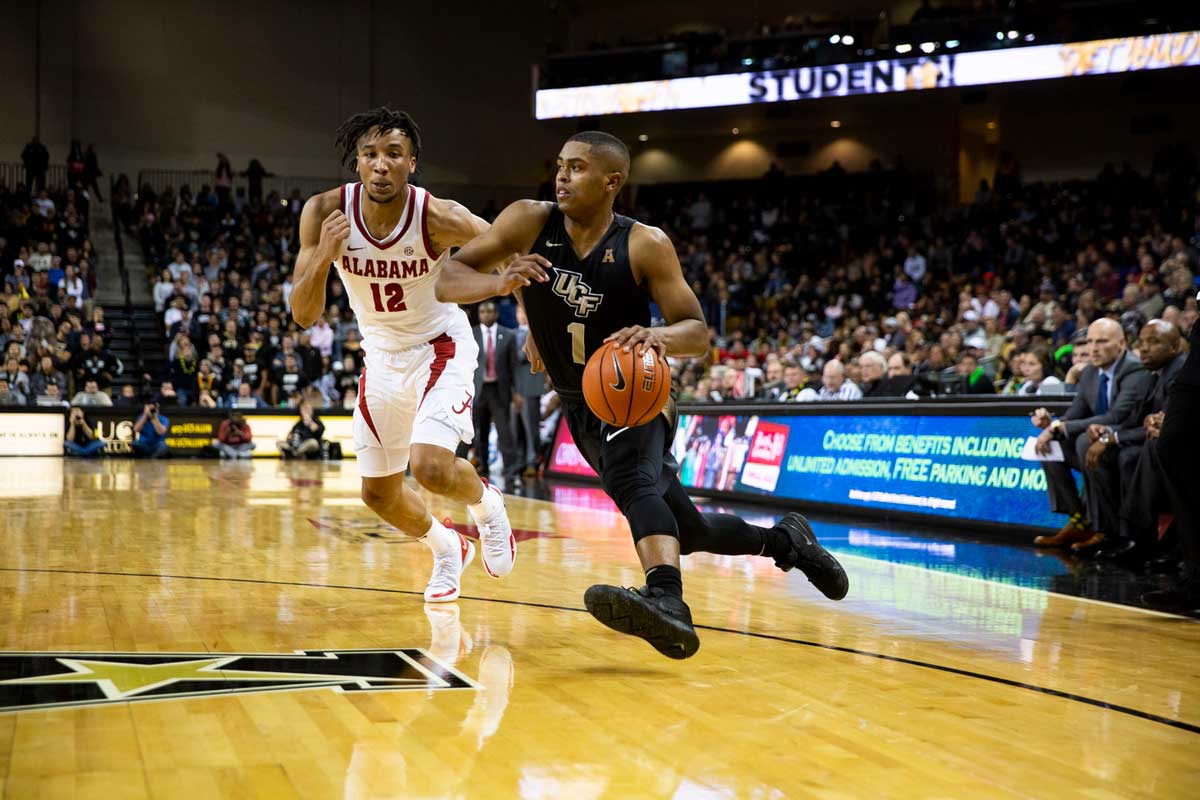 BJ Taylor '18
Taylor, who grew up in Orlando, played at nearby Boone High School, and starred for the Knights, has agreed to play in the NBA Summer League for his favorite team, the Orlando Magic.
During his tenure at UCF, Taylor led the team in scoring each of the four years he played on the court. He stands seventh in program history with 1,618 career points, the fourth most in UCF's Division I era.
A master at getting to the line, Taylor is tied with Bo Clark '80 '83MEd for the all-time UCF record with 456 career free throws made. He's also sixth in 3-point field goals made (180) and career assists (324).
As a senior in 2018-19, he was named First Team All-Conference in the American Athletic Conference after averaging 15.9 points per game and leading the Knights back to the NCAA Tournament for the first time since 2005.
He now starts his next chapter with the team he grew up idolizing. Taylor has always been an Orlando Magic fan, admiring Tracy McGrady so much that he picked to wear No. 1 for his own jersey.
Taylor graduated from UCF in 2018 with a degree in integrated business and a minor in sociology.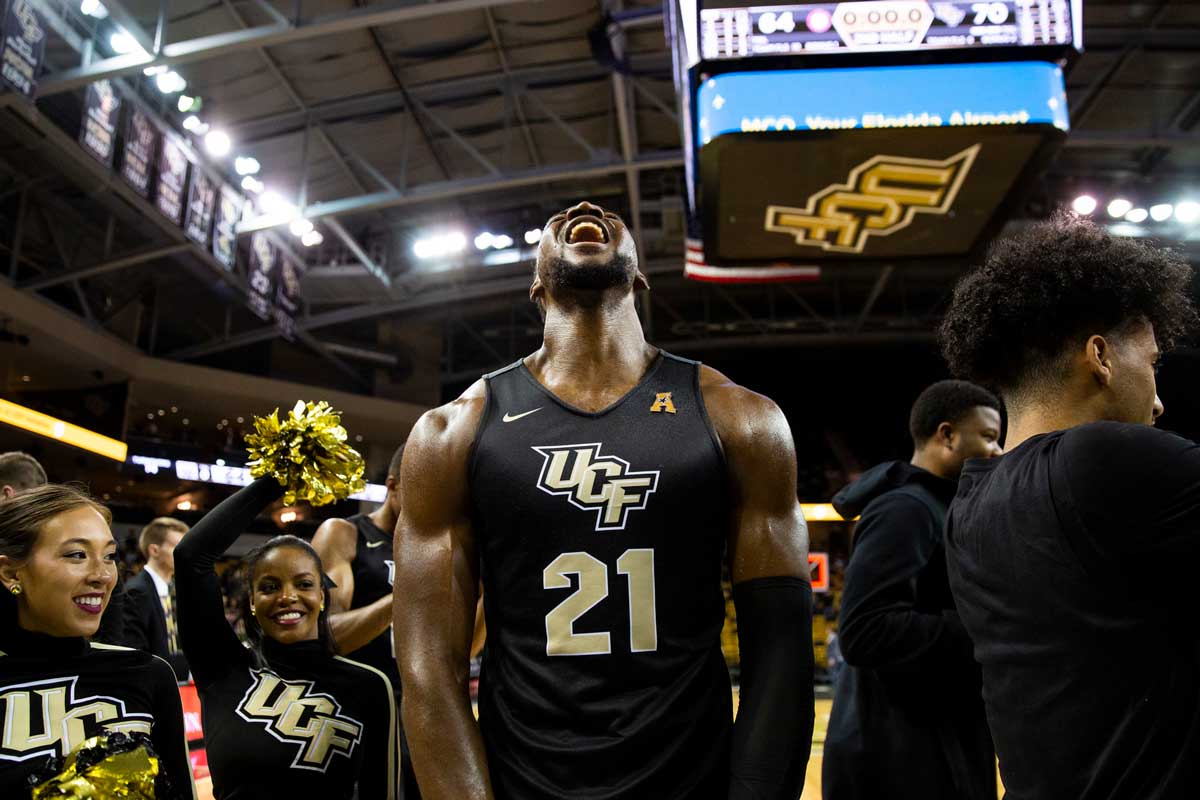 Chad Brown '19
Brown will be joining Taylor on the hometown team after committing to the Orlando Magic for the NBA Summer League.
As a senior, Brown helped lead UCF to its first NCAA Tournament appearance since 2005 and the program's first NCAA Tournament game victory.
He averaged 4.5 points and was third on the team with 5.0 rebounds per game, while shooting a career-best 52.3 percent from the field as a senior.
Brown graduated in May with a degree in interdisciplinary studies.
A.J. Davis '17
A member of the UCF men's basketball program from 2014-18, AJ Davis will play this summer with the Philadelphia 76ers in Las Vegas.
Following his senior season in Orlando, Davis played for three professional teams through 2018-19. He started in Kosovo with KB Prishtina, averaging 8.3 points, 5.7 rebounds and 1.9 assists in nine Superleague games; 11.8 points and 3.5 rebounds in eight FIBA Europe Cup games; and 21 points and 7.0 rebounds in two Champions League games.
Davis then moved on to the Australian National Basketball League, playing 12 games for the Brisbane Bullets. He then returned to the United States, joining the Delaware Blue Coats, the Philadelphia 76ers' G League team.
As a Knight, Davis led UCF as senior in 2017-18 with 12.2 points and 7.6 rebounds per game. He earned Honorable Mention All-Conference accolades in his final season and was a member of the 2016-17 squad that advanced to the semifinals of the NIT.
Davis earned his degree in 2017 in human communication.
The MGM Resorts NBA Summer League begins July 5 in Las Vegas. The Magic play July 5 at 11 p.m. against the San Antonio Spurs on NBA TV. The Pelicans get started on day one as well, taking on the Knicks at 9:30 p.m. on ESPN. The 76ers take on Milwaukee at 3:30 p.m on July 5, as well.
Boston's first game is against the 76ers on July 6 at 5:30 p.m. on ESPN, which could potentially mark the first Knight vs. Knight matchup of the summer.