UCF prides itself on being one of the most innovative universities in the nation. Knights always find a way to make things happen, even when it comes to their most beloved tradition during a pandemic.
Although there was no rushing of the Reflecting Pond, the spirit of Spirit Splash prevailed Friday afternoon in a COVID-friendly environment that involved face coverings, physical distancing, water soakers, plenty of pep and of course, ducks.
"It's tradition. I didn't get a chance to go to Spirit Splash last year and I wanted to experience what Spirit Splash was — whether or not we were able to run into the pond," says sophomore Cristina De Jesús, who majors in communication sciences and disorders. "I think it was a beautiful event, and I love the fact that UCF made this happen. And the best part is I got this adorable duck. It was definitely better than what I was expecting."
An annual tradition since it was first held in 1995, the 25th anniversary of Spirit Splash was postponed in the fall due to the pandemic. Earlier this month, the university announced that it would be holding its second Homecoming Week in an academic year called Spring Splash.
The adjustment to the spring semester allowed for extra time to plan an event that adhered to the university's COVID guidelines while still staying true to the integrity and heart of Spirit Splash. Friday's sunny skies and 81-degree temperature were an added bonus.
"There's been a lot that's been missing this year because of the stress of the pandemic," says Justin Andrade '10, assistant director of programming for the Office of Student Involvement. "We knew that this tradition was super important to our students and I think for as long as I've been a part of this university, we have always risen to the occasion. So we found a way to make it happen and it allowed an opportunity for students to feel excited and happy with their peers and friends."
Two sessions of Spirit Splash were held to allow for physical distancing and meet the demand of student participation. Students lounged on the lawn in pods of up to four during the one-hour event.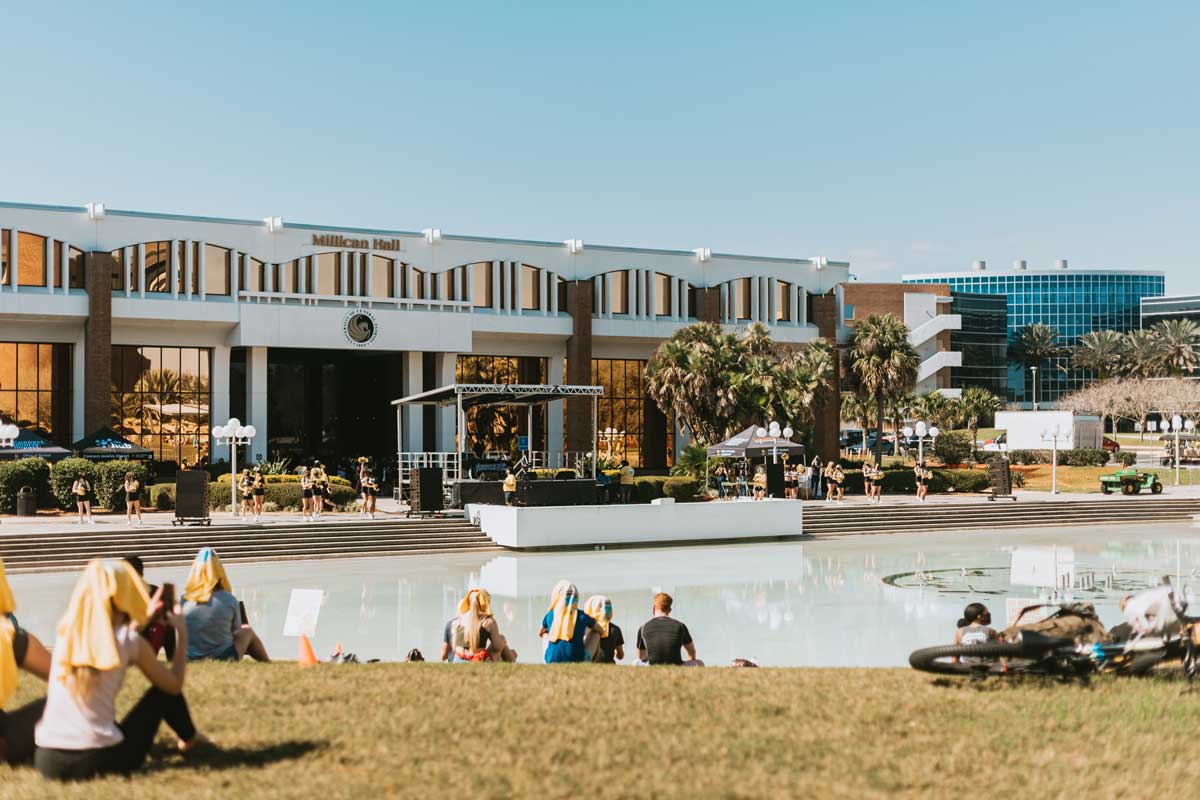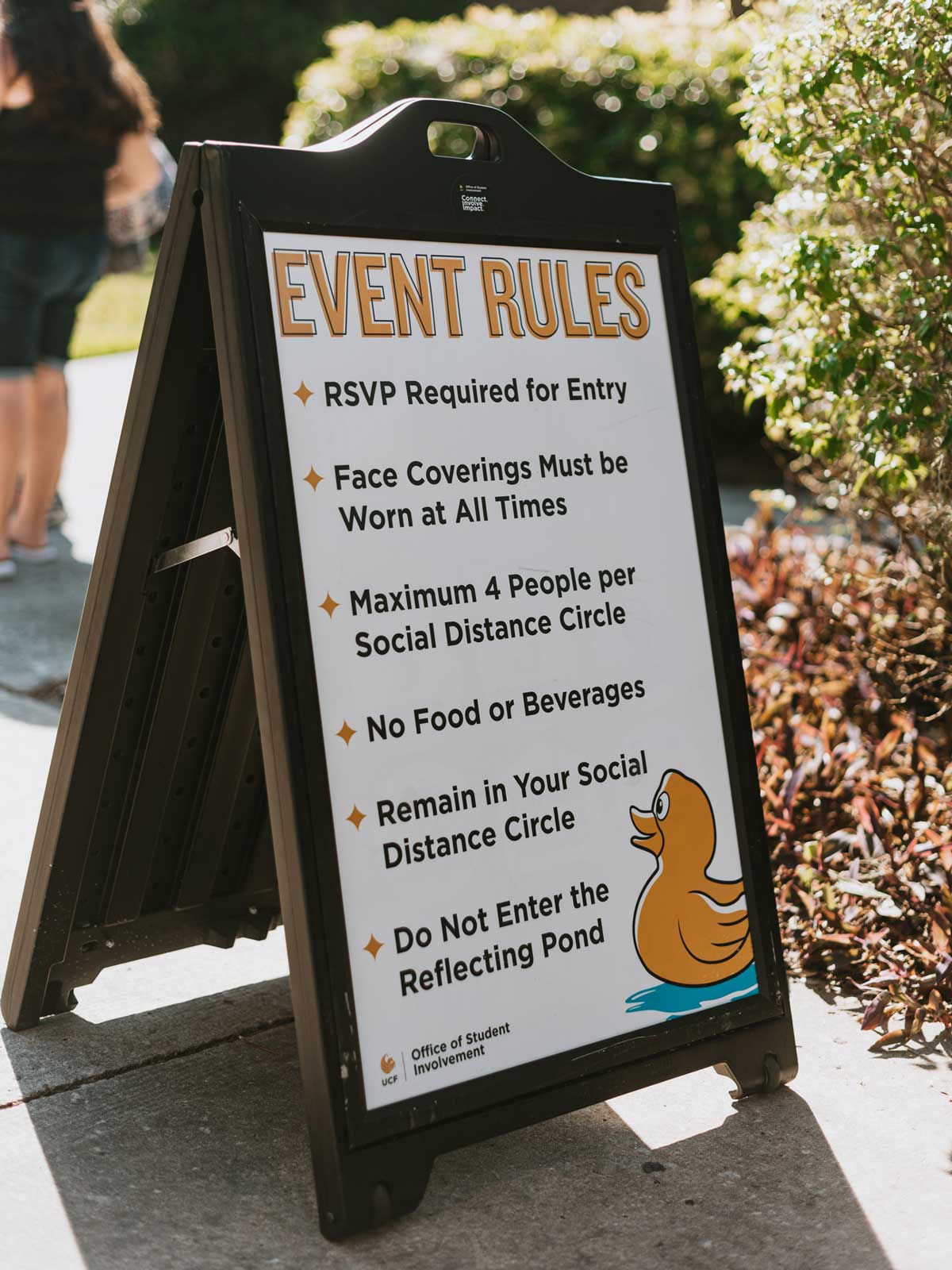 The UCF cheerleading team and Knight Moves kicked things off to amp up the crowd, and representatives from the athletics department including basketball coaches Katie Abrahamson-Henderson and Johnny Dawkins, new Director of Athletics and Vice President Terry Mohajir and new football coach Gus Malzahn got on the mic.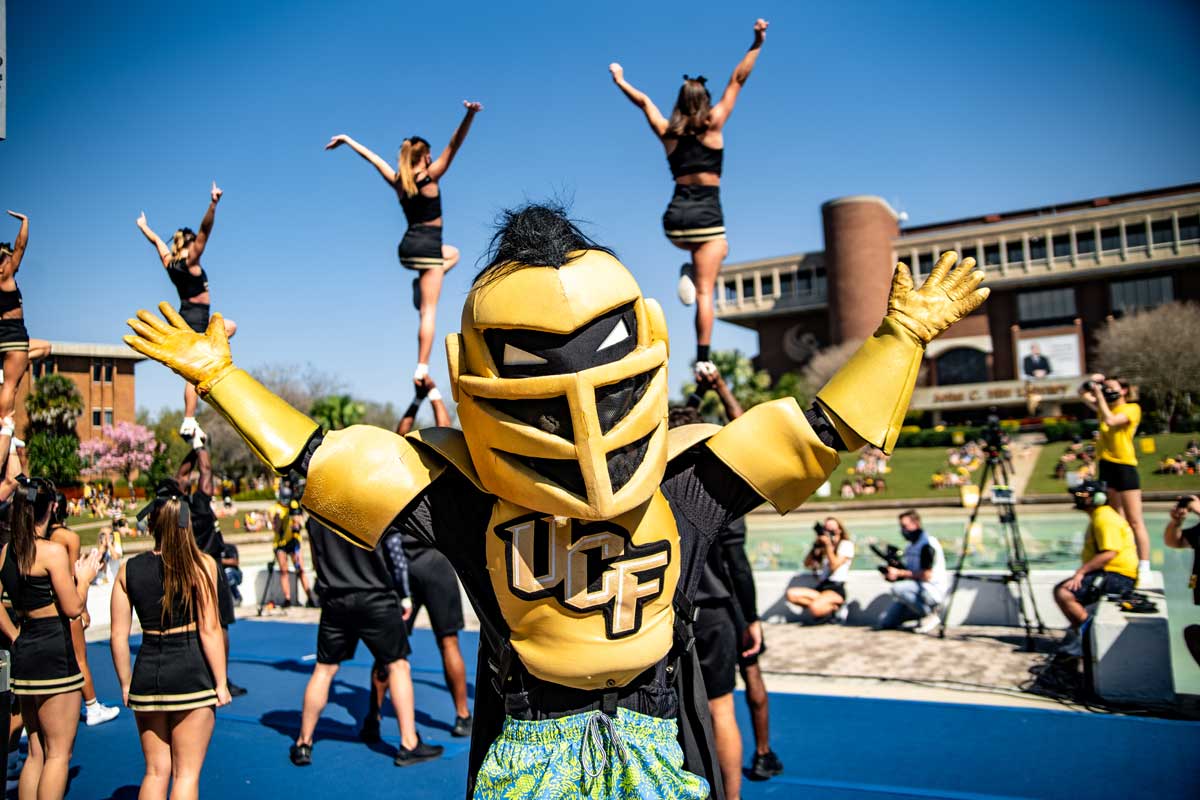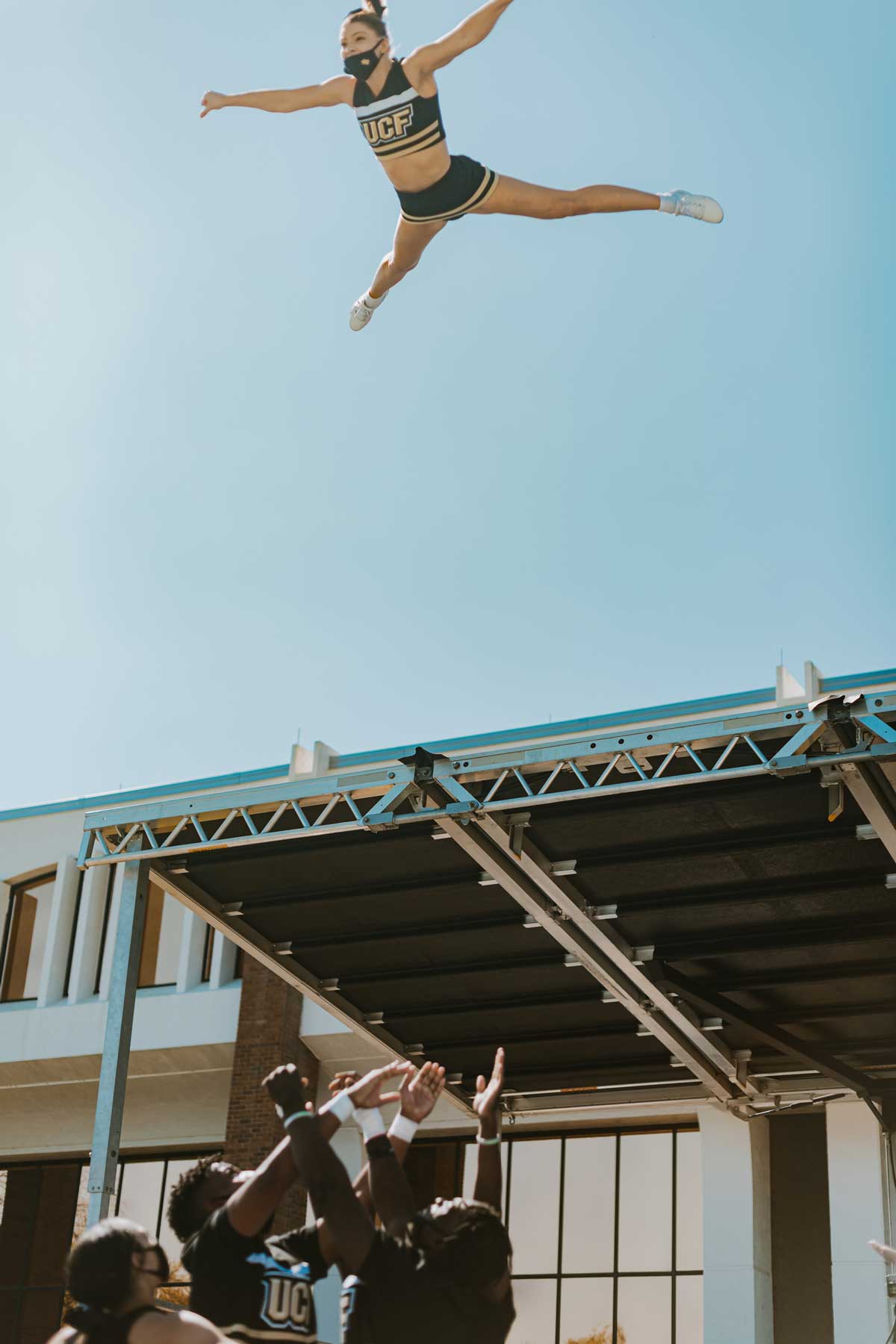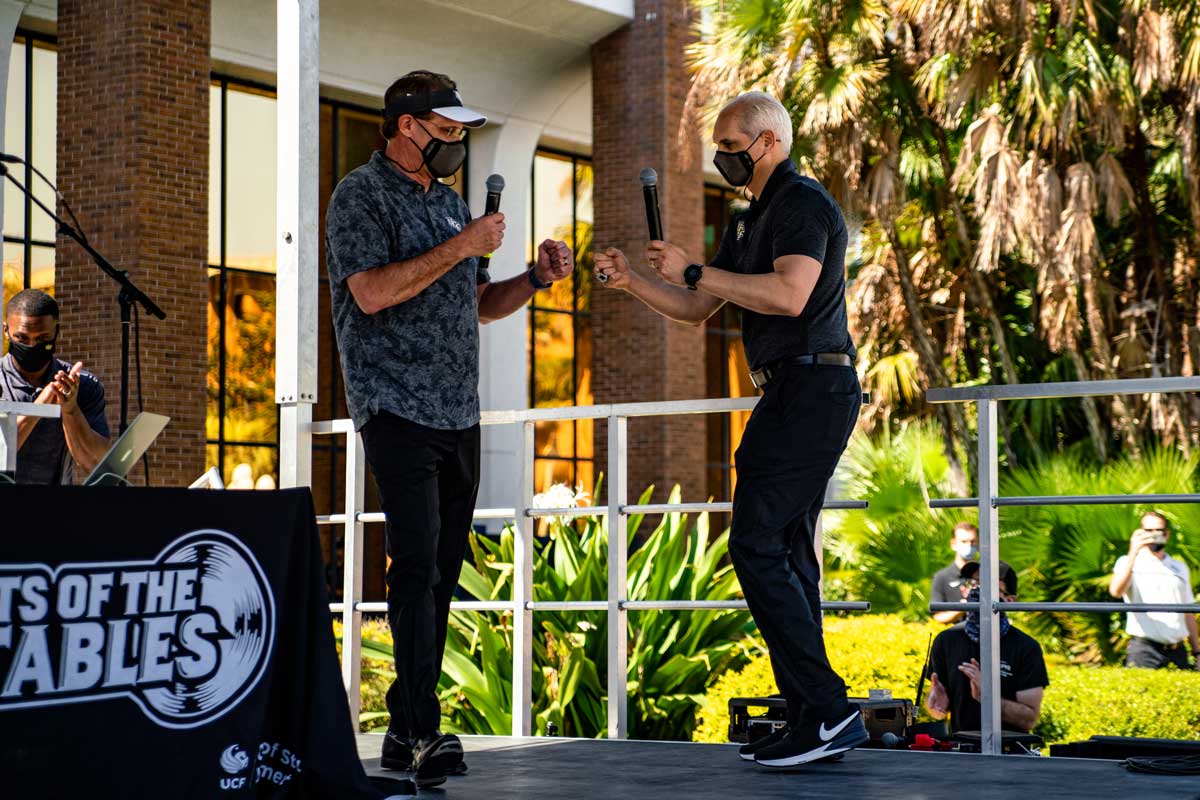 "We're fixing to shock the college football world," says Gus Malzahn, who was named UCF's new football head coach on Feb. 15. He invited students to attend the team's spring game on April 10 at the Bounce House.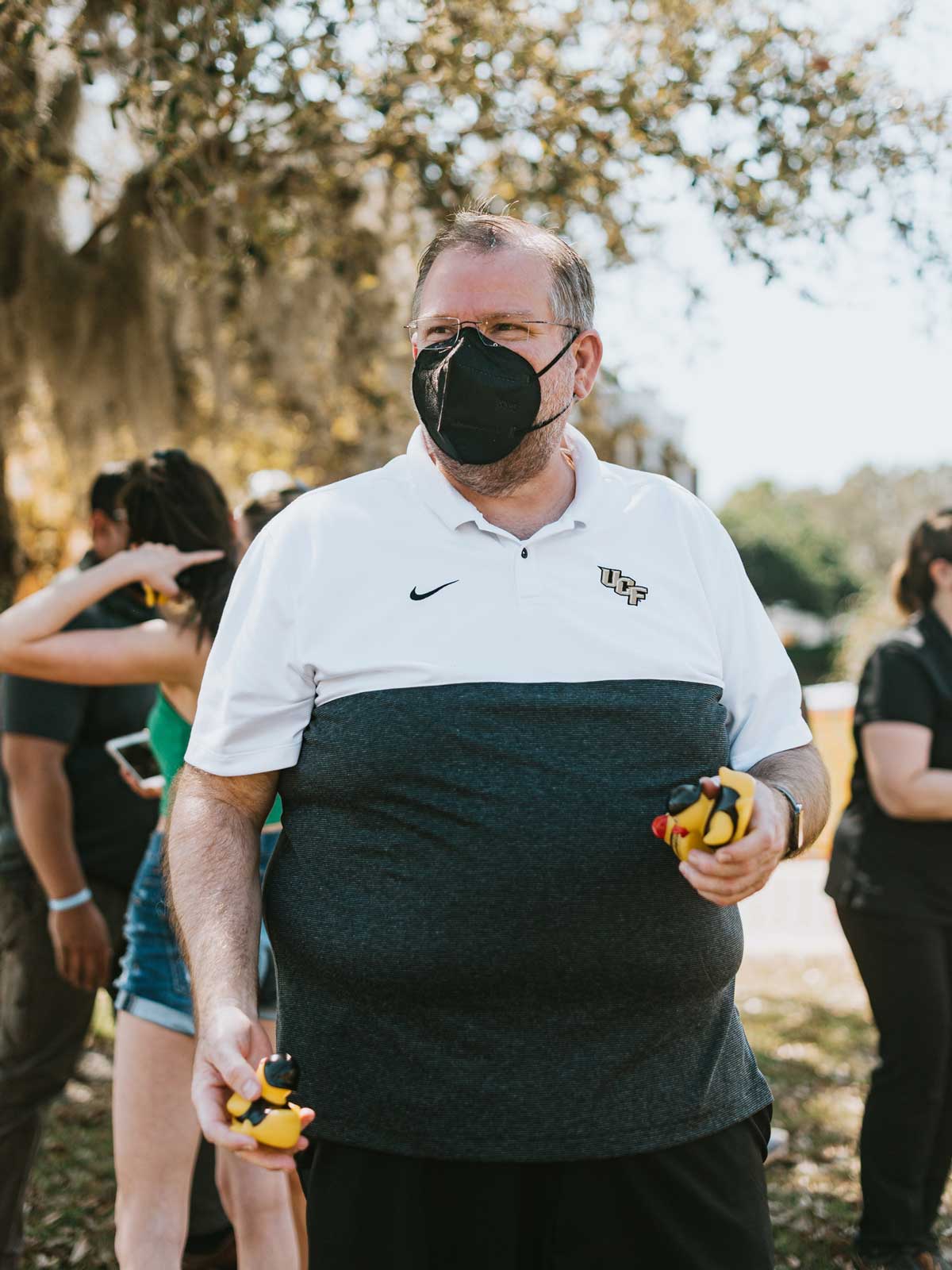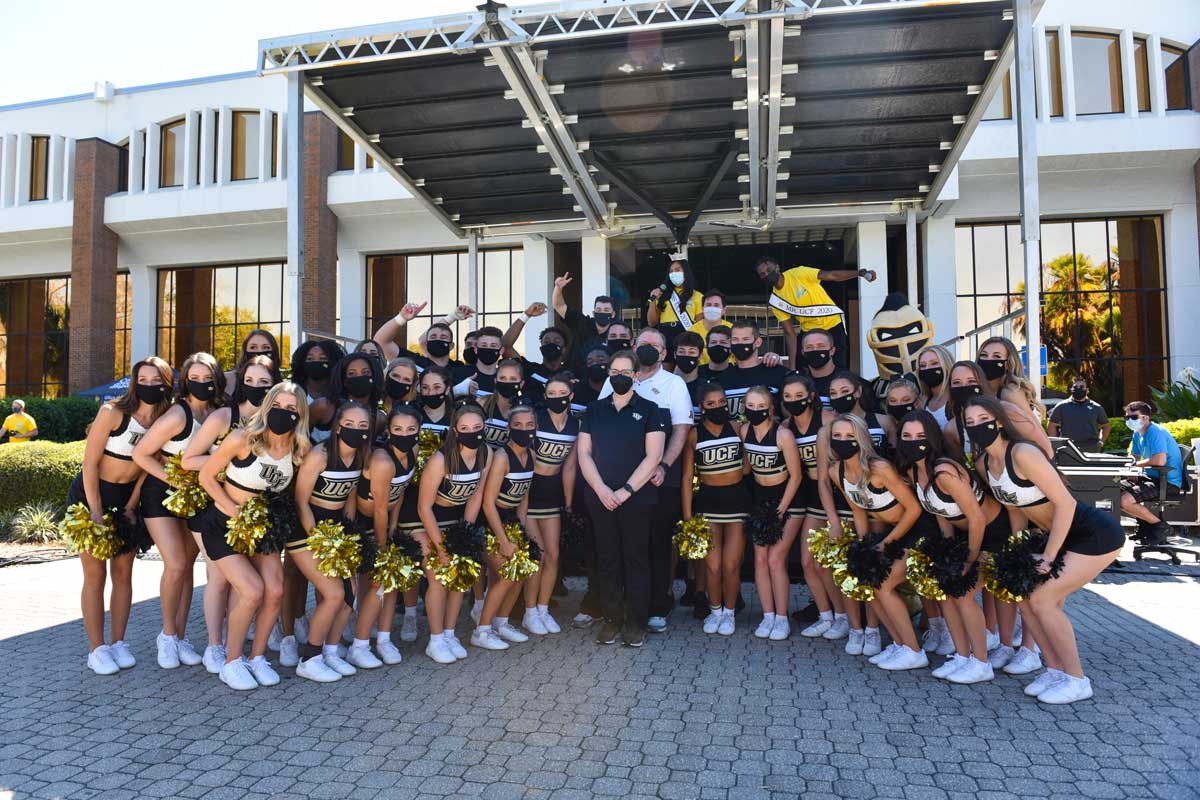 President Alexander N. Cartwright and his wife, First Lady Melinda, were on hand to distribute ducks to each of the 650 students who attended each session. Ducks are coveted tokens each year as they are typically not guaranteed.
"This is a little different than what has happened in the past. But one thing you'll have is you'll have this memory that you were the group of people that did this Spirit Splash in a different way," Cartwright said to the crowd. "We're so proud to be able to have you participating in this today."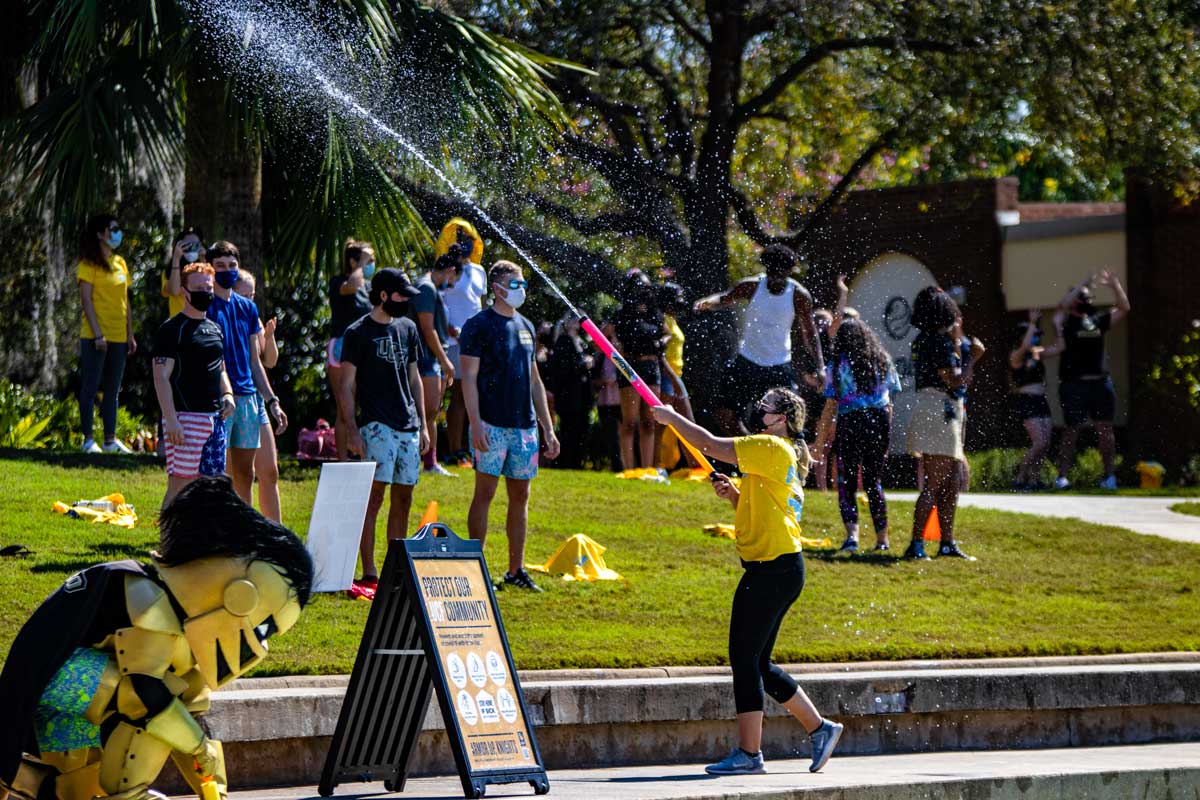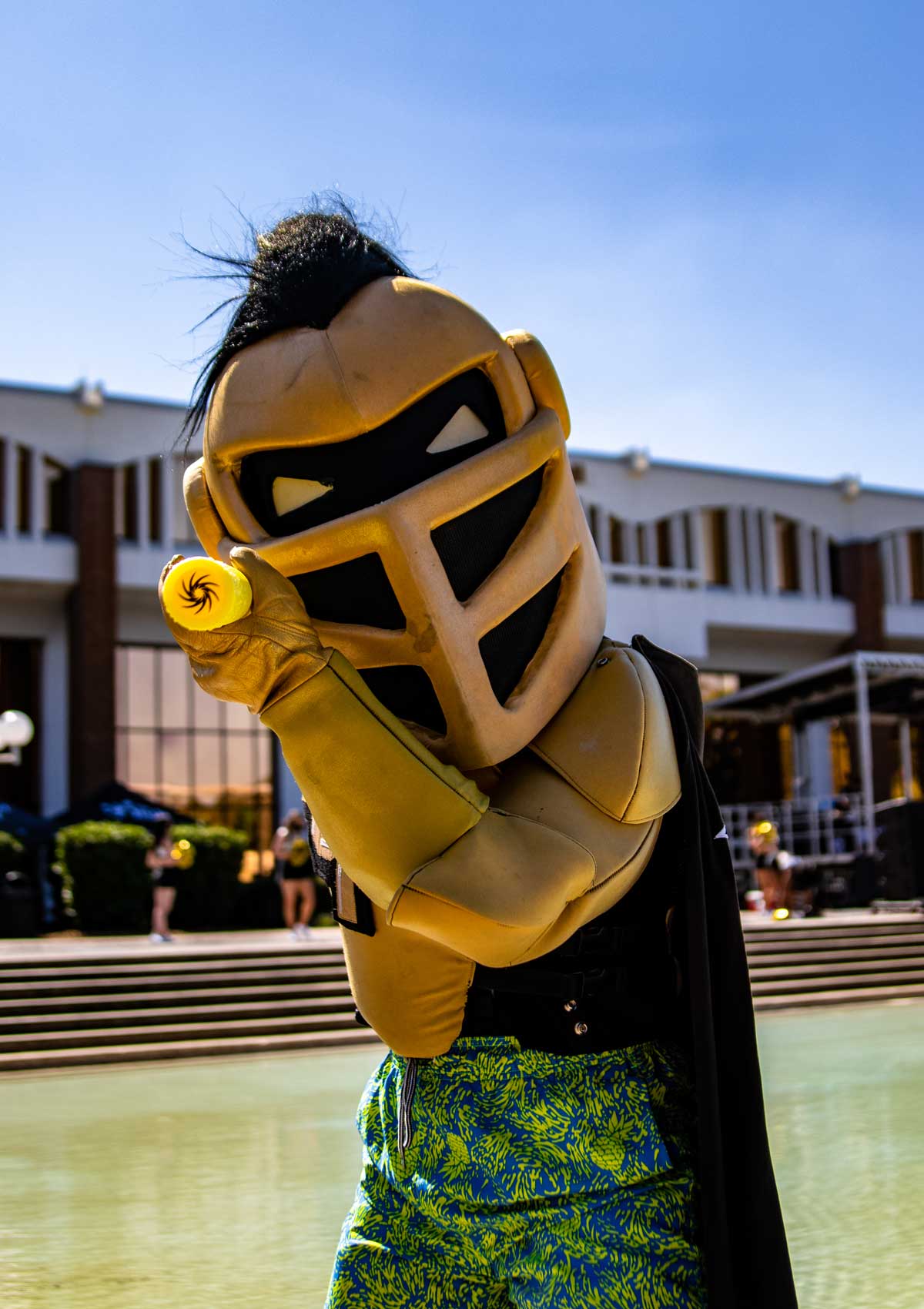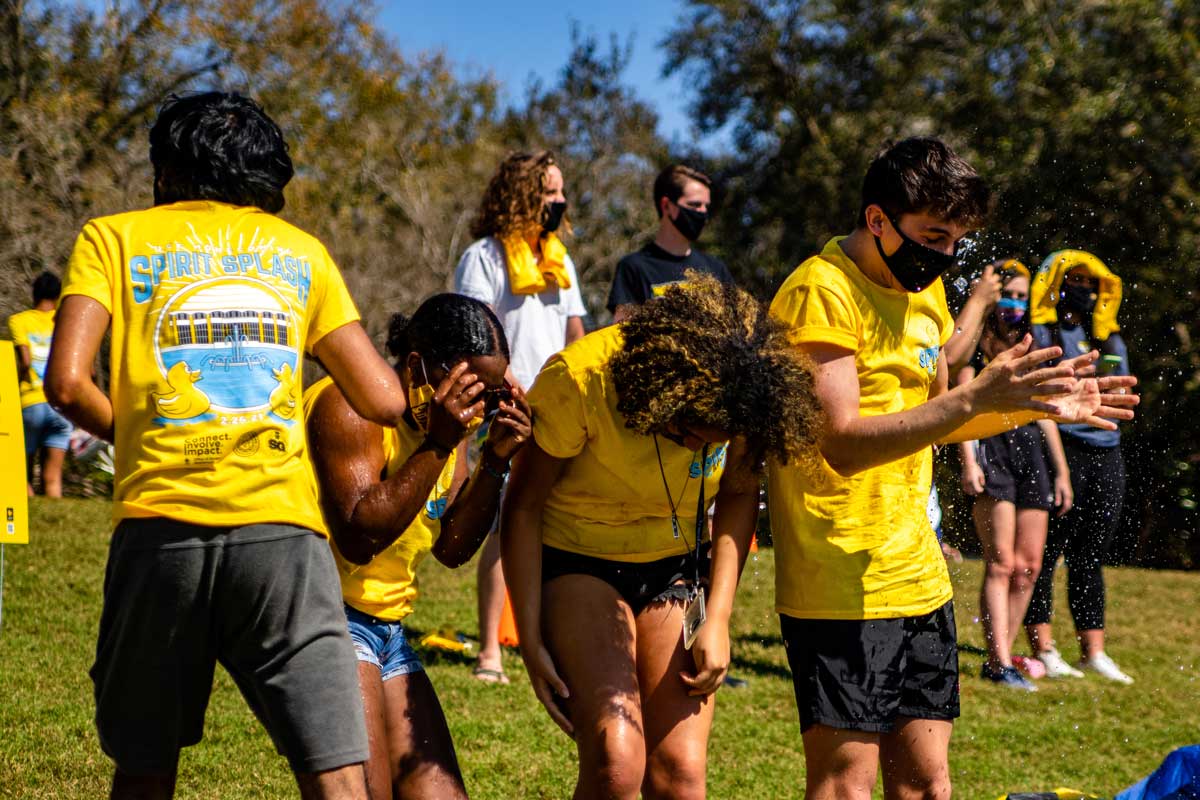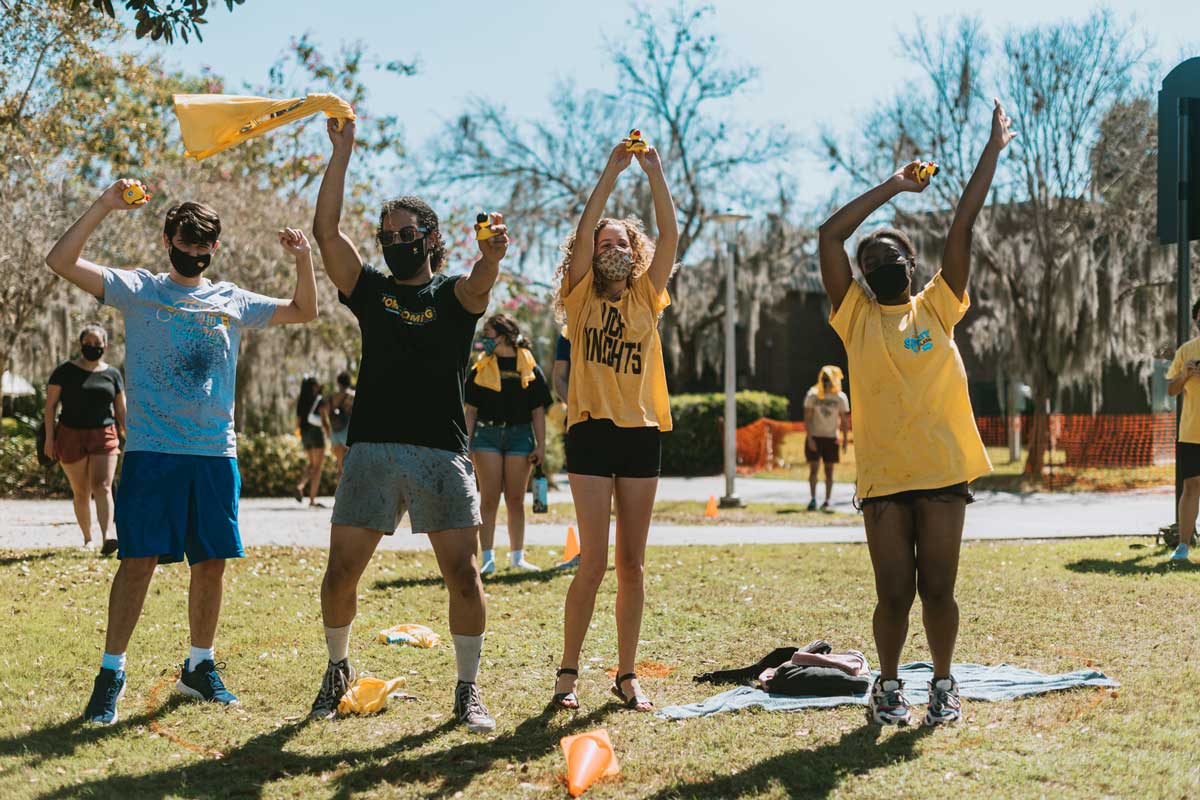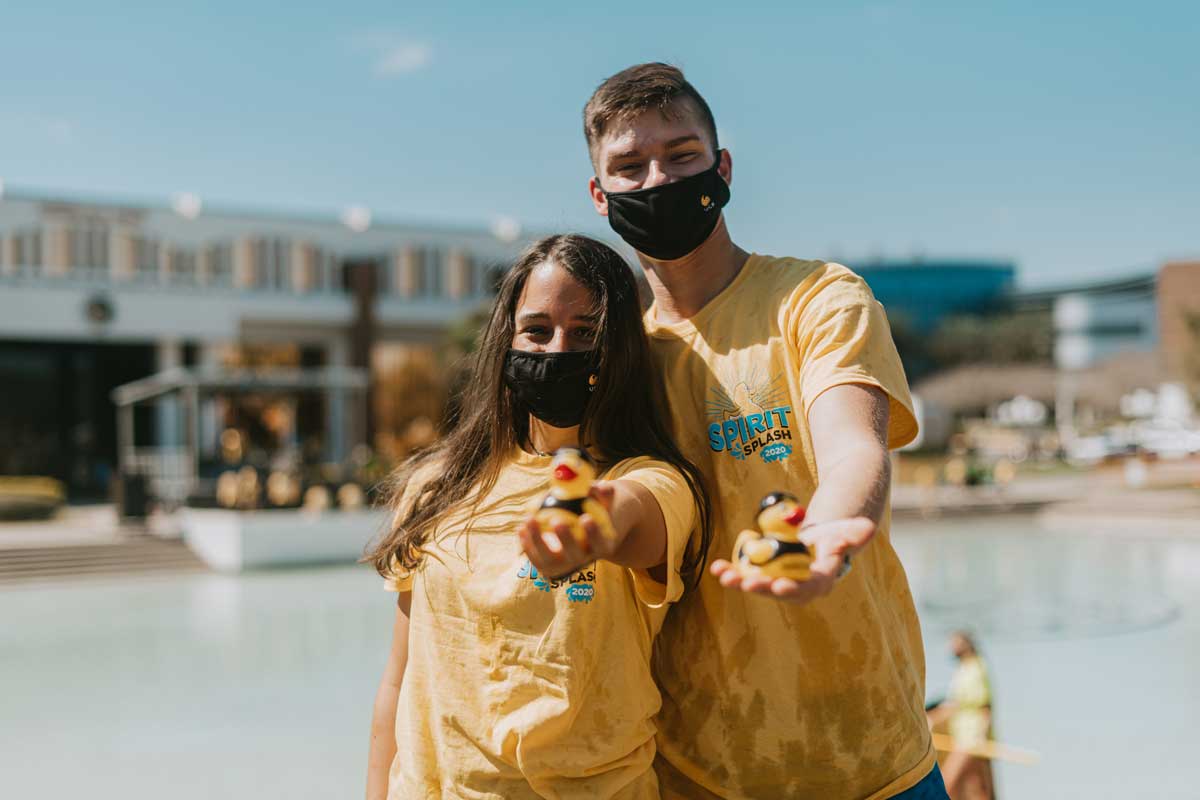 "It made me so excited to see everyone come together and be able to celebrate a tradition," says Anna Huynh, a senior majoring in nursing and 2020's Miss UCF. "Today provided a sense of normalcy of what we used to have, and it makes me proud to be at a school where we're able to go through adversity and still make the best of it."