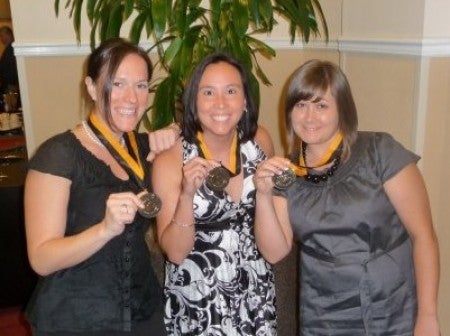 Three undergraduate nursing students were recognized Tuesday, August 4th, for their innovative undergraduate research at the Summer Honors Graduation Banquet hosted by the Burnett Honors College.
Sarah Parker, Joyce DeGennaro and Mary Amber Davis are expected to graduate Saturday, August 8th, with their Bachelor of Science in Nursing (BSN) degrees. This is the second bachelor's degree for each of them.
As graduates of the four-semester accelerated second degree BSN program, these students will also graduate with Research Honors after successfully completing the university's Honors in the Major (HIM) program.
Established in 1989, HIM is the university's oldest and most prestigious undergraduate research program. Each participant is selected into the program and is required to research, write, defend and publish an original honors thesis that serves as the capstone product of their undergraduate careers.
Parker, DeGennaro and Davis will be pinned as nurses at the UCF College of Nursing's traditional recognition ceremony at 5:30 p.m. on Friday, August 7, in the Pegasus Ballroom at the UCF Student Union. They will receive their Bachelor of Science in Nursing degrees at 2 p.m. Saturday, August 8, during the university's commencement ceremony at the UCF Arena.