It was 2013 when Evan Rosato '18 received news that changed his life forever. For the last year, he had been having seizures he couldn't explain. His doctor had diagnosed him with Petit Mal seizures, which are commonly found in children, can sometimes be mistaken for daydreaming and typically don't cause any long-term health issues. But Rosato felt there was something more happening.
So, he decided to get an MRI scan, which confirmed his worst fears: a brain tumor.
"Without any understanding of brain tumors, it felt like a death sentence," says Rosato, who was recently named a Fulbright Research grantee.
It was benign, but required surgery for removal. Yet, Rosato was determined to push forward and decided to work through his feelings in the best way he knew how: by making art.
Creating Art That Educates
Rosato had always worked hard as an undergraduate studio art student at UCF. But it wasn't until his senior year that he decided to create a body of work that was much different from anything he'd done before — one that put his tumor as the main focus.
His goal was to not only process his diagnosis, but to dispel myths and misconceptions people have about brain tumors.
"Brain tumors tend to elicit naïve preconceptions and uninformed understanding," he says. "Typically, the only way someone learns about brain tumors is through their own experience, through the experience of someone close to them or by Googling 'Do I have a brain tumor?' when they have a severe headache."
By introducing the complex nature of brain tumors through a creative lens rather than a scientific one, Rosato's goal was to make them less abstract and more palatable for the public.
For his thesis work, he created a 30-minute length piece consisting of all the MRI scans he received in 2013. He chose the 30-minute length because that was the average time it took to get an MRI. Similarly, he drew self-portraits of himself mid-seizure, as well as fashioned glass-blown models of the tumor itself.
Through his art, Rosato was able to find beauty and understanding in his condition for others — and most importantly, for himself.
"Making artwork about my experience gives me a sense of closure and allows me to think about — and look at — my experience as an object." — Evan Rosato
"Art has become a kind of cathartic tool after my tumor diagnosis," says Rosato, who must get an MRI every year as a precaution to check for any abnormalities. "Making artwork about my experience gives me a sense of closure and allows me to think about — and look at — my experience as an object."
Rosato says people are sometimes hesitant to ask him about his condition, but he chose not to shy away from talking about it. In turn, his audiences are opening up to share their experiences with him.
"Every time I've shown my work in public, someone has shared with me their own experience having a brain tumor or about someone they know who has dealt with one," he says. "I've realized that people, especially those who have had a personal struggle with a brain tumor, are hesitant to share their experience. Maybe this is because they haven't been able to talk to someone who truly comprehends what it means to go through this struggle, but I'm glad my work has been able to start a conversation."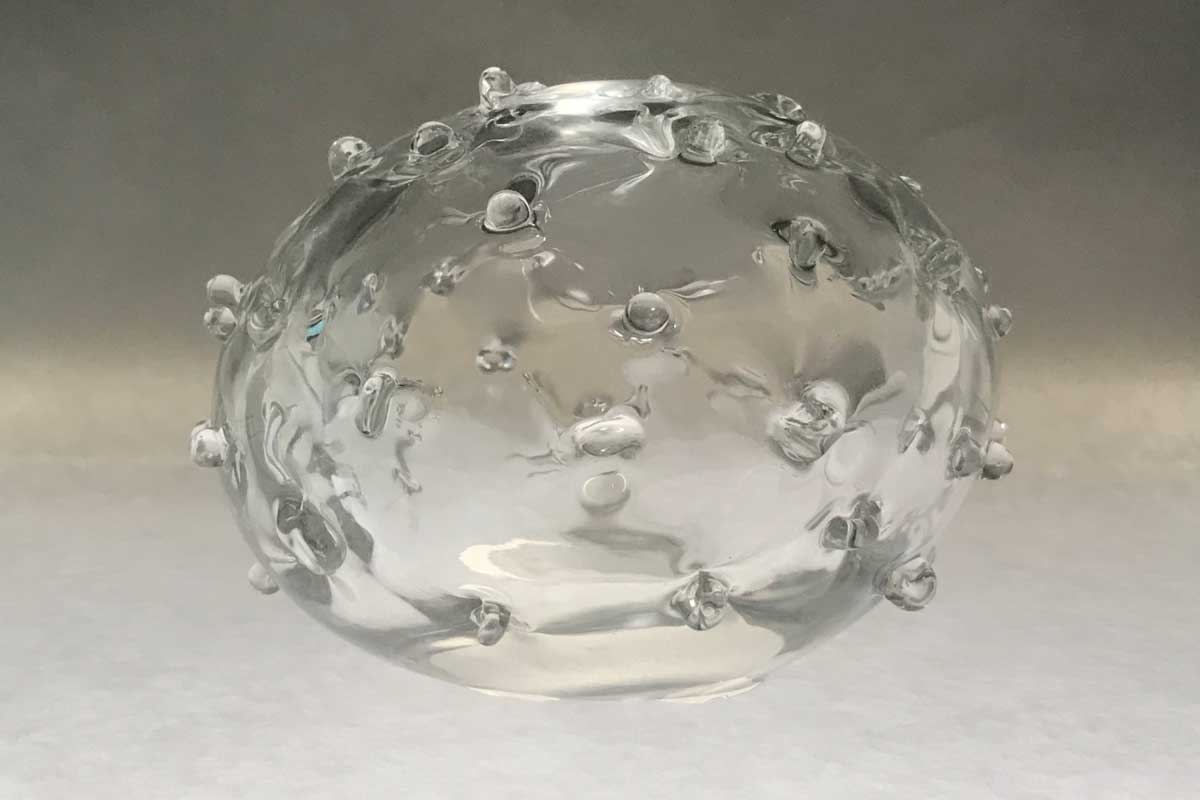 Coming Out Stronger
Now tumor-free, Rosato has continued to defy the odds. He graduated with a Bachelor of Fine Arts degree in studio art and art history with a 3.9 GPA. He interned at Flying Horse Editions and had his work presented at Praxis: the SVAD Biannual BFA Exhibition at the UCF Art Gallery. And now, he has won a Fulbright Scholarship, one of the most prestigious awards in academia. With it he will spend nine months in Belgium studying nontoxic printmaking at The Academy for Visual Arts under the supervision of master printmaker Marnix Everaert.
"Winning a Fulbright for research feels surreal," he says. "Belgium is a country that explicitly favors Ph.D.-seeking students and only offers four grants. So, to apply as an undergraduate senior against applicants from across the country is a major accomplishment for me."
Tyler Fisher, a professor in the Department of Modern Languages and Literature and Burnett Honors College, coached Rosato through the application process every step of the way.
"Evan strikes me as a highly engaged and engaging student who will make the most of his time abroad," says Fisher. "I'm positive he'll contribute to his host country and then return to the U.S. with valuable new knowledge, perspectives and sensitivities."
A Future in Academia
Rosato says UCF was essential to his development as an artist.
"Brain tumors are not always a death sentence. In a way, they can be something beautiful." — Evan Rosato
"My professors were dedicated to pushing me out of my comfort zone and teaching me how to approach my art practice in new ways," says Rosato. "Interning at Flying Horse Editions also inspired me to pursue printmaking and taught me how to work professionally in the medium and on my own work."
With the knowledge he gained at UCF combined with what he will learn in Belgium, Rosato hopes to teach printmaking workshops and establish nontoxic printmaking spaces within public institutions. He also plans to get an MFA. And last but not least, he wants to continue educating his audiences about tumors — and hopefully help them see that getting one doesn't mean the end is inevitable. For Rosato, it was a new beginning.
"Brain tumors are not always a death sentence," he says. "In a way, they can be something beautiful."
To learn how to apply to international scholarships like the ones offered by Fulbright, visit the Office of Prestigious Awards.