Sprinkling joy is what chef Tracy Wilk '10 does best.
In light of the world's COVID-19 pandemic, Wilk has turned the kitchen of her small studio apartment in New York City into a full-blown bake shop. Her inspiration: The brave first responders passionately dedicated to the safety of civilians. The treat: A variety of gooey, sweet cookies that Wilk considers to be her forte.
"I have no medical training, but I can bake a really, really good cookie for the people who do," Wilk says.
"This concept may have started with the coronavirus, but the sprinkling of joy made with love in the kitchen will go on forever."
After being furloughed from her job as a chef and instructor at the Institute of Culinary Education, she decided to use her time to provide tasty treats for local medical employees working long hours. Then she created#BAKEITFORWARD, a social media initiative to encourage others to give thanks through food to those on the front lines of the pandemic.
So far, Wilk has raised more than $3,500 on GoFundMe that will go toward a #BAKEITFORWARD cookbook, made with the intention of share her recipes to others so that they, too, can spread positivity during this time.
"This concept may have started with the coronavirus, but the sprinkling of joy made with love in the kitchen will go on forever," Wilk says. "When you have a bad day, or you want to bring someone else some happiness, this cookbook will serve as a template for doing that."
Despite her experience as a professional chef, Wilk's degree in political science from the UCF is what she points to as an important influence in #BAKEITFORWARD.
"You wouldn't think I'd be using a degree in political science as a chef," Wilk says, "but it is the perfect degree to blend my passion for nonprofit work with my passion for food."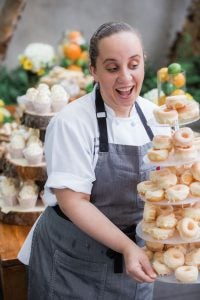 Wilk's love for both food and helping others began at a young age. When she was old enough to choose a university to attend for her bachelor's degree, there was no doubt in Wilk's mind UCF is where she wanted to be.
"I loved everything about the school," says Wilk, who is from Miami. "From the experiences UCF offers, to the campus, to being right around Disney, I was drawn from the get-go and I knew in my heart that this is where I wanted to be for school."
While in Orlando she also had the chance to frequent vegan restaurants in the area. When she decided to attend culinary school, she wanted to attend one where she knew she'd be making nutrient-dense food akin to that approach, leading her to the Natural Gourmet Institute.
But as her career progressed, Wilk says she learned that sometimes classic eggs, butter, and sugar cannot be beat.
"The cookies that I'm making for #BAKEITFORWARD are not vegan or nutrient dense, but right now that isn't my focus," Wilk says. "My focus here is to bring joy, and there is nothing more joyful than a buttery, melt-in-your-mouth chocolate chip cookie made with classic pastry ingredients."
When she's finished baking up batches in her kitchen, she hand delivers her goods to local hospitals and service departments. What Wilk loves most about this ritual is the humanity she gets to see on her walks to her destinations.
"On my way to drop off the cookies, I always see chalk on the sidewalk and free coffee deliveries being made, stuff like that," Wilk says. "It reminds me that we are all human and all going through something totally new to us, not to mention terrifying. It's the little things we do as human beings that can make a difference in someone's life right now."