Dozens of UCF medical and nursing students have trained at UCF Lake Nona Hospital in its first year of operation — with more rotations planned.
Opened on March 1, 2021, the hospital is a joint venture between the UCF College of Medicine and HCA Healthcare, the nation's largest hospital organization. During that time it has gained national recognition among HCA hospitals for quality of care and patient satisfaction. And it has been steadily growing in its mission to be an educational site for UCF healthcare students.
"We now have learners from all years of medical school training in obstetrics and gynecology, internal medicine, neurology, general surgery and emergency medicine. And our educational footprint will continue to grow as our hospital grows," says Jeffrey LaRochelle, associate dean for academic affairs. "UCF Lake Nona Hospital is more than just another teaching hospital. It is a growing academic medical center that is being developed in concert with the UCF College of Medicine from the foundation up."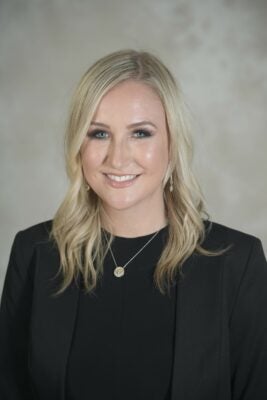 UCF medical students Katelyn Lewis and Tyler Daprano watched for two years as the 18,000-square-foot, 64-bed hospital was built next to the College of Medicine. On its first day open, the hospital delivered twins and its birthing and delivery facilities were soon ready — earlier than anticipated — for UCF medical and nursing students for learning.
Lewis was the first medical student to do her obstetrics/gynecology (OB/GYN) clerkship at the hospital, describing the experience as "exciting and exhilarating." Within two short weeks she went from triaging and coaching patients to suturing, observing C-sections and assisting with deliveries.
"It was so nerve-wracking and emotional delivering a baby," says Lewis, who stayed with her patients overnight offering support and comfort during long labors. "A lot of patients were around my age so I could relate to them. It was a great experience helping them through a difficult time."
As a male, Deprano says he was nervous going into OB/GYN training and made sure to introduce himself to the patient and ask permission to attend the birth. He helped deliver three babies during his four-week rotation at UCF Lake Nona Hospital. His job was transitioning the baby from the doctor to the nurses and helping to clamp and cut the umbilical cord.
"The first thing on my mind was, don't drop the baby and to support his head," he says.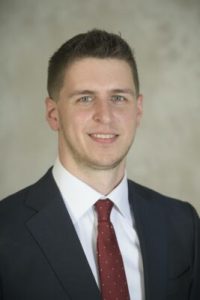 Both students say the experience helped hone their clinical skills, and taught them to be more empathetic and understanding of a patient's needs.
Kelly Peterson is one of more than 50 UCF nursing students who have done clinical training at UCF Lake Nona Hospital.
"The most enjoyable part of my training was having the opportunity to go to the surgical unit and seeing a robotics surgery and being involved in the pre-op and postop nursing care for that patient," she says. "The on-the-job experience gave me opportunities to do some direct patient care and learn how to coordinate resources for patients with complex needs."
Students say they appreciated the eagerness of hospital staff to teach them and get feedback on the hospital as an educational site.
"It's very student centric and everyone was so welcoming," says Lewis of her attending physician and nurses. "All the physicians were so eager to teach, some had not worked with students before and were very supportive and guided me on what to do. I loved working with all the staff."
"Having the hospital here is definitely going to be a draw for students," says Deprano.
Wendy H. Brandon, the hospital's leader, agreed.
"As our partnership between UCF and HCA Healthcare grows, we look forward to impacting the community for years to come as we host future students and develop our healthcare professionals of tomorrow," she says.