University of Central Florida research has blasted off on another high-profile flight with the launch of spaceflight company Blue Origin's New Shepard rocket today.
The research, an experiment to study charged dust behavior in microgravity, lifted off from the company's West Texas location aboard the rocket and past the von Karman Line for three minutes of microgravity before landing safely back to Earth. The Karman Line is the internationally recognized boundary of space.
The research, led by Adrienne Dove, an associate professor in UCF's Department of Physics, will inform strategies to keep lunar dust from damaging electronics, solar cells and mechanical equipment during moon missions.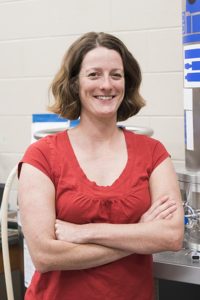 "It's so exciting to see it launch and land successfully," says Dove, who was able to attend the launch. "We watched from the new 'astronaut village' viewing stand, a few miles from the site but at nice elevation, and I always think about what's happening with our payload during the mission."
The experiment called ERIE, or Electrostatic Regolith Interaction Experiment, was housed in a foot long vacuum chamber and flew with 19 other payloads. The experiment used high-speed cameras to capture the trajectories of simulated moon dust and small rocks, known as regolith, after they have been charged by rubbing against a door in the chamber, much like rubbing a balloon across a surface to get a static charge.
This is the fourth experiment Dove has had fly on Blue Origin, with previous experiments going up in January, May and December of 2019.
"Dust is a hazard to many different aspects of exploration," Dove says. "So, if we're going to the moon or asteroids, you're interacting with these surfaces. If you're walking along them or you're rolling along them, you can charge up the grains, in addition to the fact that they're just also naturally charged. This can cause them to stick to surfaces differently or can cause charges to build up on equipment. So, understanding how the dust grains charge, understanding their behavior with other materials and with themselves, is really important for future exploration."
The research was funded through NASA's Flight Opportunities Program within its Space Technology Mission Directorate. Some of the systems have been developed in partnership with researchers at NASA Kennedy Space Center's Electrostatic and Surface Physics Laboratory.
Dove received her doctorate in astrophysical and planetary sciences from the University of Colorado at Boulder and her bachelor's degree in physics and astronomy from the University of Missouri. She joined UCF's Department of Physics, part of the College of Sciences, in 2012.