An ingenious idea born out of a research lab at the University of Central Florida has led to a growing operation that is having a direct impact on space exploration.
Chances are that some of the equipment landing on the moon and the methods that will be used to grow food or build shelter, will have been tested first on experimental soil developed right at UCF.
UCF's Exolith Lab has produced and shipped 25 tons of simulated extraterrestrial soil so far this year. Customers include NASA and commercial companies domestically and around the globe, who are using the dirt to test equipment being developed for Moon, Mars, and asteroid missions. University researchers also are using the material to test strategies they are developing to address a variety of problems facing astronauts such as finding sustainable ways to grow food on other planets. Even K-12 schools are among the clients because they are using the material to provide students hands-on science experiences to increase interest in STEM.
"It certainly has grown since we started," says Zoe Landsman '11 '17PhD, the chief scientist for the Lab who earned degrees at UCF in physics. "We aren't the only ones doing this, but we are certainly the only university doing this at this scale."
The first year the lab operated in 2018, less than half of ton of the experimental dirt was produced and shipped. In 2020, the lab produced 5 tons and halfway through 2021, the lab is almost at 25 tons, said director of operations, Anna Metke '19.
The lab is completely self-sufficient thanks to the increase in demand. The lab charges from $35 to $55 a kilogram with some specialty variations costing $5 per ounce. Money is reinvested into the lab.
Like Earth — which has sandy, rocky and clay regions — the moon, Mars and asteroids have various kinds of dirt. If an engineering team wants to test the tire design of a rover headed for moon's south pole, it would need "softer" mock moon dirt based on the data available about the Moon, Landsman says. If they were targeting a different part of the moon, the soil would be different.
The lab produces several kinds of simulant depending on the client's needs. There are more than 10 options available, and Landsman works with clients who need custom orders.
Humble Beginnings
Exolith began in Physics Professor Dan Britt's lab under a NASA small business grant in partnership with the commercial startup Deep Space Industries. Britt and his postdoctoral scholar, Kevin Cannon, developed a scientifically based, standardized method for creating simulated Martian and asteroid regolith (commonly called soil).
The team published its results in academic journals providing scientists around the world a high-fidelity standard. Deep Space Industries left the simulant business and UCF picked up the slack as a non-profit service to the space exploration community. Orders and production have been growing steadily since then.
"It was a way to give scientists a way to test their ideas on something similar to what they would encounter in space," Britt says. "You wouldn't want to discover that your method didn't work when you are actually there. It takes a lot of money, effort, and time to get there, so you want your shot to be the best one possible. Our simulant helps improve the odds."
The demand grew quickly and in 2019 the operation moved to a 1,100-square foot warehouse in Winter Park. This month the group is preparing to move to an even bigger warehouse (about 5,500 square feet) closer to campus. As part of that move, the team expects to set up a "sandbox" like the one found at NASA's Swamp Works, Landsman says.
"This will give some of our researchers the ability to work with the simulant in a larger environment," she says. "We're all looking forward to that, when we fully build out."
From NASA to Social Media Influencers
With NASA's Artemis mission right around the corner, the Moon simulant has been a hot item at Exolith. While the client list is private, there are several companies and agencies that are public about their supplier.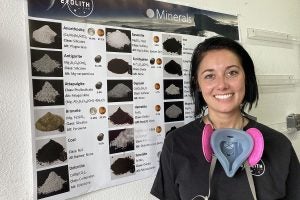 NASA, the European Space Agency, the Japanese Space Agency, and German Space Agency (DLR) have placed orders; so has Honeybee Robotics, Made in Space and Maana Electric, a company based in Luxembourg. Schools are also placing orders from St. James Day School in Texas to the Mendon-Upton Regional School District in Massachusetts. Even social media influencers are customers such as Emma Carr — better known as @astrosurferninja on Instagram — an exceptional tween who is chronicling her journey to becoming an astronaut via social media.
"She has done some of the most impressive plant growth experiments with our simulants," Metke says.
NASA even used the regolith this past summer as part of its Plant the Moon and Plant Mars summer challenge. It was a national competition aimed at getting regular citizens to work on experiments for growing food on the Moon or Mars. Those who paid to participate got a starter box with 2-6 kilograms of simulant depending on the size of the team.
The Process
When it comes to creating the simulant, it is a lot like making a cake. The team keeps a pantry stocked with raw materials including basalt (lava rocks), anorthosite, serpentine, olivine, and many other minerals important in extraterrestrial regoliths. Depending on what ingredient is needed the team can take large rocks and grind or smash them in a variety of equipment to turn them into different grades of powder.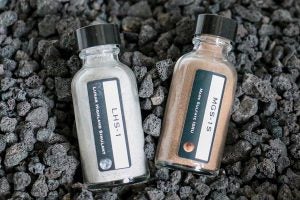 Then they are mixed based on the formulas. The quantity of each ingredient is carefully measured to create the exact blend needed.
Then the order is packed in small or large bags, placed in cardboard boxes and ready for the U.S. Postal service. If the orders are bigger, they are shipped with the appropriate carrier.
Some boxes travel as far as Australia or Germany, while others are delivered to the labs of UCF Assistant Physics Professor Adrienne Dove, Professor Joshua Colwell, and Associate Researcher Julie Brisset. They are all using simulant for a variety of research including how dusts reacts in space
For example, Dove is looking at how planetary surfaces of the Moon, asteroids and other small objects in space behave and interact with the surrounding electric fields and charged particles from the sun. This research is important because it not only informs the understanding of how Earth formed and evolved but it also makes space exploration safer, as scientists can use the research results to predict how spacecraft and humans will interact with planetary surfaces.
Exolith Benefits UCF Students
Many of the lab employees are UCF students or recent graduates. And while crushing rocks and following recipe ingredients isn't glamorous, those working in the warehouse love every minute of it because its "real."
For Christian Sipe, an aerospace engineering student, working in the lab is directly helping him prepare for his future job. He serves as the lab's chief In-Situ Resource Utilization engineer.
He's already created equipment to solve problems in the lab. For example, he designed and manufactured a uniquely shaped connector which slip onto tubing so rocks being crushed in one machine can slip into the next container in the production, while reducing the dust created and expelled in the process.
"I hope to lead teams that use ISRU to build infrastructure on the Lunar surface, such as a Lunar outpost and many other key structures that will help humanity become a multi-planetary species," Sipe says. "This is great experience, because I'm working with very similar material right here. It's not a dream. It's real, now."
Lab manager Parks Easter, a Burnett Honors Scholar studying civil engineering, says the opportunity at Exolith has set him up for success. His career goal is simple: help with the construction of a Lunar base through his geotechnical research on the regolith he's been working with at UCF.
"I have learned so much from my experience at Exolith that I never would've learned within my major alone," Easter says. "I have been given the opportunity to talk at multiple NASA conferences as well as publish abstracts about the development of our simulant. I have also gotten the chance to develop new regolith simulants and work on research projects as an undergraduate that I wouldn't be able to do anywhere else. I have always loved space and thought that this would be the perfect application of my skills within the industry."