An IT analyst and project manager. A high school chemistry teacher. A private pilot. They come from various career paths, but now share similar futures. This week, after a one-year intensive degree program, they will cross UCF's commencement stage prepared to enter the workforce in a different role — as nurses.
The three are among 68 students graduating from UCF's College of Nursing accelerated second degree bachelor's in nursing (BSN) program, designed to expedite career changers who already hold bachelor's degrees in a different field.
"Going through this program solidified my decision in coming to UCF," says Sayid Yasin, a 28-year-old former IT analyst and project manager. "I feel incredibly prepared and ready for practice."
In the four-semester program, designed to fast-track qualified, high-performing students into the profession (admitted students have an average 3.6 GPA), students take the same number of clinical hours and lab classes as their counterparts in the traditional BSN program.
Without efforts — such as UCF's accelerated program — to increase the number of individuals in this profession, there may be a national shortage of 200,000 to 450,000 nurses by 2025, according to a report from McKinsey & Company. In just the last three years, more than 200 career changers have graduated from UCF's program and helped fill the critical need for nurses.
Inspired by the Front Line
COVID-19 played a key role for the Summer 2022 cohort, who initially submitted their applications in January 2021.
"It was still a scary and challenging time," says Yasin who comes from a family of nurses.
Yasin has two degrees in health informatics and spent five years working for a consulting company. On his first day on the job, a close friend and co-worker was severely injured in an accident caused by a drunk driver.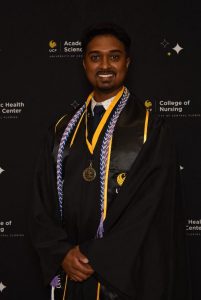 "Those neuro ICU nurses were at the center of caring for my friend, and I don't think he would be where he is today were it not for them," he says.
But the deciding factor for his career change was the pandemic.
"Seeing what my parents and cousins went through with COVID, I felt that I needed to be there. They inspire me every day."
After graduation, Yasin has accepted a job with AdventHealth Orlando in the ICU.
"I'm drawing on so many of my experiences from over the years, not just informatics but also hospitality and retail sales, as talking to people is important," he says.
These transferable skills apply to anyone thinking about switching careers to nursing, adds Yasin.
"No matter your background, those skills are valuable, and your previous bachelor's degree will be useful," he says.
Pivoting a Passion to Help Others
"Nursing is all of the things I loved about education, teaching and helping others, but more direct care," says Proebe Ybañez, 28, a former high school chemistry teacher who taught in an underserved community after initially obtaining a biology degree.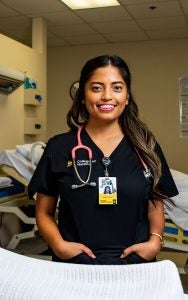 As a teacher, she was saddened to see her students miss school due to healthcare barriers, challenges she knows firsthand coming from a large immigrant family with nine siblings. The teacher of the year wanted to do more to help.
"I had the best students, but their grades would drop and they would struggle in school just because of their family situation and their health," says Ybañez. "It was the turning point for me."
Ybañez has also accepted a position at AdventHealth Orlando, but in a progressive care unit, and plans to eventually become a nurse practitioner. "I feel like I've found my purpose to give back to, and advocate for, low-income communities," she says.
Flying into a Fast-pace Career
For Jenifer Schuman, a 2020 aerospace physiology graduate having held a private pilot's license, her initial career plans were put on hold due to pandemic-related hiring freezes.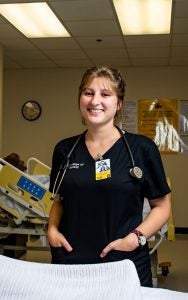 "It caused me to take a step back and evaluate what I enjoyed most," she says.
"I knew I wanted to help people, and realized that nursing is the most direct way you could do that," says Schuman. "I am excited to earn this degree quickly to start something that I enjoy and am passionate about."
That passion is in emergency care. After graduation, Schuman has accepted a position as an emergency department nurse at Orlando Regional Medical Center. Her eventual goal is to become a flight nurse, where she can apply her aviation knowledge to nursing.
"This was a big change, but I'm glad I did it and I'm happier now," she says.
National Support to Fuel Shortage
Schuman, Ybañez and four other Summer 2022 accelerated graduates received national support to make the career change to nursing. The Helene Fuld Health Trust scholarship is an exclusive opportunity for accelerated second degree BSN students who may not otherwise qualify for financial aid.
"The fact that I received this scholarship and it's Orlando, a big city where I could work in trauma care, is incredible and really meant a lot to me," says Schuman. "UCF was the only one with that (scholarship) opportunity."
UCF's accelerated second degree BSN program is just one way UCF is working to combat the nursing shortage. Last month, plans were approved to begin construction on a new College of Nursing building at the UCF Academic Health Sciences Campus in Lake Nona.
The new building will almost double the existing square footage from its current location in Research Park and provide expanded space for its Simulation, Technology, Innovation & Modeling (STIM) Center — which UCF recently received an international endorsement for. It will also enable UCF to enroll and graduate even more nurses into the workforce and more nursing faculty to educate future generations.