Many kids say they want to work with animals when they grow up. But only a small number of them are willing to scrub poop out of animal enclosures to reach that dream.
Katelyn O'Rourke '14 was among those willing to do anything. Now the psychology alumna's hard work is paying off with a career that includes hosting an animal-actor show at Universal Orlando and visiting commercial and movie sets.
"I pushed myself to get where I am," O'Rourke says. "It's a hard business to get into, but you can do it if you're willing to work hard."
Growing up, O'Rourke had a vague idea she wanted to be a veterinarian's assistant, but she was adamantly against an office job. It was while she was volunteering at a wildlife refuge that she met the man who trained the vultures for the Netflix crime drama Ozark. That led to a connection with the animal show at Universal Orlando, but the spotlight would have to wait.
While enrolled at UCF, O'Rourke was also working full-time cleaning animal enclosures from 6 a.m. to 3 p.m. at Universal If she hustled, O'Rourke could finish early and spend some time helping the trainers get ready for the show. In training animals, O'Rourke leaned on her psychology classes for insights on how the mind works and the effectiveness of conditioning and positive reinforcement.
Her dedication paid off when she was offered a position in the show. It was a dream come true, she says, but there was a catch.
"I had no public-speaking experience and zero experience in theater. And now I was getting ready for a show in front of 1,500 people," O'Rourke says. "It was pretty terrifying."
Still, O'Rourke leaned on the formula that had brought her this far: dedication and courage. She made it through the first show without too many jokes falling flat or animal mishaps. Then she moved on to the next show and the next. Now four years later, O'Rourke is less focused on nerves and more on improving her stage presence and delivery — and getting into movies.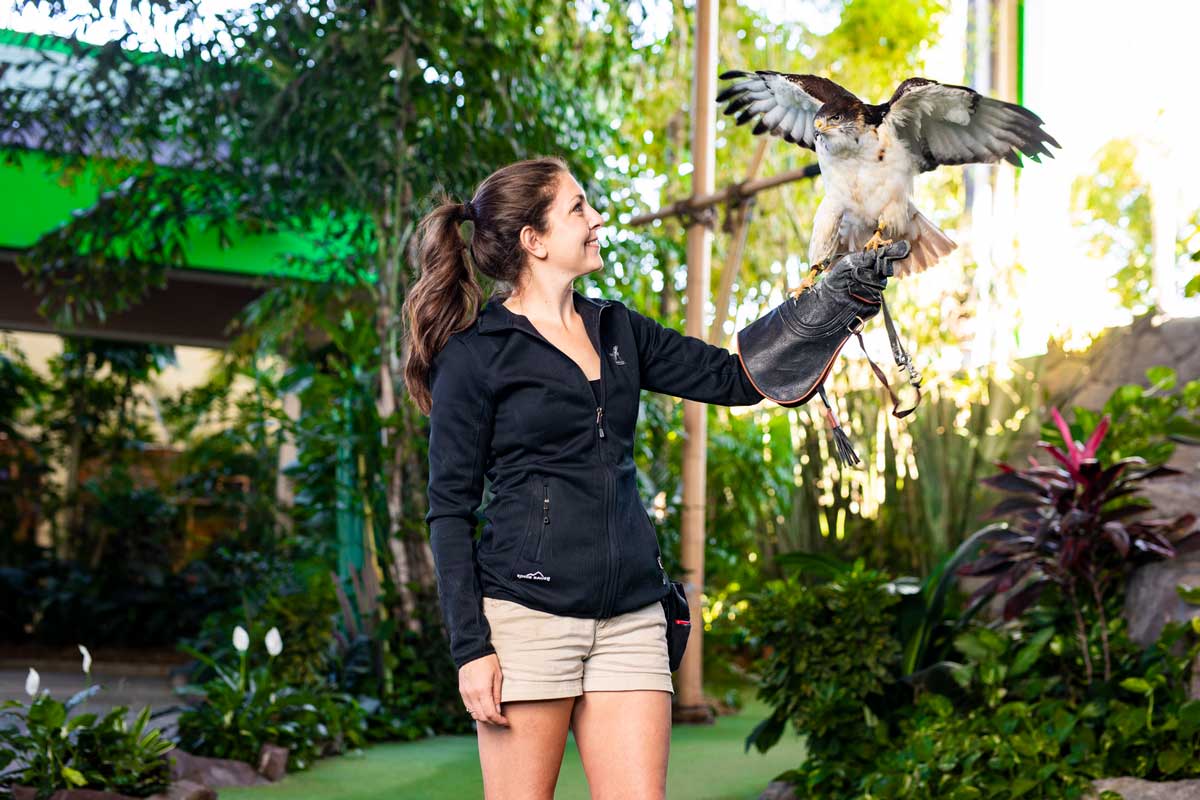 The show is just one part of animal training performed by the company O'Rourke works for, Birds & Animals Unlimited. When you see animals in commercials or movies, there's almost always an animal trainer responsible for their actions. Even simple actions like a cat jumping on a counter, or a dog looking up at a child while they run through a field are the result of training. While cats and dogs make up the bulk of her work, O'Rourke has trained otters, porcupines, skunks and pigs. You'll find her work in everything from pet food commercials to Publix print ads.
She recently had the opportunity to travel with a cat to Conyers, Georgia, for a Hallmark movie called Christmas Everlasting. It was an excellent experience, O'Rourke says, and motivation to keep working toward bigger budget movies.
No matter where her career takes her, O'Rourke says she will look back at her hard work and her time at UCF with fondness.
"My time at the university really gave me an opportunity to grow and learn," O'Rourke says.