Sophia Grilla, one of the newest students in the School of Communication Sciences and Disorders, doesn't remember the exact moment she received her first pair of hearing aids. Pictures from the day show a 4-year-old Sophia opening a box with her brand new baby blue hearing aids. Sophia's mom, Wendy Grilla '96, had color-coordinated her daughter's outfit to match.
Sophia had been very particular about the color choice for her new accessories. She did not want flesh-colored hearing aids, which might have been less noticeable. Sophia was never one to hide her gifts.
"I have one foot in the hearing world, and one foot in the deaf and hard of hearing world." – Sophia Grilla, UCF student
Sophia is proud to show off her hearing aids, which are now a snazzy purple, and also uses American Sign Language to communicate. She learned how to talk before she lost her hearing, so it is hard for the casual listener to discern any deficiencies in her speech.
"I have one foot in the hearing world, and one foot in the deaf and hard of hearing world," Sophia says. "Sometimes I'm not considered deaf enough, and sometimes I'm not considered hearing enough."
Communicating and Connecting with Others
Sophia has attended some of UCF's ASL classes and begun formal instruction in ASL this month. The communication sciences and disorders student hopes to receive her interpreter certification while at UCF.
"She's always been a child who has overcome and done things with a smile on her face," says Franco Grilla '92, Sophia's dad a UCF criminal justice grad. "I can't even explain it. It's amazing what she's had to overcome, and you would never know it."
This quest to find her place in the world became crystal clear in middle school when she started acting with Shakespeare with Heart, a collaboration between UCP of Central Florida, the Exceptional Education Department of UCF and the Orlando Shakespeare Theater. Here, students with and without special needs work together to produce a Shakespeare play.
"Involved in these productions are people with Down syndrome, people with autism, and/or people who use wheelchairs. It's just so amazing, gratifying, and beautiful to watch and be a part of," Sophia says.
Sophia performed in numerous plays with the group, alternating between using her voice and using sign language. Once, she taught the entire cast sign language to the closing musical number. Through this experience, Sophia learned that being able to bridge the gap between the hearing, deaf and hard-of-hearing population was a gift.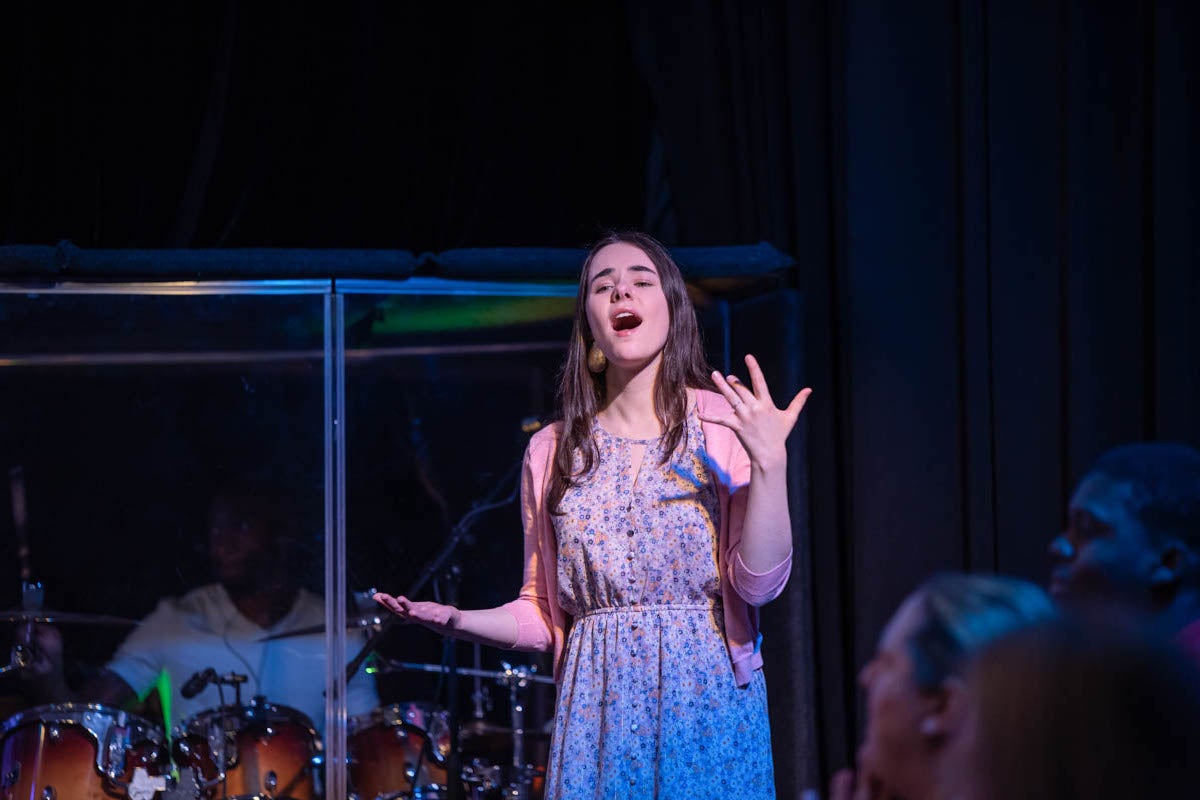 Parents Use Their Faith and Experiences as Athletes to Persevere
Wendy, who studied health services administration, and Franco met at UCF back in the '90s when they were both student athletes. She was a cheerleader and he was the kicker for the football team.
Both say the lessons they learned as athletes helped them tackle life's challenges: perseverance, hard work, trusting your coaches and the importance of teamwork. All these skills came in handy when finding the best care for their daughter.
They met their first "coaches" as parents when Sophia was born almost two months premature. Being first-time parents, they devised a game plan with the help of multiple healthcare professionals to help Sophia thrive.
Later, when Sophia was in preschool, they found another coach. Her teacher told Wendy and Franco that Sophia preferred to play independently and that sometimes her speech was "funny." They brought these matters up at her next pediatric visit and asked the pediatrician for a referral to an audiologist.
Over the course of several months the Grillas pushed for answers. After many tests, Sophia received the diagnosis of mild-to-moderate progressive sensorineural hearing loss (SNHL).
According to the American Speech and Hearing Association (ASHA), a SNHL is the most common type of permanent hearing loss. Doctors told Wendy that the hearing loss was most likely unrelated to Sophia's premature birth and could not be fixed by medicine or surgery. They recommended hearing aids for 4-year-old Sophia.
"From physicians, audiologists, speech-language pathologists, and deaf and hard of hearing itinerant teachers, this community of supporters is vital," Wendy says. "We relied on this team of experts to help us bridge the gaps and provide the best care for Sophia."
The Grillas realized that their daughter would benefit from speech therapy to help her overcome any deficits in that area. Sophia received speech therapy services for eight years.
Through it all, the Grilla family had faith in God's plan for Sophia. "His guidance was our best defense," Wendy says.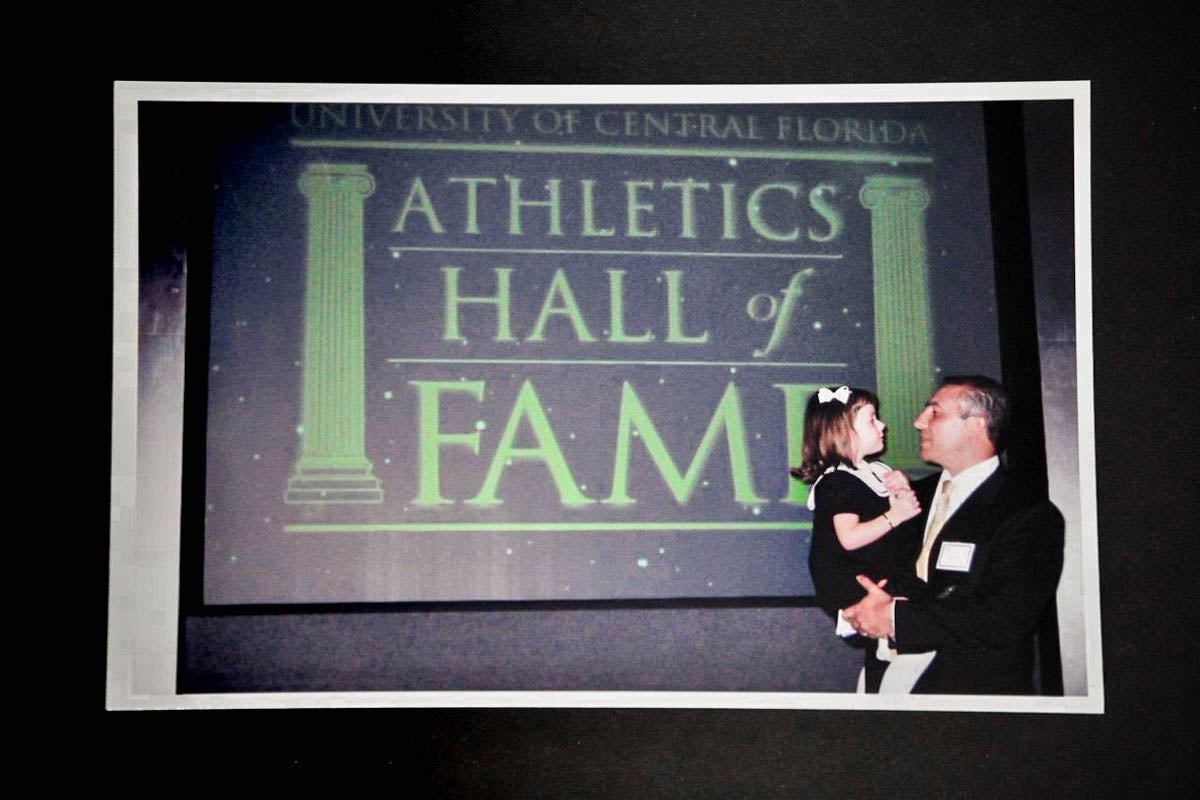 Life Amplified
Sophia debuted her hearing aids at her father's induction into the UCF Football Hall of Fame.
Franco was wearing a new accessory too — a receiver that linked directly to Sophia's hearing aids, so she could hear her father speak.
As Franco was introduced and started talking about his UCF football career, a tiny — but mighty — voice came from the audience, "I hear you, Daddy!"
Sophia has been told that story ever since she can remember, but she says, "I don't really remember when I got the hearing aids. They've just always been a part of who I am."
While it might sound like a "fix" to wear hearing aids, users hear differently than their hearing peers.
"It can be hard to describe what the world sounds like to a person with hearing loss, because no two people hear exactly the same way," says Linda I. Rosa-Lugo, an associate professor in UCF's School of Communication Sciences and Disorders and the director of UCF's Listening Center.
Rosa-Lugo met Sophia through community outreach events for deaf and hard of hearing individuals and their families. Rosa-Lugo noticed that Sophia was outgoing and welcoming to new families and cheerfully answered questions, many of which were regarding hearing aids.
Hearing aids are fine-tuned to each user's specific hearing loss and only amplify sounds that are not naturally heard clearly.
"It's never 100 percent perfect," Rosa-Lugo says. "There can be feedback and interference from ambient noise; there can be listening fatigue to the user because it can be difficult to keep background noise at bay."
Listening to Her Calling
Sophia plans to major in communication sciences and disorders. Her ultimate goal? To become an audiologist.
She won't be the first audiologist with hearing loss.
According to the American Speech and Hearing Association, advancements in hearing and assistive technology have made it possible for other individuals with hearing loss to enter the profession.
Sophia knows that her unique ability to relate to hearing loss will help others. But she says as she looks back over her life, she can see a path that had very little to do with her own will.
"This is God's story through and through," she says. "It's amazing to look back and see where He's been!"
Wendy says she hopes that Sophia can serve as an inspiration to others.
"She humbles me and makes my heart want to explode when I see her relating to other children who may have obstacles to overcome," Wendy says. "I want other people to see that no matter what you can or can't do, you can still have dreams and accomplish many great and wonderful things."