When Shea McLinden was a high school junior, she had a lot of choices when it came to going to college. She had excellent grades and a demonstrated interest and talent for science, which is why she was selected to attend the Sunshine State Scholars event in 2018.
The event aims to recognize Florida's brightest STEAM students and encourage them to attend college in Florida. This week, McLinden — now a University of Central Florida health sciences junior in the Burnett Honors College — was part of the Limbitless Solutions team hosting one of the in-person design challenges for the 103 honorees at the 2021 Sunshine State Scholars event in Orlando. McLinden and Kayla Vonder Embse, who is majoring in economics and leadership studies at UCF, are helping run the challenge.
The scholars, which include 14 students from Orange, Seminole, Hillsborough, Osceola, Brevard and Volusia counties, also had the chance to listen to Albert Manero '12 '14MS '16PhD. He is the CEO and co-founder of Limbitless Solution, a UCF-based nonprofit which makes bionic arms for children. He was the keynote speaker this year and he was the speaker in 2018.
McLinden says she was moved to join Limbitless Solutions after hearing Manero speak at the conference and strongly believes in paying it forward by encouraging students to pursue STEAM careers.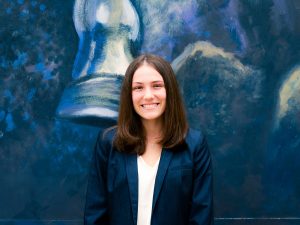 Manero says it is important to inspire the next generation of innovators and that starts early. That's why Limbitless Solutions hosts field trips at their laboratory and continues to participate in the Sunshine State Scholars year after year. When the pandemic threatened the 2020 Sunshine State Scholars event, LS jumped into action and helped organize a mini-virtual session so students wouldn't miss out.
Embse also actively promotes STEM. The national merit scholar is a Burnett Honors College student and interns at Limbitless Solutions. She plays many roles, including engaging in K-12 STEM programs at the laboratory.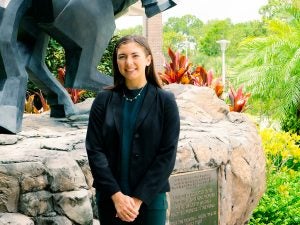 The event is sponsored by the Florida Education Foundation, the State University System of Florida, and the Florida Department of Education. The event also benefits from the help of many industry partners including AT&T, Florida Prepaid College Foundation, Lockheed Martin, Helios Education Foundation, Kyra Solutions, SeaWorld Parks & Entertainment and the Florida Lottery.