History is a great teacher, but in the age of electronic media, making history accessible is almost as important as preserving it.
That's where UCF's Center for Humanities and Digital Research (CHDR) comes in. The center is made up of a group of faculty members and staff who help train humanities researchers to properly digitize what they are studying and make it readily available anywhere in the world. Sometimes thinking about how information and artifacts can be displayed digitally will mean collecting it a certain way, so getting faculty to think about electronic displays and communication is key to effective digital preservation.
Since 2007, the CHDR has helped strengthen several project proposals that have gone on to win funding and garner attention for innovative approaches to preservation. The effort has been successful. As of July this year, the center has been involved in $2.7 million worth of funded grants. And this year, the National Endowment for the Humanities (NEH) awarded the center a $193,736 Infrastructure and Capacity Building Challenge grant to expand its work. The independent federal agency is one of the largest funders of humanities programs in the United States, disbursing $30.9 million so far in 2020.
The NEH grant, which requires UCF to contribute matching funds, will enable the expansion of a digital humanities collaboratory in UCF's Trevor Colbourn Hall and update CHDR's equipment to support collaborative research, digital preservation, digital access and public programming.
"The grant will help increase the number of faculty and students learning design, programming and digital archiving skills; generate new collaborative projects and scholarship; and accelerate institutional and public humanities programming," says Bruce Janz, a humanities professor and co director of the center with Professor Mark Kamrath.
Examples of projects that benefited from CHDR expertise include the:
Veteran's Legacy Program
Charles Brockden Brown Electronic Archive
RICHES Mosaic Interface
Zora Neale Hurston Digital Archive
An online version of Samuel Johnson's Dictionary, another NEH-funded project currently underway
CHDR also manages many of the journals within the College of Arts and Humanities. The CHDR team allows researchers to focus on their area of expertise without becoming technical experts.
English Professor Beth Young, who leads the Johnson's Dictionary project, says CHDR support has been critical to the project from start to finish.
"Meeting with CHDR inspired me to apply for this grant in the first place," she says. "As I planned the project, the team helped me figure out what kind of technological infrastructure would be needed. And now that we are immersed in building the online dictionary, CHDR has been enlisting students in computer science to build software tools that will not only make our project less labor-intensive, but will help future researchers as well."
In order to receive the challenge grant money, UCF must raise an equal amount in philanthropy. With the help of the Provost's Office, the College of Arts and Humanities plans to identify "donor champions" with interest in the humanities. Anyone wishing to contribute should contact Kara Robertson, director of advancement for the College of Arts and Humanities.
UCF faculty and staff also involved in the grant include Scot French, Amy Giroux, Connie Harper, Connie Lester, Mark Kamrath and Mike Shier.
The center also recently received approval as a "Type 3" center within UCF acknowledges four types of centers and institutes. Previously CHDR was a type four, meaning it was based at the college. Moving up to three means it is recognized as a university-wide center.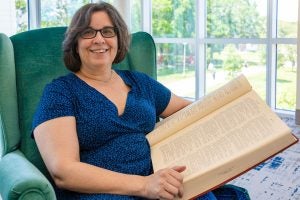 "CHDR is well positioned to be a driving force for future-facing research at UCF because of the college's interdisciplinary research focus, the research and grant success of our faculty, and our students' desire to participate in digital humanities work through dissertation research and faculty-led projects like the Samuel Johnson Dictionary project," Kamrath says. "CHDR has played a leading role in the Florida Digital Humanities Consortium and will expand its public programming in the coming years."