The Fall 2019 semester begins Aug. 26, with an incoming freshman class that sets a new bar for academic excellence and a new campus that is the talk of downtown Orlando.
Preliminary statistics indicate that the Class of 2023 will break university records for grade point averages and standardized test scores, even surpassing last year's freshman class, who were then heralded as the most accomplished in UCF's history.
The incoming 2019-20 class's GPA of 4.17 is up from last year's 4.11. The average SAT and ACT scores of 1333 and 29 are an increase from 2018's 1328 and 28.3. And the total number of National Merit Scholars at UCF is projected to be 90, boosting the university's National Merit enrollment to 330, the largest ever in our 51-year history.
UCF officials expect the university's total student enrollment to be approximately 68,500 students. Approximately, 48 percent of the student population will come from minority communities, an all-time institutional high.
In addition to the university's 58,000 undergraduates, 9,500 graduate students are seeking master's and doctoral degrees. Part of the university's enrollment is fueled by the growth in offerings to UCF Online students, which is expected to climb above 5,000 this fall, a rise from last year's 4,300.
UCF now offers more than 220 degree programs within its 13 colleges. New to the 2019-20 academic year will be a Master of Athletic Training as well as a Master of Science in Systems Engineering. Two doctoral programs also were started for aerospace engineering and strategic communication.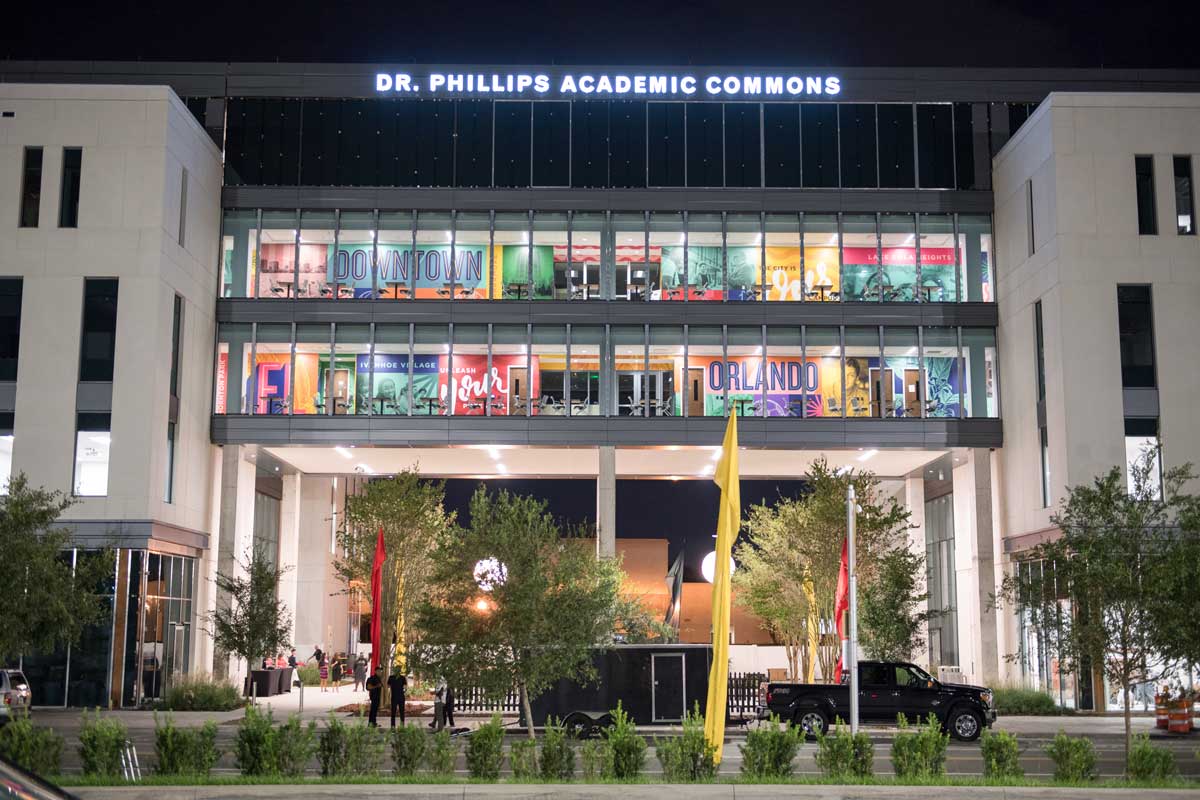 A New Campus in Downtown Orlando
In partnership with Valencia College, UCF Downtown will bring more than 7,000 students and 300 faculty members to the heart of downtown Orlando. The transformational project kick-starts Orlando's Creative Village and will leverage proximity to industry, providing pathways into high-demand career fields, foster impactful collaboration with our neighbors and improve countless lives through the power of education.
Both UCF and Valencia College students will live, study, and work in the 15-story, multipurpose Union West at Creative Village. Housing more than 600 students on floors six through 15, the privately developed tower will hold a wide range of private businesses and university resources on its ground to fifth floors. Housing downtown is managed by UCF's Housing and Residence Life and features trained resident assistants who are UCF and Valencia students.
The Communication and Media Building (formerly, the UCF Center for Emerging Media) is home to UCF's communication, digital media and Florida Interactive Entertainment Academy programs, all within the Nicholson School of Communication and Media. Renovations to this existing property have included additional classroom and office spaces. The building already features a sound stage and motion capture studio.
The four-story Dr. Phillips Academic Commons has active-learning classrooms, study and tutor spaces, and academic offices. The building will be a state-of-the-art learning facility that will overlook Creative Village's central park. The Unleash Your Potential mural — created by Harry Foreman '18 — is one of the many eye-catching features within the Dr. Phillips Academic Commons.