The British Academy of Film and Television Arts, Los Angeles (Bafta/LA) congratulates the two films that our members in attendance selected to share first place. The Response (Directed by the American Film Institute's (AFI) Andrew Spieler) and Unrest (Directed by the AFI's Christina Rubenstein) came in joint first position.
Christy Rubenstein attended the University of Central Florida, where she received her BFA in Film, with Honors, and is currently enrolled in AFI's Masters program, specializing in Directing. She has written and directed nine short films plus her graduate thesis, 'Unrest.'
UNREST
Manila, Philippines, 1986.
The People Power Revolution is boiling over, the streets are turning to chaos, and inside her home, a little girl finds her own family torn apart by the crisis. Surrounded by the terror and excitement of a city in turmoil, she must do everything in her power to hold her loved ones together, before all is lost.
Set against the backdrop of revolution, "Unrest" tells the story of a child who must navigate a world turned upside down and the rising tensions of those closest to her. All she wants is for her family to remain together, but is that too much to ask?
AFI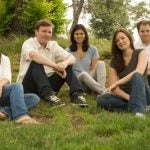 Unrest is a graduate-level thesis film produced through the prestigious American Film Institute Conservatory (AFI) in Hollywood, California. This film represents the culmination of our experience at AFI, and it will serve as our entry into the professional world of filmmaking.
AFI thesis films have had a long-running history of screening at distinguished film festivals, including Cannes and Sundance. A number of these have garnered numerous accolades, including Academy Awards, launching the careers of many alumni.
The American Film Institute is the premiere organization dedicated to advancing the art of film and television. AFI diligently trains the future generation of filmmakers at its worldrenowned Conservatory. Professional faculty members work closely with the AFI Fellows through the time-honored and tested relationship of master and apprentice. The Conservatory awards the Master of Fine Arts in in the disciplines of Directing, Producing, Cinematography, Editing, Production Design, and Screenwriting.
For more, visit British Academy of Film and Television Arts (BAFTA/LA)