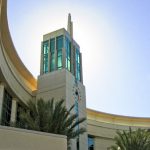 Officials from the Orlando VA Medical Center under construction at Lake Nona recently toured the UCF College of Medicine's new medical education building and summed up their reaction to the facility in one word: "Wow."
Vice President for Medical Affairs and Dean of the College of Medicine Deborah German hosted the event for "our future clinical partners and neighbors." Other medical school community partners will be touring the new facility in the near future.
The VA tour began in front of the building, where officials saw the piazza, Tavistock Green and clock tower, and ended in the new Anatomy Lab on the fourth floor. Officials were able to view the 10-headed microscope in the Microscopy Lab and walk through the simulation area in the Clinical Skills and Simulation Center that can be outfitted to resemble an emergency room, Intensive Care Unit or even a battlefield.
Several physicians on the tour remarked that they were ready to go back to medical school, this time at UCF, which has a vision of being the nation's premier 21st century college of medicine.
Dr. Pedro Roldan, chief medical officer for the VA's clinics in Leesburg and Clermont and also a volunteer faculty member at the college, called the facilities "amazing, gorgeous."
"When I went to medical school, I didn't even have a computer," he said."I had a typewriter."
Dr. Roldan said he "loves technology" in medical education because "it expands the way we teach people and we can teach more people. Technology allows us to create unique medical situations and record them into perpetuity."
Roy Hawkins, Jr., the VA's assistant medical center director, said he had heard Dr. German describe the new building and the college's curriculum in speeches and presentations but said the tour brought that vision to life. "This is a building of life," he said. "You feel alive here."