Knights from across the country and around the world celebrated a record-breaking UCF Day of Giving in April, with over 4,400 individuals supporting UCF's future by raising more than $3.7 million.
Alumni, faculty and staff, parents, students, and friends united to support their favorite areas at UCF, ranging from colleges and scholarships to student resources and athletics.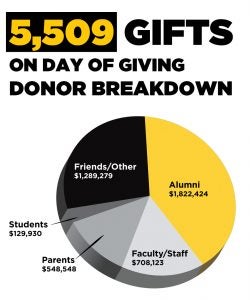 It was an action-packed 24 hours, but Day of Giving is only the beginning. The funds raised on April 7 will make an impact that will last a lifetime. Your contributions fuel the future of higher education — from groundbreaking research to immersive campus experiences.
This year, Knights supported 140 funds throughout UCF Day of Giving. Many participants gave to multiple funds, like Austin Wilson '22, who made 22 gifts in honor of his Spring 2022 graduation.
"It may sound like a lot, but to me it's nothing in comparison to the positive gifts and experiences UCF has given me," he says. "I wanted to give to a variety of areas because I thought that was how I could make the biggest impact."
Here are just a few of the ways Day of Giving gifts will fuel the future of UCF and beyond.
Supporting Students Through Hardship
Providing the best college experience goes beyond offering a high-quality curriculum. UCF prioritizes student well-being to ensure every individual can access what they need to achieve their version of success. Part of this priority is investing in the Student Emergency Fund, which assists students experiencing a crisis, such as homelessness or a catastrophic event. On this year's Day of Giving, the fund received support from 168 donors.
"Day of Giving funds go directly to supporting students facing these situations and are distributed as need is expressed by current UCF students," says Ryan Iocco '11, director of Student Care Services. "Any student experiencing a hardship can reach out or be referred to our services for assistance."
Accelerating Student Success and Academic Excellence
UCF believes in accelerating student success, investing in academic excellence and pursuing ground-breaking research. During Day of Giving, all 13 UCF colleges received gifts that are being used to support these priority areas, including student scholarship opportunities, programs and facilities, impactful research and more.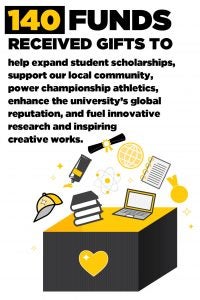 UCF's College of Arts and Humanities supports world-renowned faculty who train students to make an impact on Broadway stages and behind the scenes, at major theme parks like Universal Studios, with national organizations dedicated to preserving history and more. The college raised over $690,000 on Day of Giving.
"We are thankful for the support, which will provide more opportunities, boost scholarships so students can focus on their studies, and allow us to 'Charge On' with high priority projects like facility improvements and research initiatives," says Dean Jeff Moore.
UCF's College of Engineering and Computer Science produces top quality talent. Graduates go on to work at some of the world's leading companies, like NASA, Lockheed Martin and Northrop Grumman. During Day of Giving, Knights gave over $146,000 to the college, providing students with connections to internship opportunities, such as NASA's Pathways Program, and engaging practical experiences, like the Senior Design showcase and the annual Great Naval Orange Race.
"These funds are critical to student success, faculty excellence and college outreach to support the college's vision: being a top producer of engineering and computer science talent and advancing the state of the art in our disciplines," College of Engineering and Computer Science Dean Michael Georgiopoulos says.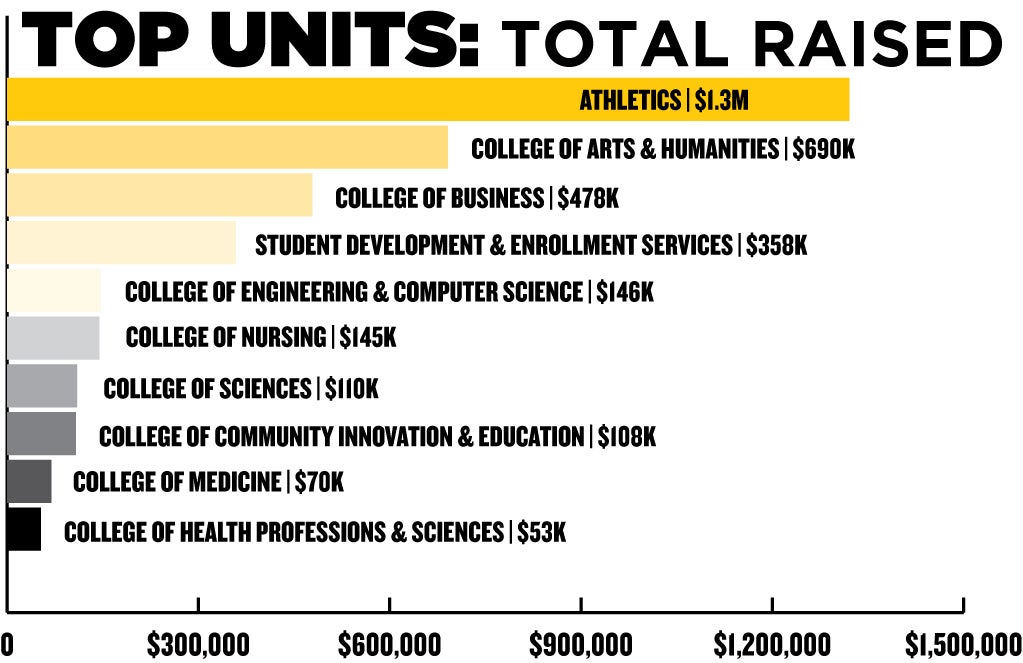 Launching New Scholarship Funds
At UCF, we believe in unleashing an individual's potential by making education affordable and accessible. Scholarships help remove barriers for students so they can focus on their studies, hands-on learning experiences and campus involvement. Day of Giving gifts help fund existing and new scholarships, such as the Marching Knights Scholarship Fund.
"This year's impact is instrumental in starting the Marching Knights Scholarship Fund, a fund that will give our students financial awards for providing the university a service through performances at athletic, university and community events," says Director of Athletic Bands Tremon Kizer. "We'll have the opportunity to provide scholarships for our athletic band program and continue to retain and attract talent to this wonderful university."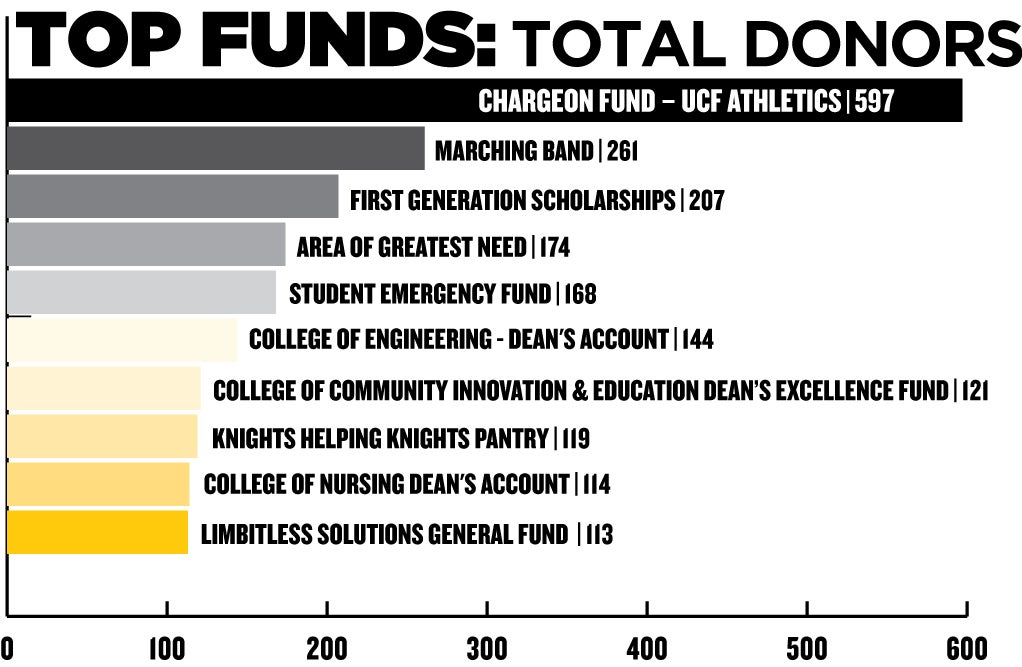 Amplifying Athletic Success
UCF's championship Athletics division received an incredible boost that will help support the players and supporters both on the field and off, with over $1.3 million raised during Day of Giving, all of which will be used to help transition into the Big 12.
"These gifts are also helping to create life-changing opportunities for our student-athletes," Terry Mohajir, UCF's vice president and director of athletics, says. "Our transition to the Big 12 will be based on combining people and resources to create championships and careers after college, and the gifts [given] to UCF Athletics through UCF Day of Giving play a huge role in jumpstarting the revenue end of that process."
Funding Future Nurses
As the country experiences a critical nursing shortage, UCF is stepping up to address the expansion of graduates in this vital field by assisting student success and achievement. During Day of Giving, you helped support this incredibly important area by raising nearly $145,000 for the College of Nursing. These funds will go on to support priority areas like the Student Emergency Assistance Fund, which provides tuition and educational expense support to nursing students in need.
"Our communities need more nurses, and the Student Emergency Assistance Fund is vital to keeping UCF nursing students facing financial crises in school and helping them achieve their dream of becoming a nurse," College of Nursing Dean Mary Lou Sole says.
Increasing Access to Prosthetic Limbs
Championing Limbitless Solutions, a nonprofit direct support organization at UCF that specializes in creating and donating personalized 3D printed prosthetic arms for children, 113 donors gave nearly $22,000. The nonprofit was also recently recognized as a model for manufacturing in the state and for its contributions to Orlando's innovation economy.
"Limbitless is grateful for our community's support for our bionic kids and student internship program," says Albert Manero '12 '14MS '16PhD, the CEO and co-founder of Limbitless Solutions. "This year the program will launch two new clinical trials, and the funding will allow us to expand our impact and offer new opportunities for the community without financial burden."
During the 2022 Day of Giving celebration, Knight Nation supported students through hardship, launched new scholarship funds, helped UCF colleges reach their goals, raised over $1 million for UCF Athletics, funded future nurses and increased access to prosthetic limbs for children. And that's only counting seven of the 140 funds Knights supported this year. Our record-breaking UCF Day of Giving will fuel lasting positive impact and change lives.
Knight Nation Charges On with your help. Fuel UCF's future today.