Most college students would consider studying marine science at the Great Barrier Reef or even architecture in Europe to be the pinnacle of their college experience. However, studying beyond the four walls of their classroom is a goal only about 10% of undergraduate students nationwide get to accomplish.
But with the support of the Benjamin A. Gilman International Scholarship Program, 15 UCF students have received financial assistance that will help make their study abroad dreams a reality. Each recipient is awarded up to $5,000 to fund their international studies.
Scholarships are awarded during two cycles each academic year. Here are the student awardees for the second cycle of the 2023-24 academic year.
Gilman Scholarship Awardees
Abdur-Rauf "Fatimah" Wood, College of Business
Angelina Alonzo, College of Sciences
Anjiya Pirani, College of Sciences
Cecilia Deskins, College of Business
Gianluca Cambria, College of Business
Hami Mushfiq, College of Engineering and Computer Science
Jerry He, College of Engineering and Computer Science, Burnett Honors College
Pascal Silburn, College of Community Innovation and Education
Suseth Serrano, College of Engineering and Computer Science
Tamara Van Newhouse, College of Sciences, Burnett Honors College
Valerie Mauricio Ruiz, College of Business, Burnett Honors College
Valery Villarraga, College of Arts and Humanities
This list reflects 12 of the 15 total awardees. Three students chose to not have their names published.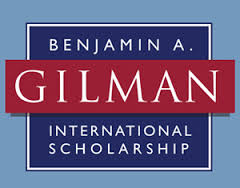 The scholarship program provides undergraduate students with limited financial means the opportunity to study or intern abroad and gain valuable academic and professional experience, language abilities and knowledge of the world needed to lead successful careers. By supporting students who may otherwise not have the resources to intern or study in a different country, the program ensures that students from many different backgrounds have the chance to develop their intercultural skills while gaining a global perspective. Since the program's establishment in 2001, more than 34,000 Gilman Scholars have studied in 155 countries around the world.
Keep reading to get to know a few of the 15 ambitious UCF students awarded the Gilman Scholarship.
A conversation with a coworker turned into a lifechanging opportunity to study in Spain for Anjiya Pirani, who first learned of the Gilman Scholarship Program from a fellow resident assistant (RA) at UCF's Lake Claire Community.
"We were discussing how expensive studying abroad can be and how a former RA had received the [Gilman Scholarship]," Pirani says.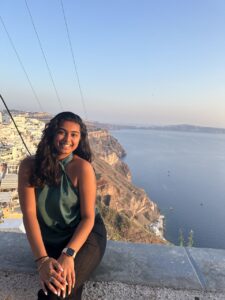 Knowing that a former UCF student was awarded gave the third-year student motivation to apply just four days before the application deadline.
"Coming from a low-income family, it's difficult to afford a trip abroad," she says. "I'm very grateful to receive this scholarship … it's a once-in-a-lifetime opportunity to advance my career, immerse myself in a different culture, practice a new language, and most importantly, see the world from a different perspective."
Pirani spent a month in Barcelona, Spain, this summer participating in the UCF Barcelona Center study abroad program where she completed a class related to her major. Much of Pirani's studies focused on investigating psychological perspectives and making connections between the merging of art with science — a topic the psychology major hopes to apply as a future clinical psychologist helping unleash the creativity of others.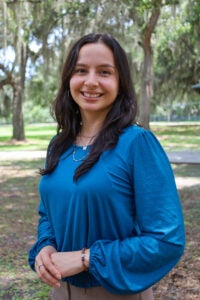 Orlando, Florida, has always been home for Valery Villarraga, a student in both the Burnett Honors College and the College of Arts and Humanities, who'll travel more than 5,000 miles away to study architecture in Italy in August. She's looking forward to experiencing a country known for its unique structures and design elements. As a child, Villarraga recalls taking photos of buildings in New York and being fascinated by their designs. Now with a new camera in tow, she'll be in the presence of world-famous buildings like the Pantheon and the Colosseum through the Vicenza Institute of Architecture program — a full-circle moment.
"I'm really excited about taking a sketching class," Villarraga says. "I've been studying these buildings throughout my coursework and now I'm going to be able to see and sketch them [in person]."
The Gilman Scholarship has given Villarraga a chance to get out of her comfort zone and is an experience she believes doesn't come around twice. Upon her return, she's excited to share a personal history book filled with photos and sketches of buildings and written journal entries of her daily experiences with her UCF peers.
"I plan to bring this book back to my classmates to encourage them to study abroad," she says.
For senior Hami Mushfiq, the guidance from Christina Hussey, coordinator for UCF's Office of Prestigious Awards, made for a smooth scholarship application process. The senior chose to spend a month in Sweden taking classes related to purchasing logistics at Jonkoping University.
"Since I pay my own bills and would not be working throughout the duration of the program," Mushfiq says, "getting this scholarship offsets a good chunk of my worries." "I can focus on what is important, which is learning the culture and the logistics market of Sweden."
The industrial engineering major has wasted no time already visiting major cities including Stockholm, Gothenburg, Sweden, and Budapest, Hungary, where he's learning how European traditions have impacted the management of logistics. His words of advice to future Gilman Scholarship applicants: "Apply even if you think you won't get [the scholarship]. If you want to waste time, waste it on trying, not doubting."
Integrated business major Abdur-Rauf "Fatimah" Wood was in the writing center at UCF religiously to perfect her Gilman Scholarship application. She says being notified as an awardee was an unexpected surprise.
"I was very happy. I didn't need to pick up hours [at a job] anywhere. I could just travel this summer," Wood says.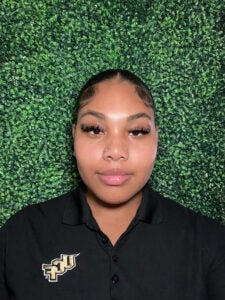 She never joined a club or did an internship, but nevertheless, Wood sought out to graduate from UCF with a bang. The senior spent two weeks in Singapore this summer learning about cultures, careers and a global perspective, and met with several sustainable companies throughout the country to discuss their eco-friendly initiatives.
After making it back to the U.S., Gilman Scholars are required to design a Follow-on Service Project to inspire the next wave of students in their home communities and campuses to study or intern abroad. Wood already has plans to not only inspire college students, but also high schoolers, to get involved.
"I think in high school I wasn't motivated to be involved outside of my academics because opportunities like studying abroad, student clubs and internships weren't talked about as much," she says. "I want to give students a different perspective: don't only go to college to get your degree, but also have fun."
Those interested in learning more about study abroad opportunities are encouraged to reach out to UCF Abroad at StudyAbroad@ucf.edu to learn more. Those interested in the Gilman Scholarship and other opportunities, please reach out to the Office of Prestigious Awards at OPA@ucf.edu.