Although they've never met, Rachel Riley and Eric Christiansen share a thread of connections as UCF students.
They both come from military families. They both want to become teachers someday. And they both are among the 18 UCF students currently serving in the U.S. military while also pursuing degrees through UCF Online.
The United States has more than 1.3 million active-duty military service members and millions of veterans. Thanks to the flexibility, convenience and affordability that online-degree programs can offer, many of these men and women have the opportunity to pursue a college education while enlisted or when they finish their service.
In 2018, UCF Online placed among the top 15 universities in the country for online undergraduate programs for veterans, according to U.S. News & World Report.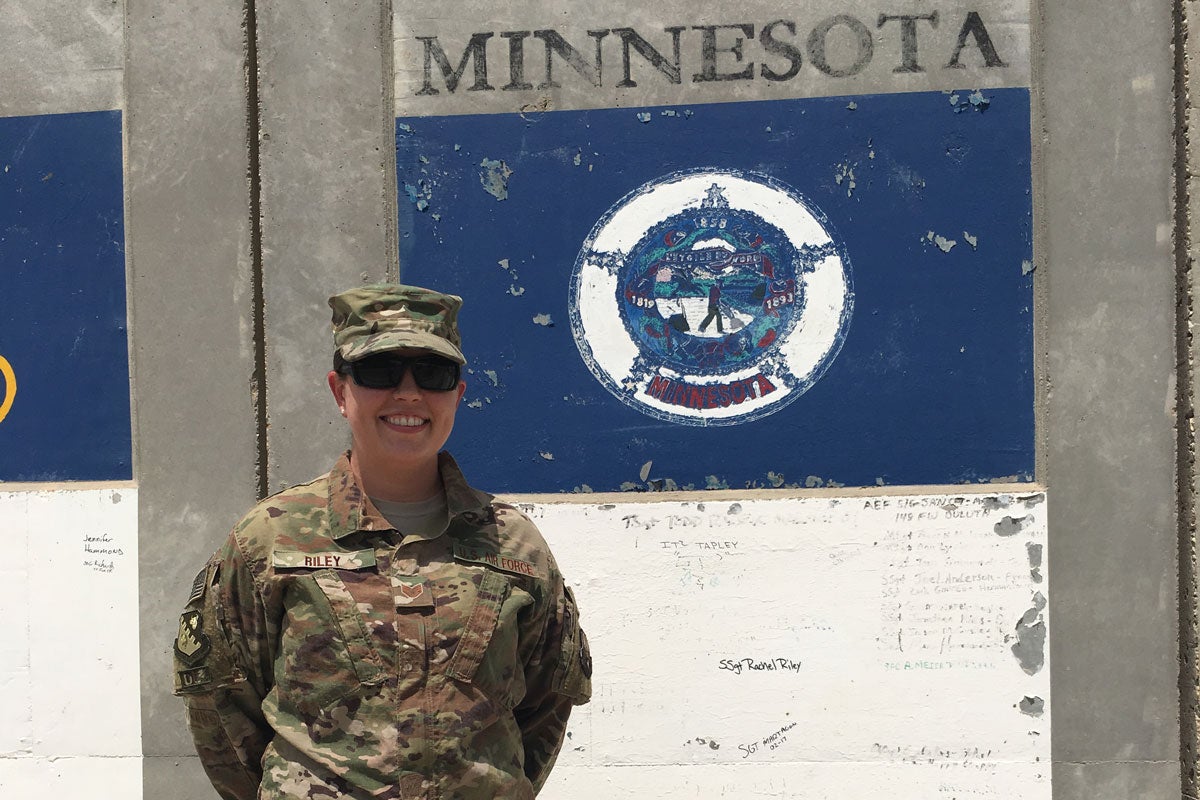 Part of Something Bigger
Veterans Day has been an important day for Riley and her family for as long as she can remember. Her grandfather and father served in the Navy, and every year her mother stressed the importance of remembering their service.
"Now we have social media and FaceTime, but it was snail mail back then. I feel like they gave up a lot more than what I have because contact with their family was a lot more limited," she says.
Riley never pictured herself enlisting in the military until her older sister joined the Air Force. She says when her sister was deployed to Iraq, she saw and heard her sister's stories of volunteering with Iraqi children and supporting the local population.
"It really inspired me and showed me I could do good elsewhere, not just in Central Minnesota," says Riley, who now is a technical training instructor for Air Force Emergency Management in Fort Leonard Wood, Missouri. "I wanted to be part of something bigger than myself. I saw I could go out and have an impact throughout the world."
Her call to serve was strong, but she equally wanted a college education and had a passion for studying history. She hadn't heard of UCF Online until her husband found its undergraduate history program through an internet search.
She applied in Fall 2016 but delayed enrolling in classes until Summer 2017 after she learned she would be deployed to Qatar for six and a half months. She hasn't missed a semester of class since.
"The biggest thing my mentors have told me is, 'Once you get started, don't stop. Don't take a break because that break will turn into years.' So that's what I've held myself to," she says. "I make sure I'm enrolled in at least one class every semester. I'm not going to be taking a break until I'm done with my degree."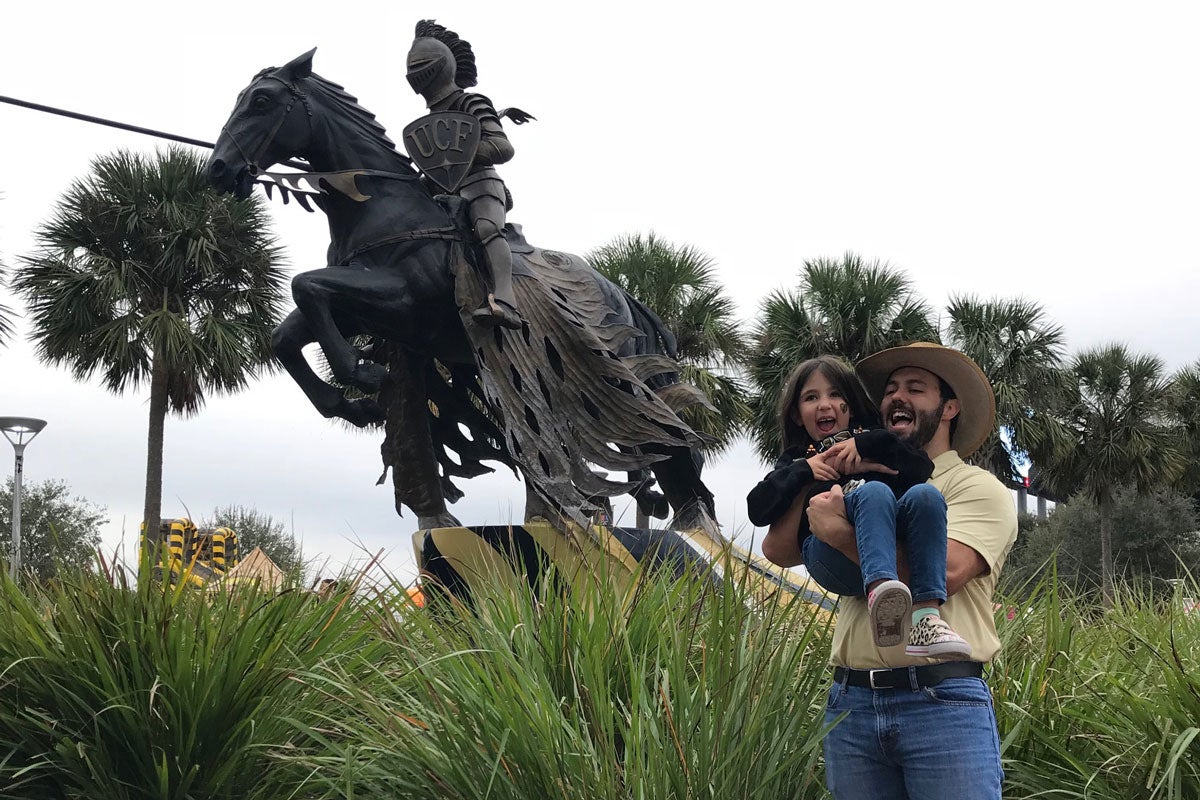 Making It Happen
The grandson of a World War II veteran and the nephew of two uncles who served in the Navy, Christiansen followed in their footsteps and enlisted in the Navy in 2009, hoping the decision would lead to more opportunities in life.
He is now assigned with the Marine Corps at the Charles Luke Milam Clinic on Camp Lejeune, North Carolina, as a hospital corpsman. In his role, he administers regular patient visits, not unlike a typical doctor's office, and field trainings where they provide medical coverage in situations including live fire shooting, demolition and strenuous physical training.
Christiansen says he always expected to earn a degree but his path just took a little longer than expected. He says he found renewed motivation after he watched his wife return to school to complete her degree despite finishing classes while being hospitalized.
"If she was able to finish given all of that, I had no excuse to not be getting after it," he says. "Upon graduation, my options in and out of the Navy grow exponentially."
As a native of Oviedo, he was familiar with UCF and says it was an easy decision to enroll in the interdisciplinary studies program. He's been taking two to three classes per semester while working full time and caring for his family. He is on track to graduate in 2020 and is considering pursuing a graduate degree before trying his hand at teaching.
"I have always enjoyed being in a teaching role, and it seems like a challenging yet rewarding profession," he says.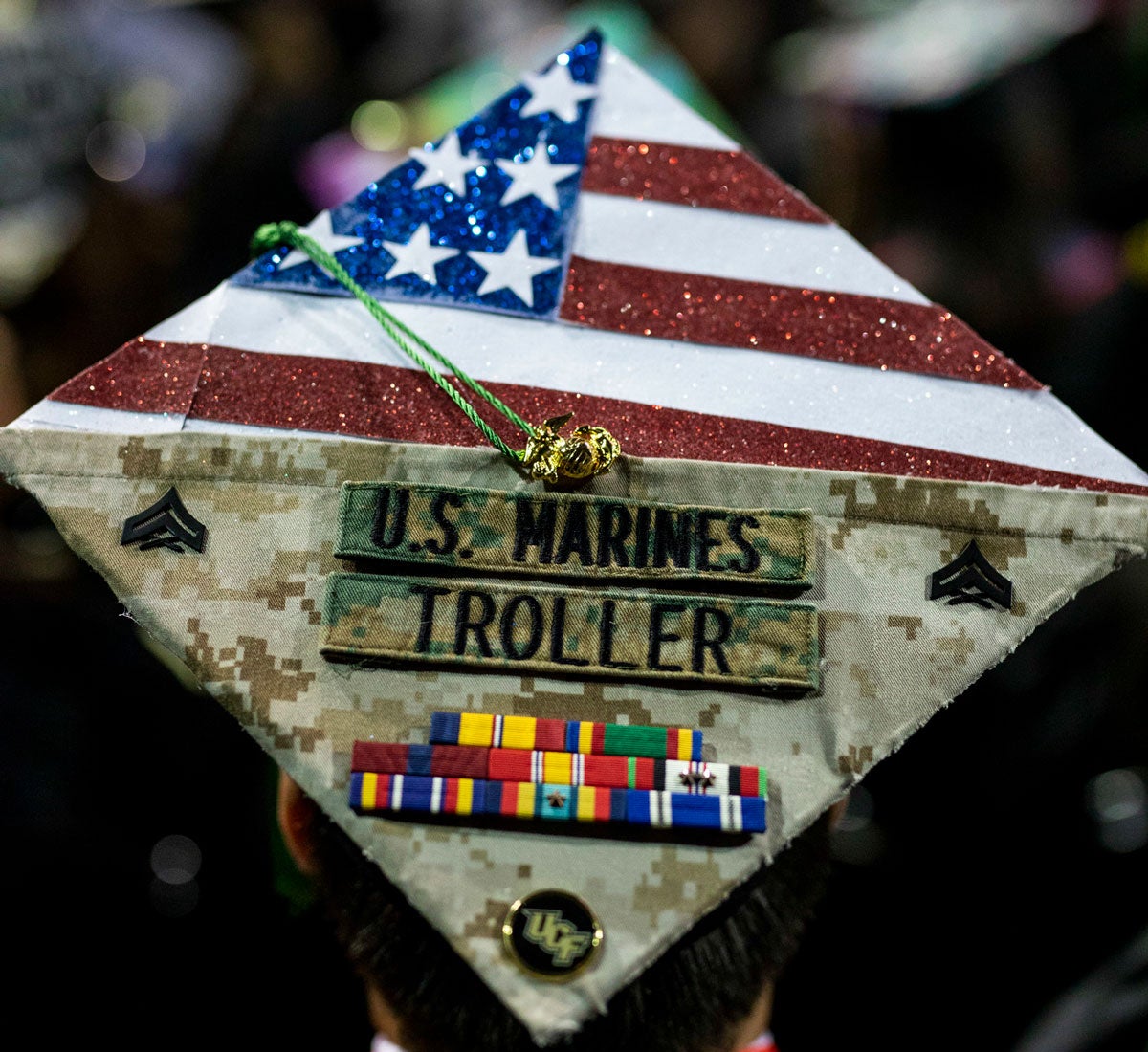 Although time management can be a challenge, Riley and Christiansen say the experience of taking courses at UCF has been worth it. And they urge other service members to go for it if a college degree is something they're considering.
"Just keep pushing and you'll get it done. It's going to be hard, but it will all be worth it in the end," says Riley.
Christiansen echoes: "Find a college that will work with your schedule and meet your needs and make it happen."