Type

Online Bachelor's

College

Arts and Humanities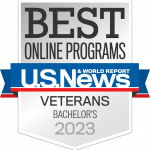 Only with an understanding of the past can we truly appreciate the present and look to the future.
A history degree through UCF Online allows you to expand your understanding of the complex societal forces that shape the world.
While earning your B.A. in History you'll hone your critical thinking and analytical skills while gaining a deep appreciation for the cultural and historical events that impact our modern world. Through your coursework, you'll investigate the history of civilization, from its earliest days to its most recent trends. You may tailor your studies to your personal interests by focusing on a particular geographic region, including Asia, Africa, the Middle East, Europe, Latin America and North America.
Partway through your studies, you may apply to an accelerated program that will enable you to graduate with your B.A. and M.A. Regardless of the path you choose, you'll leave UCF Online prepared to enter a wide variety of careers or to pursue a graduate-level education. With your online history degree, you will have the foundation you need to pursue a career in law, public policy, international affairs and more. Get started today to earn your B.A. in History.
Related Online Programs
Career Opportunities
congressional aide
foreign service officer
grant writer
information specialist
intelligence agent
lobbyist
media specialist
purchasing agent
"I'm one to eat up all the history classes, so I've enjoyed every one so far. That's a perk about online classes – you can either work ahead if it's a self-paced class or you can slow it down and catch up."