UCF says goodbye this week to a staff member whose often behind-the-scenes contributions made an outsized impact on the success of students, staff and faculty for more than 40 years.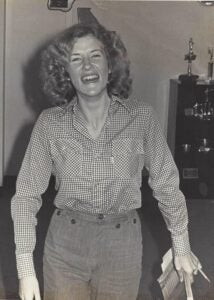 Maggie LeClair began as a staff assistant in 1974 in the former Department of Communications. At the time, Florida Technological University (now UCF) was small enough she could gallop a horse she kept in a nearby stable down the wide grassy median of University Boulevard.
Both UCF's campus and reputation have grown significantly since those early days, but there's still enough of its original character for her to recognize.
"The singular goal of producing quality students remains the same," she says.
Her first shared office was tucked under the stairs in the Administration Building (before it was named after President Charles Millican). The tight quarters brought her in close contact with some of the other early university faculty leaders like Roger Handberg and Bob Bledsoe in the old Department of History and Political Science.
Construction of the first Colbourn Hall opened up space for the School of Communication, and it would serve as the backdrop for much of LeClair's time at UCF. Her role as admin served as a catchall for multiple duties, from certifying graduations, to helping hire faculty and managing budgets. Unofficially she was also mom, student advisor and confidant.
"It's cliché to say there was never a dull moment, but I was never bored," she says. "It kept the cobwebs out of my brain."
For many years the university retained a small, informal atmosphere that led to frequent close encounters with leadership. Millican polled the community on their preferred bricks for future buildings with samples left outside a campus entrance. When the Gulf War started, the communication department gathered around the TV to witness the novelty of live battlefield reporting. UCF President Steven Altman was walking by and had a spontaneous discussion with students about the changing face of media.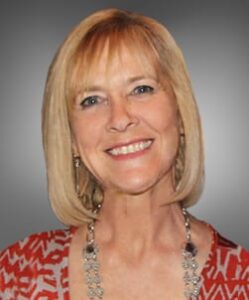 Those tight-knit relationships also carried LeClair and her colleagues through tough times. LeClair remembers all the tears after watching the Space Shuttle Challenger explosion in real time from a balcony of Colbourn Hall. It was also a comfort to be surrounded by friends on 9/11.
Working daily with students inspired her to become an advocate for their needs. LeClair is responsible for helping launch or inspiring multiple scholarships through on-campus and community connections like Town and Gown Council and the Women's Club.
As the university has continued to stretch and grow, LeClair retained her personal touch. She remains in contact with many of the former communication students and their success is one of her proudest moments as she walks out the door.
While she'll miss the UCF community, retirement opens new opportunities for international travel, visiting her granddaughter at Florida State University, announcing horse shows or simply sitting on the back porch bird watching.
"It will be nice to have that freedom," she says.