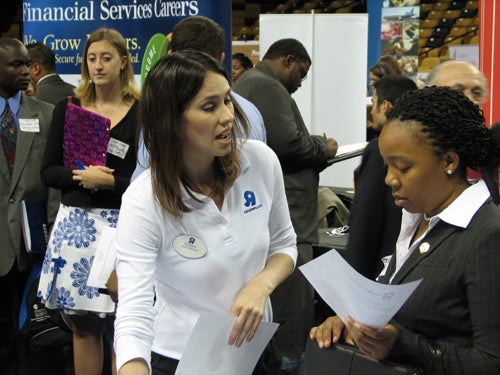 Career Services provides students opportunities to meet and talk with employers as well as services to prepare them to be successful. UCF's Career Services in partnership with Florida Career Centers hosted the 22nd annual Statewide Job Fair on May 14 at the UCF Arena. The Statewide Job Fair provided an opportunity for job seekers to present their resume to employers and to discuss career opportunities face-to-face with employers from the technical, business and hospitality industries. "Even in these tough economic times, this year's event was a success," said Earnestine Gould, assistant director, Career Events. Over 90 companies and approximately 1,300 students from Florida's 10 state universities attended. Recruiters from around the nation arrived with extravagant displays, banners, informational packets and even giveaways.
UCF's location is ideal for students, alumni and employers. Several schools bused many of their students to Orlando this year making it more convenient and cost-effective for them to attend. The set-up of the event and the diversity of students that attended allowed employers to recruit all majors and conduct interviews during the fair.
More Recruiting Opportunities for Upcoming Graduates
In search of a post-graduation job? Career Services' next job fair is the Fall Career Expo on September 22 from 10 a.m. to 3 p.m. in the UCF Arena. To assist students in preparing for this event and on-campus recruiting, Career Services will host the Employment Prep Conference on September 9 from 10 a.m. to 2 p.m. in the Student Union, Key West Ballroom. The conference is specifically designed for students to connect with employers. Services offered at this event include: resume critiques, practice interviews and employability skills workshops, conducted by Career Services staff and local employer representatives.
Career Services is an office of the Student Development and Enrollment Services division.