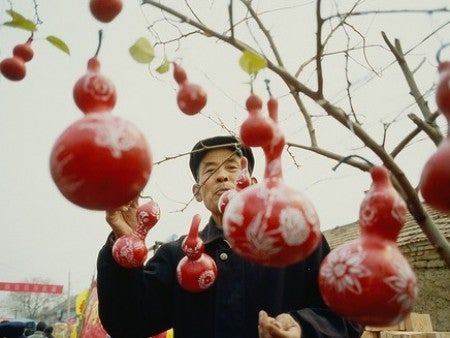 The UCF ChinaVine photography exhibit, "Expressions of China", opened this week at UCF Cocoa with 30 selected works from students' travels through the rural villages of Shandong Province and the larger cities of Jinan, Beijing and Shanghai.
The ChinaVine project is a collaboration between UCF and the University of Oregon, along with two universities in China, Shandong University of Art and Design and Beijing Normal University. The project is dedicated to teaching Chinese customs and folk culture through modern technology including art, film and digital media.
The exhibit showcases photographs by four UCF students: Ian Hernand, Blair Remington, Tomas Valladares, and Sharon Weaver.
"Expressions of China" was previously on display at the UCF Burnett Honors College and the University of Oregon. The exhibit will run through June 1 at UCF Cocoa in the BCC/UCF Joint-Use Library and will then move to an Orange County library.